Lineage 2: Revolution Releases 'Aden Territory' Update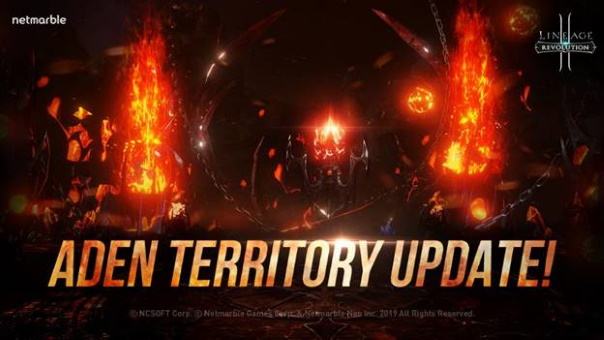 Lineage 2: Revolution has a huge new update today with the "Aden Territory" content drop. Three unique sub-regions await for players to travel through, with "Southern Plain", "Land of Rage", and "Eternal Resting Place". There will be a variety of enemies to defeat there and pick up Accessory Beads. The Accessory Beads will be useful to strengthen characters further. Lineage 2: Revolution also added a new Temporal Rift, Spore Epicenter. Success will grant the "Mutated Roland's Cloak" item. When equipped, attacks change to activate "Spore Pollution", which afflicts targets with damage equal to 15% of physical and magical attack, as well as a 15% speed decrease/5% damage decrease debuff.
To combat the new humanoids in the game, there is now a "Humanoid Attribute" equipment as well as the new Talisman system, for players that under the Second Class Transfer. Talismans are collected while defeating monsters and bosses, as well as Elite Dungeons and Temporal Rifts. These can be equipped to offer additional stats and special attributes. Talismans can be equipped in special combinations for even greater effects, once the Talismans bond to the player.
Other improvements to Lineage 2: Revolution include:
Enhancement Failure Bonus – Bonuses will now apply to enhanced equipment when enhancement fails. This bonus applies to character and mount equipment and adds up upon cumulative enhancement failures. The bonus rate resets when an item is successfully enhanced.
Tower of Insolence – Heroes eager to further climb the Tower can now look forward to even more content as it has expanded to 170 total floors.
New In-Game Events – These include the following:

Equipment Strengthening Discount Event – Celebrate the release of Humanoid Equipment by strengthening your equipment at a discount
Talisman 101 – From Talisman Acquisition to Combination, perform a variety of Talisman related activities to get rewarded
Aden's Elite Knights Festival – A special title will be given to express Netmarble's appreciation for the heroes who protected the World of Aden
Temporal Rift: Spore Epicenter Event – Share best strategies on clearing the Spore Epicenter Temporal Rift and be rewarded
14 Day Check-in Event – Log in to Lineage 2: Revolution and acquire the Humanoid Equipment.
Rock-Paper-Scissors Web Event – The first web event of its kind, players use tokens to play for a chance to win 10x the rewards
Next Article
This week, why not start off with a trio of new Mythos Global videos?
by MissyS
The game itself is inspired by The Tale of the Nishan Shaman which is one of the great surviving texts of Manchu literature. In this story, a
by Ragachak
Pox Nora will launch its 29th expansion, Planar Disturbances, on July 27 for Windows and Mac.
by MissyS