Let's Talk Casting: An Interview with HiRez Hinduman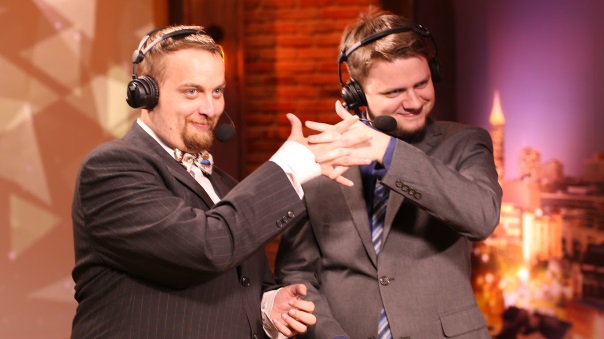 HiRez Studios is growing constantly, and we have another installment of The Caster coming soon, which will bring some fresh new faces to the casting scene. It's with this that HiRez Hinduman (Graham Hadfield) is moving up towards the management side. Take heart though, because he will still be casting matches and providing his one-of-a-kind personality to the biggest matches of SMITE, but not as often as we'd like. One of the reasons I really got in to watching professional SMITE matches was Hinduman himself. His fast-paced speech and quips/banter really caught my attention. He's an invaluable asset to their team and I can only imagine it will benefit those who come after him. So in light of these changes, I reached out to Hinduman to talk about how he came to be where he is, and what he can offer for those looking to walk the path he has.  Kudos to HiRez Hinduman for taking the time, especially as the SMITE season is starting to really heat up, and convention time is upon us.
Ragachak: First of all, Hirez Hinduman, I want to thank you for bringing such a unique voice and presence to the casting of not just SMITE, but to online games just in general. What made you decide that this was what you wanted to do?
Hinduman: I have always enjoyed video gaming since an early age. Being born in the early 80's I got the opportunity to actually grow up with the gaming industry and see it flourish. I first came to the conclusion that I could possibly do this, back during my attendance of Dreamhack 2011(Sweden). After watching, I felt I too could commentate and potentially be better than some of the commentators on the show that year. From that point on, in my spare time, I commentated for multiple organizations.
Ragachak: What would you say are the most important facets of being a caster? What makes one successful?
Hinduman: There's many different things that go into being a commentator, some arguably more required than others. The thing about identifying exactly what you need is tricky because the majority of the time that changes based off of the games you commentate and the people you work with. The advice I would give anyone would be to know your audience and their expectations, you won't succeed with the community if you are out of touch. Always be willing to accept criticism. You will always be your worst constructive critic and if not then something is clearly wrong. Self confidence is an important aspect too. Most think of self-confidence as "having an ego" which are two completely separate entities. Confidence can be the difference between having a good cast and a great cast, same as below average to average. The last thing to mention is adaptability, you have to be prepared for anything on a broadcast, from production issues to the absolute insane plays that have never been seen before.
Ragachak: Though "The Caster" is coming and that promises to be incredibly entertaining, what about the people that didn't opt in/didn't get picked? What advice do you have for people that would like to get into casting?
Hinduman: For those that applied, they took the first step already at worst with putting themselves out there. You don't need a show to pick up a mic and commentate games. Countless tournament organizers are always looking to give people a shot working with them on top of that, get out there do it and gather feedback/opinions and look to improve. For those starting out its an identical process. To be clear I am not suggesting anything different than what I did over 5 years ago.
Ragachak: One of the downsides to online communities is that nobody can ever be happy with anything. There's lots of vitriol and poisonous comments spewed from Twitch to Twitter. As someone who has no doubt dealt with that, being such a public personality as a Caster, what would you offer someone to deal with it?
Hinduman: You need a thick skin. Be comfortable in yourself. With the anonymity that the internet brings realize that the things people say wouldn't be the same in person, half the time they are just after getting a reaction. You are going to be spoken about the same way a professional sports athlete or singer would be. In short fuck em.
Ragachak: As someone who has called some unforgettable moments across the SMITE tournaments, do you have any that stand out to you?
Hinduman: Titan vs (OMG) China Worlds 1 was a standout. I expected a nice easy warm up game and that's no way near what I got.
Cloud 9 vs Aquila Game 2 of the Eu Regional Championships season 1. If you don't know this one go watch it, it needs no intro.
Finally Dreamhack Finals 2017 – Was easily a top 5 set of all time without a doubt.
Ragachak: What do you hope to bring to your new role in management? Any particular advice or lessons you can offer the incoming casters?
Hinduman: Any particular advice or lessons you can offer the incoming casters? Listen, learn and enjoy.
Ragachak: What about someone who would like to get into the role of analysis desk? How closely aligned are the skills of casting to that?
Hinduman: Working the analysis desk has a lot of similar ties to commentary but they don't require one to be great at the other. As a raw analyst, it's all about understanding what you are talking about, explaining it clearly, correctly and concisely and throwing in some personality. Desk hosts are similar in some ways to commentators but each requires different skill sets.
Ragachak: And finally … if you could have a skin in your likeness for any God, what would it be and why?
Hinduman: Easy, Bacchus skin – English football Hooligan. But it has to have chants and explicit language. Pint in one hand and a meat pie in the other. Sign me up! (I love this idea. Please make it happen, Hirez! Why didn't we get this instead of the admittedly awesome Bearly Buzzed?)
Is there anyone in the gaming community you'd like me to reach out to and have some words with? Feel free to comment below, DM me on Twitter (@ishyjulu) or just bug us on the
livestream
!
Next Article
April Fool's Day is coming, and it's one of our favorite times of the year! With it comes Guild Wars 2's Super Adventure Festiv...
by Ragachak
Signups are now open for the qualifying rounds of the highest skill tournament in eSports, the MechWarrior Online World Championships for 2016
by MissyS
3015. A thousand years from now, humanity thrives in the galaxy, expanding far beyond its home Earth.
by MissyS