Legacy of Discord Celebrates Third Anniversary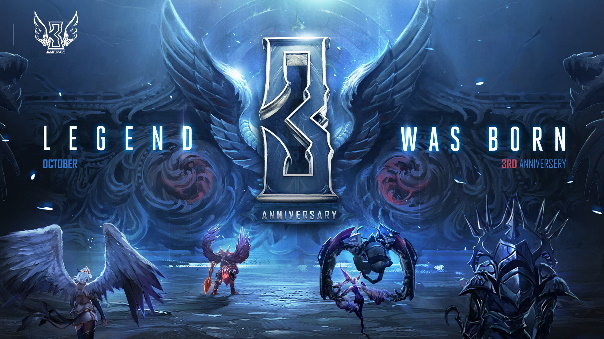 Legacy of Discord: Furious Wings is proud to celebrate three years of being active with their fans. The development team wanted to show their appreciation and gratitude, and are doing it with a host of birthday-themed events. These will run until the end of October, and there's plenty for everyone to enjoy. Players will be able to light a candle on the in-game birthday cake during the "Make a Wish" event. There are plenty of special rewards to those lighting the candles. This will run from October 20th until October 28th.
Players can send their friends special in-game birthday cards too, and doing this can see players bestowed with a new, exclusive third-anniversary title. Players can enter the big lucky birthday draw to win in-game rewards, these vary from special materials, equipment, and even new characters. There is also new content for the game, such as "Legacy of the Gods". Equipment and appearance can be upgraded with this feature. Once your equipment has reached Lv11 you can activate Legacy of the God's equipment, radically altering your character's appearance. It is possible to use inlaid gems and talent points to further improve the abilities and appearance of your outfit. Finally, there's a new online multiplayer race, for all orange, red, and gold mounts: Furious Race.
Karma Online is getting a new mode today: A.I. Helicopter.
by MissyS
The last episode of Guild Wars 2's Living World left Tyria's heroes stunned. Moments after tracking down a fabled dragon egg that could be...
by Mikedot
GamesCampus has announced the launch of their new browser game FulPot Poker.
by MissyS