League of Angels and Legacy of Discord Begin Christmas Events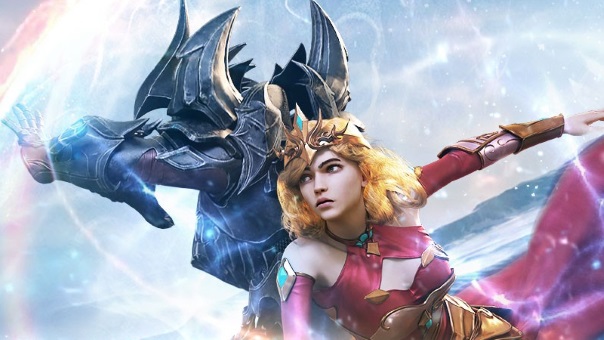 Yoozoo Games are beginning Christmas events for two of their titles, Legacy of Discord – Furious Wings, and League of Angels – Paradise Land, both with fun events to explore.
Starting on December 23rd, League of Angels – Paradise Land will be celebrating Christmas with a series of magical events. In addition, Rudy the Reindeer will be arriving and staying from December 20th through the 28th. Players can log in to get free shards for this reindeer. The Christmas tree is one of the biggest attractions. Decorate the giant tree by
spending Gingerbread Men to win amazing rewards. The Christmas tree will level-up once it has been adorned with enough decorations. When it reaches the next level,
all players will get a special Christmas gift. Gingerbread Men can be obtained in many ways such as by logging in, completing in-game activities and playing different events. Players who blitz normal and elite stages will also be greatly rewarded with amazing prizes such as Gingerbread Men, Rudy Shards, Silver Bells and more. There will also be deals on Heroes of high quality, as well as the introduction of the new hero, Lucian. He passes both Vampire and Demon blood and doles out incredible damage and offers control for your team.
Legacy of Discord – Furious Wings gift exchange other pre-pageant events are beginning to come to a close. Today a package of special Christmas stickers, a grand Christmas Party, a Christmas themed scene and the Class Promotion system will be available. With the festival approaching, Class Promotion eventually appears in the popular mobile ARPG. Players over level 85 can find the entrance into the Class Promotion system under the tablet button. After completing a series of quests and obtaining a set number of materials, players can upgrade their character in the Class Promotion system. These characters can use Promotion Certificates and gold to level up from 1 to 50. This will greatly enhance classic characters, and players will get a revolutionary promotion skill after unlocking this system, as well as new avatar frames and a special halo effect under the character. In the Class Promotion interface, players will also find a Wrath Aura button. Wrath Auras fall into 4 factions, each of which gives classes unique buffs and debuffs in the battlefield. Players will get 3 Wrath Auras for free to experience this exciting feature. In both PvP and GvG battles, players can click the Wrath Aura button, and it will give different buffs. Allies within the aura will also gain them, and enemies within will gain a debuff.
Next Article
Good news, Mighty Party fans! The Guild Wars update is here, and from now on, you can do battle with other guilds, face-to-face!
by Ragachak
Our partner TreeofSaviorGame.com has sorted through the information for Tree of Savior and presented a summary of the four base classes.
by MissyS
Ragachak here, offering you the biggest and most interesting developments to come out of Seattle at Pax Prime 2015!
by DizzyPW