League of Angels II Begins X-Server Expedition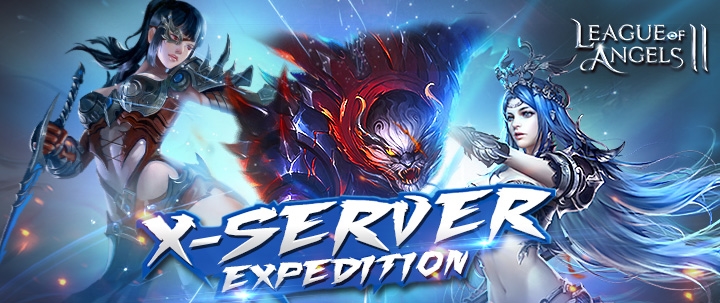 After the introduction of Mythic Equipment last week to League of Angels II, many players have been able to rise their BR to new heights and dominate their server. For those wanting new challenges, they need to look no further than the brand new X-Server Expedition! This new PvP mode will turn the entire world into rivals to conquer! Rally your guilds and take on the best in the world to prove who really is the king of the throne and leave your mark on history!
Access: Open the Guild Panel and click on X-Server Expedition to get started.
Event Time: X-Server Expedition will be open each day from 6:00PM to 10:00PM and will lasts for 5 days.
Requirements:
– For Guilds: Guilds that are Lv.2 or above with at least 5 qualified members can select another guild to challenge.
– For Guild Members: Members that are Lv.45 or above and have not been offline for over 3 days can participate in attack and defense during the event. Members must meet requirements before starting a battle with another guild to participate.
Rules:
The Guild Head or Deputy Head can select a guild to challenge. Before starting battle, the Guild Head or Deputy Head can accept Expedition Tasks. To complete Tasks, the objectives must be completed AND the Guild must achieve victory.
Guilds gain 1 challenge attempt each day at 12:00AM.
Members can get 6 attempts to challenge opposing guild members. A win will deduct 35% Energy from opponent while a loss will deduct a minimum amount. Defeating the same opponent multiple times will deduct less Energy each time. When opponent's Energy reaches 0, they will be dead. Once all opposing guild members are dead, your guild will be the victor.
Defender's data is updated each day at 12:00AM.
Rewards:
X-Server Expedition Rewards include Challenge Rewards, Task Rewards, and Rank Rewards. Based on Guild Rankings and Individual Rankings, players may earn extra Rank Super Reward.
Next Article
A huge update is coming to Forge of Gods in the form of "Wake Up! FoG" that brings a new game mechanic, raid and more.
by Ragachak