League of Angels – Fire Raiders Update 3.8 Released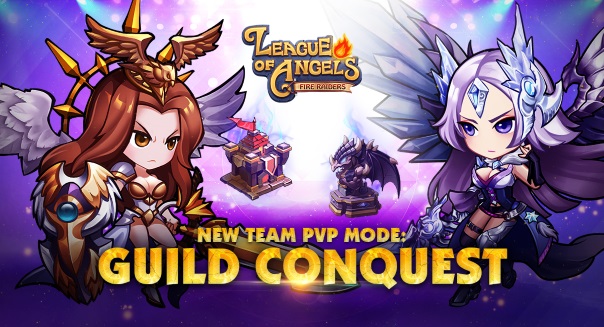 League of Angels – Fire Raiders' new update was just been released today that brings a huge new Guild PvP mode, new Heroes, and more improvements to the game. The update is available from Google Play, the App Store and Amazon.
New PvP – Guild Conquest
A new PvP mode – Guild Conquest – is being launched in Update 3.8. This mode allows your Guild to fight together for glory and great rewards. Guild Conquest is accessible from the new Guild Conquest building within the Guild interface. It is available to players level 65 and above and Guilds level 30 and above. Fans of MOBA games might find a few similarities with this new mode. Players can earn Merits during battle that can buy items in the new GC Shop. Learn more about Guild Conquest here.
New Heroes: Mystic Warden and Winter Doll
This time two unique heroes have arrived on Elysium. Blade Spiral, the Commander of the Kingdom Knights, is a strong and beautiful leader that is admired by her soldiers. She has a calm demeanor, making her a superb commander on the battlefield and invaluable asset in the war against the Demon King. Very little is known about the second hero, Winter Doll. Seeming born from the snow, she lacks human emotions yet possesses a kind heart. She has no recollection of her past and her only friend is her faithful companion, Snowball.
New Awakened Heroes
Another wave of Awakened Heroes is here! This time Demon hunter, Lumia, Neither Knight and Guardian have found the power to awaken! Awakened Heroes get an additional combat skill, bonus stats, and most importantly, an awesome new appearance!
Other Additions and Optimizations
New Hero Chronicle Chapters
New Awakened Hero models for: Nightblade, Shadowraith, Arcane Spirit, Hecate, Headless Horseman, Lunar Priestess, Nereida
Skill Changes:

Aria Lockon: Phantom Snipe skill now triggers once every 2 rounds
King o'Bones: Increased trigger chance of Burning Blade skill
King o'Bones: Added DEF to Immortal Will passive
King o'Bones: Added Resilience to King's Fury passive
Nightblade: Increased trigger chance of Bloodrazor skill
Nightblade: Added CRIT to Blade passive
Lunar Priestess: Added DEF to Power of Lunaria passive
Arcane Spirit: Increased number of targets of Thunderbolt skill by 1
Arcane Spirit: Added CRIT to Thunder Elemental passive
Hecate: Added DEF to Undead Sacrifice passive
Headless Horseman: Added Resilience to Undead Body passive
Nereida: Added Stun chance to Summon Dragon skill
Nereida: Added Resilience Dragon Heart passive
Download League of Angels – Fire Raiders now from Google Play, the App Store or Amazon. Log in and check out all the crazy new content!
Next Article
The Ashes of Creation development team recently published a blog post concerning the nature of castle sieging.
by Ragachak
Perfect World International announces War Front, its 11th expansion.
by MissyS
37Games has just released a new trailer video for Siegelord focusing on the real-time Faction War which turns out to be the most significant a
by DizzyPW