LawBreakers First Closed Alpha Begins This Weekend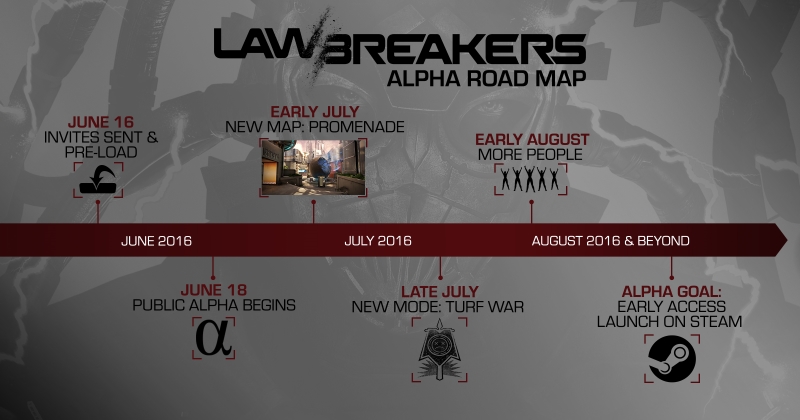 The wait is finally over for select first-person shooter (FPS) fans as LawBreakers, the gravity-defying debut title from Cliff Bleszinski's Boss Key Productions releases its first public round of closed alpha testing tomorrow. Lucky players who registered to become a LawBreakers' alpha tester and received an invite to tomorrow's test will get their hands on the first wave of content at the following times:
SATURDAY, JUNE 18:

US East Coast: 12 Noon to 12 Midnight EDT
US West Coast: 9 a.m. to 9 p.m. PDT
London: 5 p.m. Saturday to 5 a.m. Sunday BST
Berlin/Paris: 6 p.m. Saturday to 6 a.m. Sunday CEST
Sydney: 2 a.m. Sunday to 2 p.m. Sunday AES

SUNDAY, JUNE 19:

US East Coast: 9 a.m. to 9 p.m. EDT
US West Coast: 6 a.m. to 6 p.m. PDT
London: 2 p.m. Sunday to 2 a.m. Monday BST
Berlin/Paris: 3 p.m. Sunday to 3 a.m. Monday CEST
Sydney: 11 p.m. Sunday to 11 a.m. Monday AEST
This is the first of several scaling tests taking place over the course of summer and leading up to an Early Access phase on Steam later in 2016. The first closed alpha test will feature the action-packed Overcharge mode, played on LawBreakers' first map, Grandview. Turf War mode, a unique take on capture-and-hold amplified by the game's thrilling combative moments, and the Promenade map, based on the iconic Third Street location in sunny Santa Monica, Calif, both revealed for the first time this week at E3, will be added for subsequent tests, as will other unannounced content.
LawBreakers promises a bloodbath of role-based vertical team conflict, creating endless mastery and competition across an alternate American landscape. Players will choose whether to kill to uphold the "Law," or go out for blood as a "Breaker," as they take part in the combat raging across iconic locations including the boiling oceans off the Santa Monica coastline, a gravity-ravaged Grand Canyon and beyond.
Alpha registrations are still open for players eager to get their hands on the highly anticipated shooter. Fans can register on www.lawbreakers.com for a chance to join the early action this summer.
Next Article
Nova Blitz has now been fully funded, with over $43,000 secured out of its $40,000 funding goal.
by MissyS
Copenhagen-based indie developer Zero Point Software's ambitious shooter, Interstellar Marines, is set to introduce the first iteration of c...
by Mikedot