Kritika: The White Knights Introduces Burst Breaker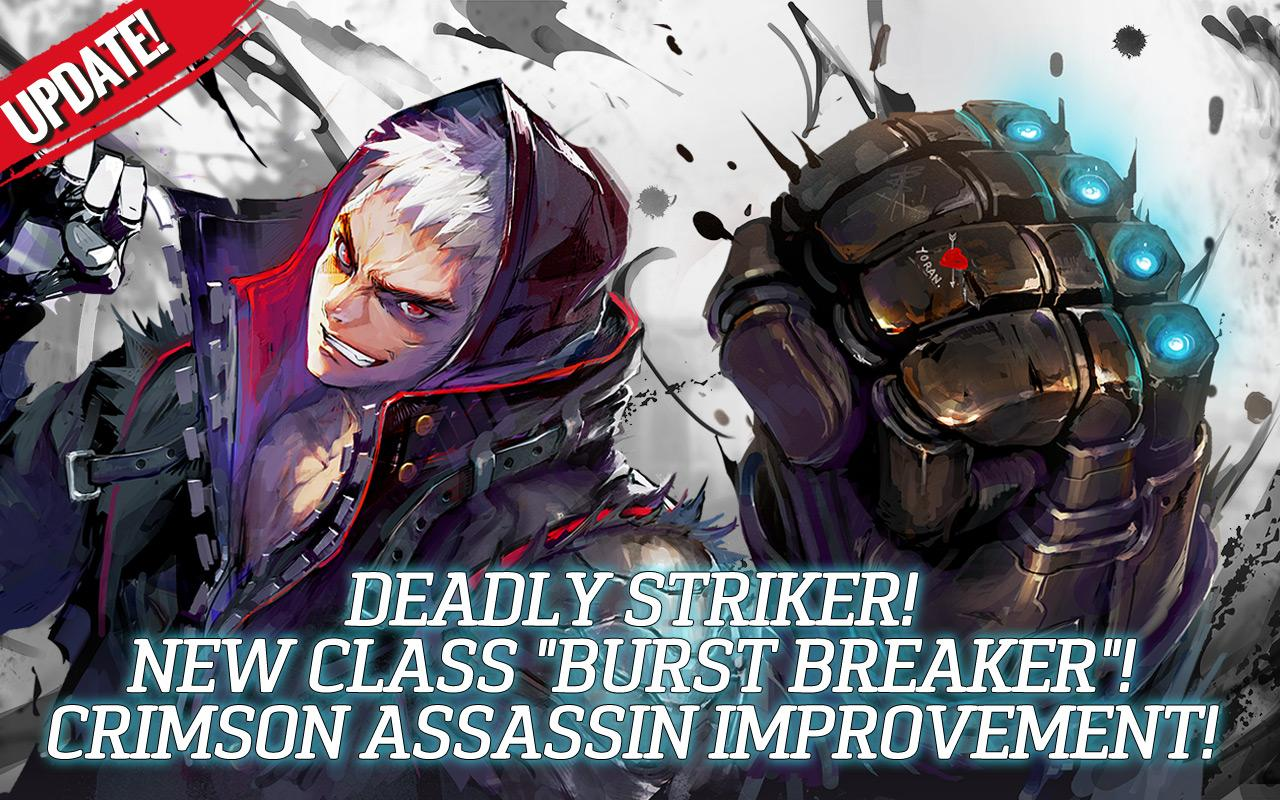 GAMEVIL will be welcoming the addition of Burst Breaker, the newest class to be making its way to action RPG, Kritika: The White Knights.
The Burst Breaker is a rebellious warrior who has his own definition of what a 'Hero' should be. Due to his energetic and wild personality, he has been known to recklessly jump into battle. Armed with a sword and power gauntlet, the Burst Breaker deals heavy physical attacks to enemies.
Burst Breaker's Skills:
Gory: Attack the enemy three times using a giant sword and gauntlet.
Fury Fist: Perform a flurry of attacks stunning enemies for a short time.
Heatwave Hook: Slash the target multiple times and finish them off with a devastating uppercut.
Meteor Rain: Jump into the air and slam down dealing damage and stunning enemies caught within the blast.
Volcano: Collect energy into your gauntlet and release a large flame pillar that inflicts massive damage to all enemies.
With Burst Breaker now available, Kritika: The White Knights has nine characters for players to choose, each offering a unique playstyle and skill set for any type of player.
Crimson Assassin Rebalancing
Alongside the newest character, the agile Crimson Assassin will also be receiving an overhaul on her abilities. The changes will look to switch physical skills "Shuriken Backlash" and "Deadly Assassin" to magical based attacks, while "Lumber Blast" and "Shadow Assault" will now be physical-damage abilities.
Crimson Assassin's skill "Meditation" will also be seeing some changes as the update will look to further increase her critical strike damage and critical strike rate received by the ability.
GAMEVIL and Funflow are looking to reward new and returning players who are wanting to try the Burst Breaker and revamped Crimson Assassin by running a level up event which will reward players unique items for hitting specific level milestones. The event will only be available for the Burst Breaker and Crimson Assassin. Lastly, any player that logs in from June 14 through June 30 will receive an Ethereal Weapon.
Hyper Universe is hosting its first and final Free Weekend starting this Friday, December 15 and running through December 20.
by MissyS
NGames has announced the release of a new Chrome App, available for free through Chrome's Web Store, for its browser-based MMO, Pockie Ni...
by MissyS