Kingdom Under Fire II Announces November Release Date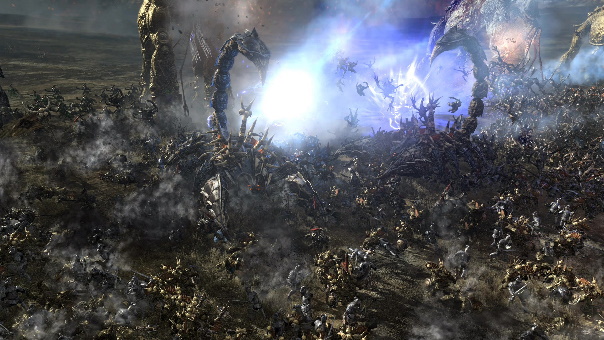 Gameforge announced today that pre-orders have begun for their upcoming MMO, Kingdom Under Fire II. Pre-order prices begin at 29.99 USD and will launch in November 2019 in North America as well as Europe. There will also be other editions of Kingdom Under Fire II, at 49.99 and 99.99 respectively. Each will contain its own exclusive content, bonus costumes, mounts and more. Pre-orders will receive a hero troop and exclusive title as well. Originally launched back in 2008, Kingdom Under Fire II will combine the RTS and MMO genres together in one ambitious package.
Kingdom Under Fire 2 is set in a world where three powerful factions — the Human Alliance, Dark Legion, and Encablossians — compete for control over the land of Bersia. Players can choose from several hero classes and focus on building up their individual characters or command massive armies as war strategists. Kingdom Under Fire 2 takes place 50 years after the events of Kingdom Under Fire: The Crusaders and features an immersive story campaign that can be experienced in multiplayer online or in solo play.
Tomislav Perkovic, Chief Product Officer at Gameforge discussed changing to a premium price instead of being free-to-play:
While Gameforge is known for its extensive lineup of Free-to-Play games, Kingdom Under Fire 2 is the perfect candidate for a change to a Premium pricing model as we aim to provide an installment to the Kingdom Under Fire series that was worth waiting for. Gameforge is always on the lookout for opportunities to expand our portfolio and business models, with our focus on providing the best game experience possible for our player base. Once players get their hands on the game and the considerable amount of content already planned after the launch, we're sure they'll be pleased.
Noemi Feller, Lead Product Manager for Kingdom Under Fire 2 added:
Kingdom Under Fire 2 will offer an accessible and dynamic experience for many types of players. It will have higher drop rates and a more traditional RPG-centric gameplay balancing than found in many F2P titles, which we know some fans of the genre prefer. The Kingdom Under Fire 2 in-game store will only focus on optional cosmetic items and convenience items such as character mounts. We look forward to introducing this long-awaited addition to the franchise to western markets this November.
Bandai Namco announces the retail release of Enemy Front for PC, Xbox, and PlayStation.
by MissyS
The stunning new Co-op setting, Operation Cold Peak, will test experienced players to their limits as they target a secluded stronghold locate...
by Mikedot
The MLG X Games Aspen Counter-Strike: Global Offensive (CS: GO) Invitational will take place in Aspen, Colorado, from January 23-25, 2015 and ...
by Mikedot