Japanese Free to Play MMORPGs and MMOs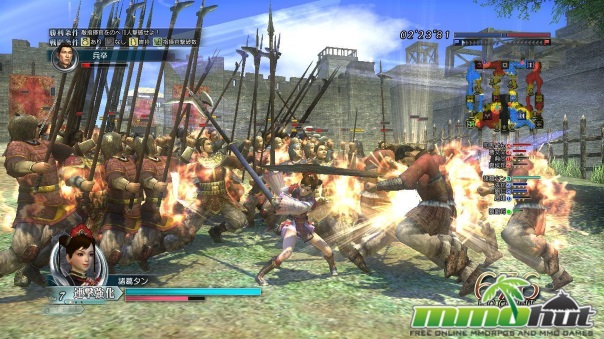 When I hear 'free to play MMORPG' my first thought is that it was developed in Korea, but now studios from all over the world are involved in the F2P industry. There are now plenty of Chinese and even Western developed games to chose from. Even Japan, the nation that's best known for console gaming, has given us several free to play MMOs and MMORPGs. Below are some of the F2P games developed by Japanese studios.
Uncharted Waters Online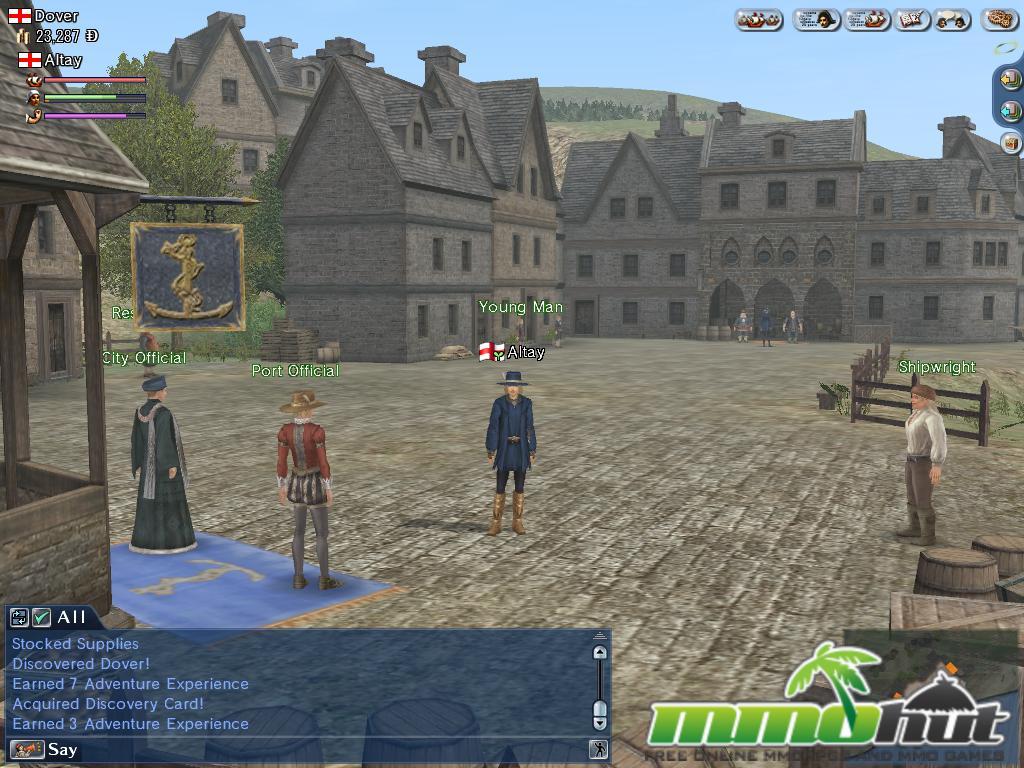 Developer: Koei
Publisher: Netmarble
First released in Japan back in 2005, Uncharted Waters Online is an interesting MMORPG based on trade and exploration. Set in Europe during the Age of Discovery, players are free to sail around the world while amassing wealth and influence for their chosen nation. It's similar to Voyage Century which game out a bit later, but takes time to get into. It's not for everyone, much of the gameplay involves sailing back and forth, discovering various plants, ruins, and art work, and so on. Interestingly, Uncharted Waters Online is playable on the Playstation 3 in Japan. Whether the Western market will get a PS3 version remains to be seen.
CosmicBreak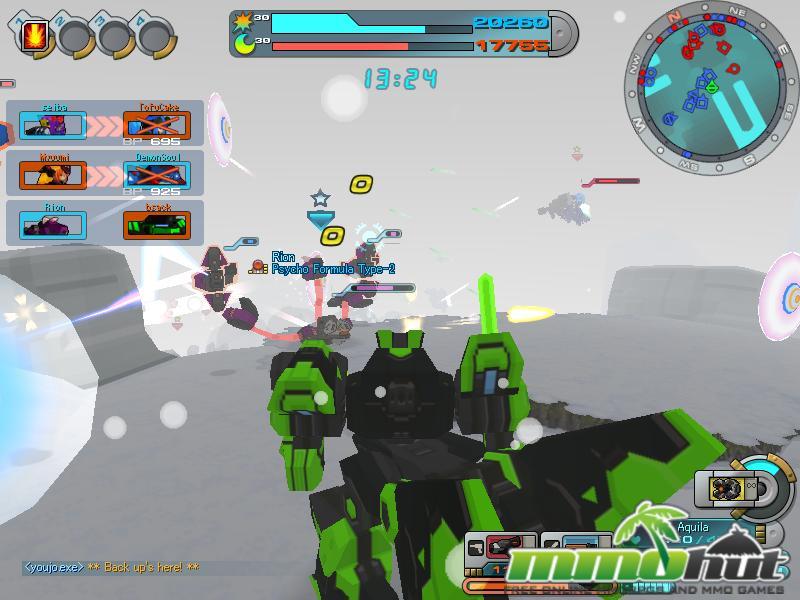 Developer: CyberStep
Publisher: CyberStep
CyberStep has two free to play MMO fighting games. There are similarities between their graphic styles, but they are otherwise very different. CosmicBreak is a sci-fi themed fighter where players control robots, fembots, and flying mechs. It has single player, cooperative, and competitive game modes. Players chose from three warring factions, and can explore several persistent maps. These maps serve as the game's lobby and act as a place where players can chat and form groups. The blocky graphics remind me of Custom Robo, and just like in that series, there are plenty of customization options in CosmicBreak. There are over 50 robot bodies and 300 parts available with which to build your own mech. Ever since NCsoft's Exteel shut down, CosmicBreak is the only free to play online game of its kind.
GetAmped 2
Developer: CyberStep
Publisher: CyberStep
GetAmped2 is the sequel to the original GetAmped which is also known as Splash Fighters in the West. GetAmped 2 offers upgraded graphics that stay true to the blocky style found in the origina. Besides just brawling it out with friends, players can decorate their own home, and play through a ton of single player content. There is a whole persistent city to explore in GetAmped 2, but the main draw is the short arena matches. The game supports several game modes, and there are usually a variety of weapons scattered across each map that players can pick up and use. GetAmped 2 doesn't have as many classes as the original, but more may be added over time.
Fantasy Earth Zero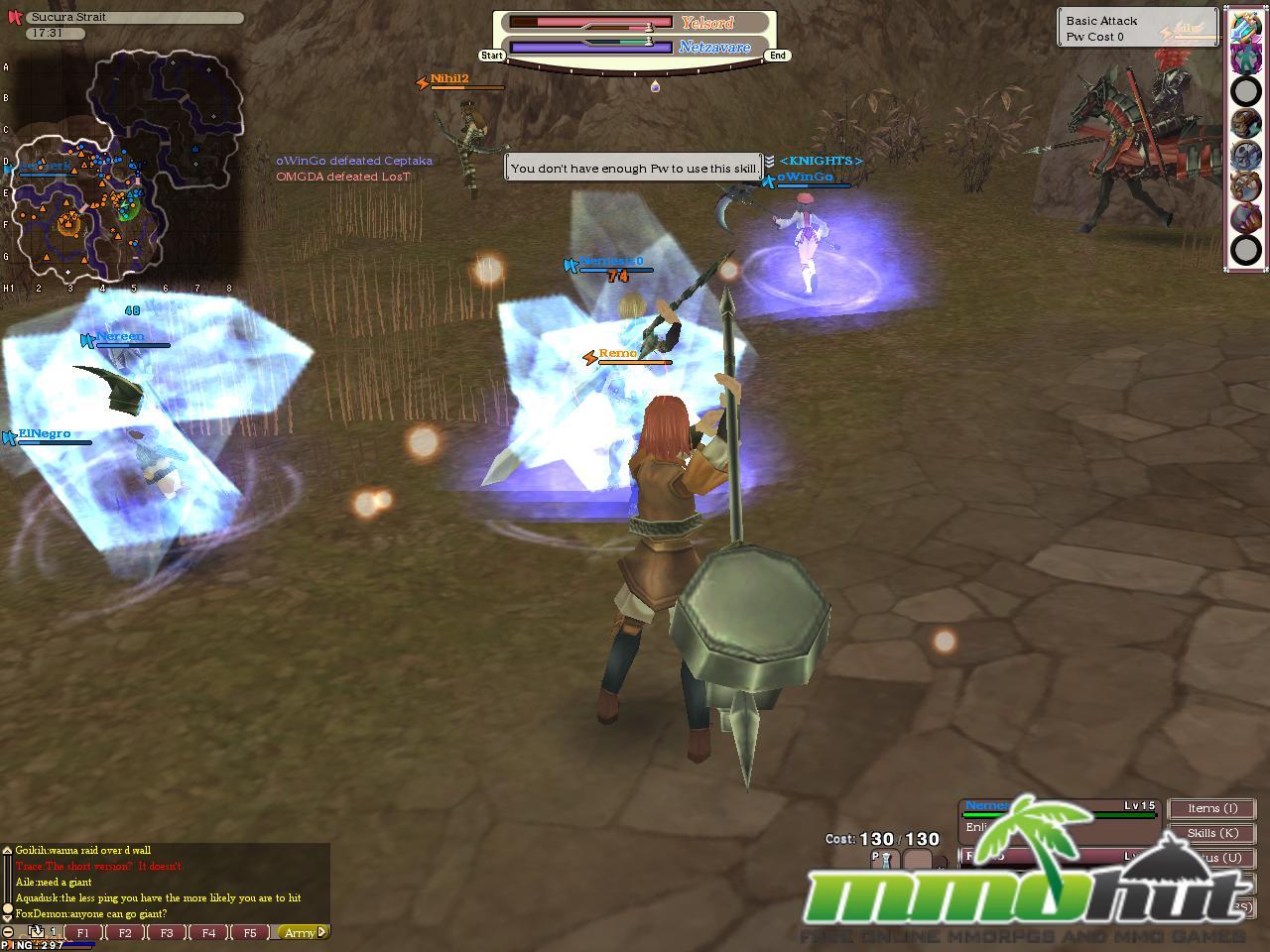 Developer: Square Enix
Publisher: Gamepot USA
Fantasy Earth Zero was first released in Japan as a pay to play game. It didn't do too well and Square Enix quickly dropped it. A free to play publisher quickly picked it up and relaunched it without the monthly fee. FEZ went on to gain a large audiance in Asia. Now Fantasy Earth Zero is available in the West. This is no standard MMORPG, players don't grind off endless waves of monsters. Instead, the game is largely PvP driven. There are three warring factions and dozens of zones for them to fight over. The battles themselves are instanced and support dozens of players. There are three classes to chose from, and combat is action oriented which means victory is determined by player skill and teamwork. The graphics a bit dated, but the game offers a unique gameplay experience.
Shin Megami Tensei: Imagine (Megaten)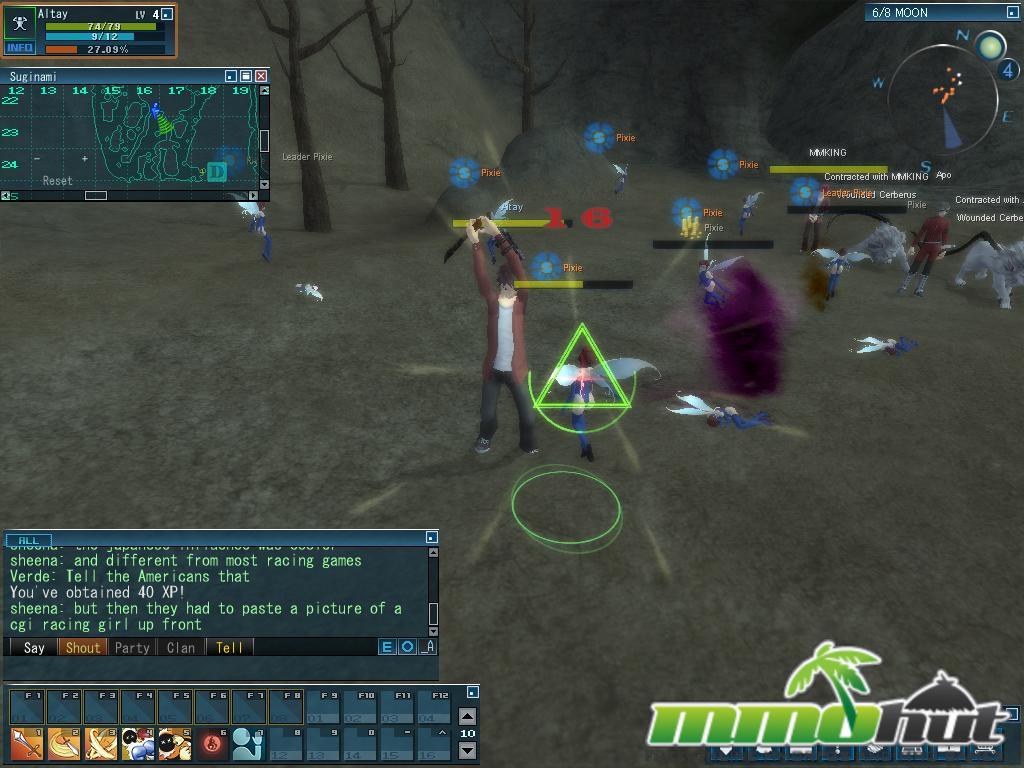 Developer: Cave
Publisher: Aeria Games
The Megami Tensei franchise is very popular in Japan and encompasses several anime series, mangas, and video game series. The franchise got its first MMORPG in the form of Shin Megami Tensei: Imagine Online. Since that's a mouthful of a title, its more commonly referred to simply as Megaten. It is a sci-fi MMORPG set in a dystopian future where much of Earth's surface has been destroyed. Humans live in vast underground complexes called 'homes' and have come to rely on demons as pets. Megaten has a combat system very similar to the one found in Mabinogi. Players improve the rank of individual skills by using them and can activate special combat skills like dodges, bashes, and counter attacks.

Dynasty Warriors Online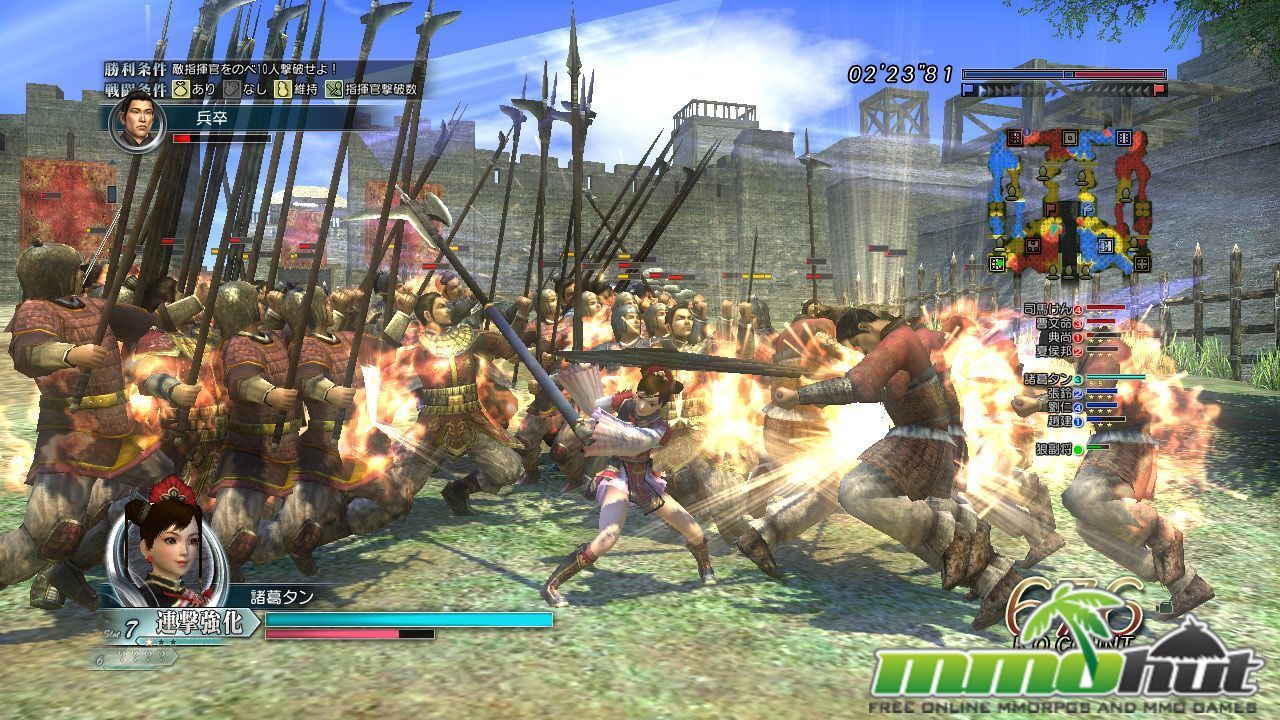 Developer: Koei
Publisher: Aeria Games
Dynasty Warriors is perhaps the best known modern hack-and-slash console series. Recent spinoffs include a Samurai and even Gundam version, but the classic Three Kingdoms setting is the most popular. The series has had an online version since 2006, but it has only now made its way to the US. Aeria Games will be publishing Dynasty Warriors Online in North America, and the game should enter closed beta testing soon. The game will include persistent world cities and instanced battlefields where players can fight against each other, and against hordes of AI controlled opponents.

Pandora Saga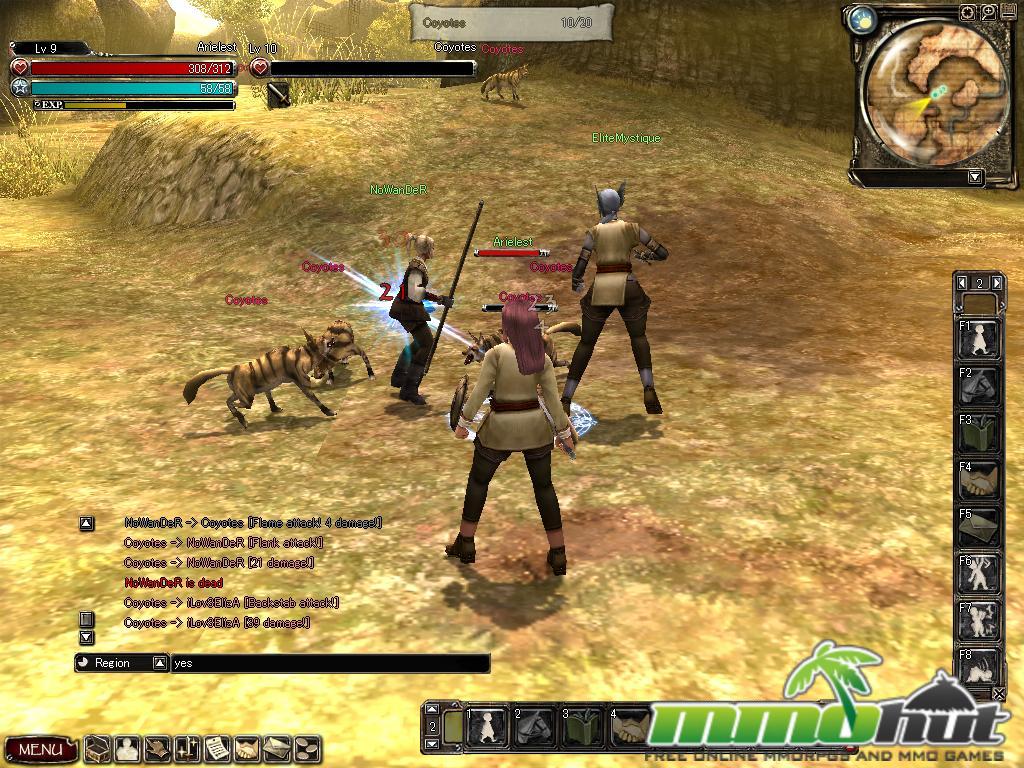 Developer: Headlock
Publisher: Gonzo Rosso
Pandora Saga is available in English thanks to a Malaysian publisher. The game is set in a medieval fantasy world populated by six playable races. There may be only four initial classes, but as players level they can specialize into a total of 28 different classes. Pandora Saga doesn't have a whole lot of players, but it does have a huge, well crafted world to explore. There are also plenty of PvP features, especially the large scale wars between the rival nations. The development stuido behind Pandora Saga may not be well known in the West, but they have an eight game line-up. Hopefully we'll see more of their games in the future.

Emil Chronicle Online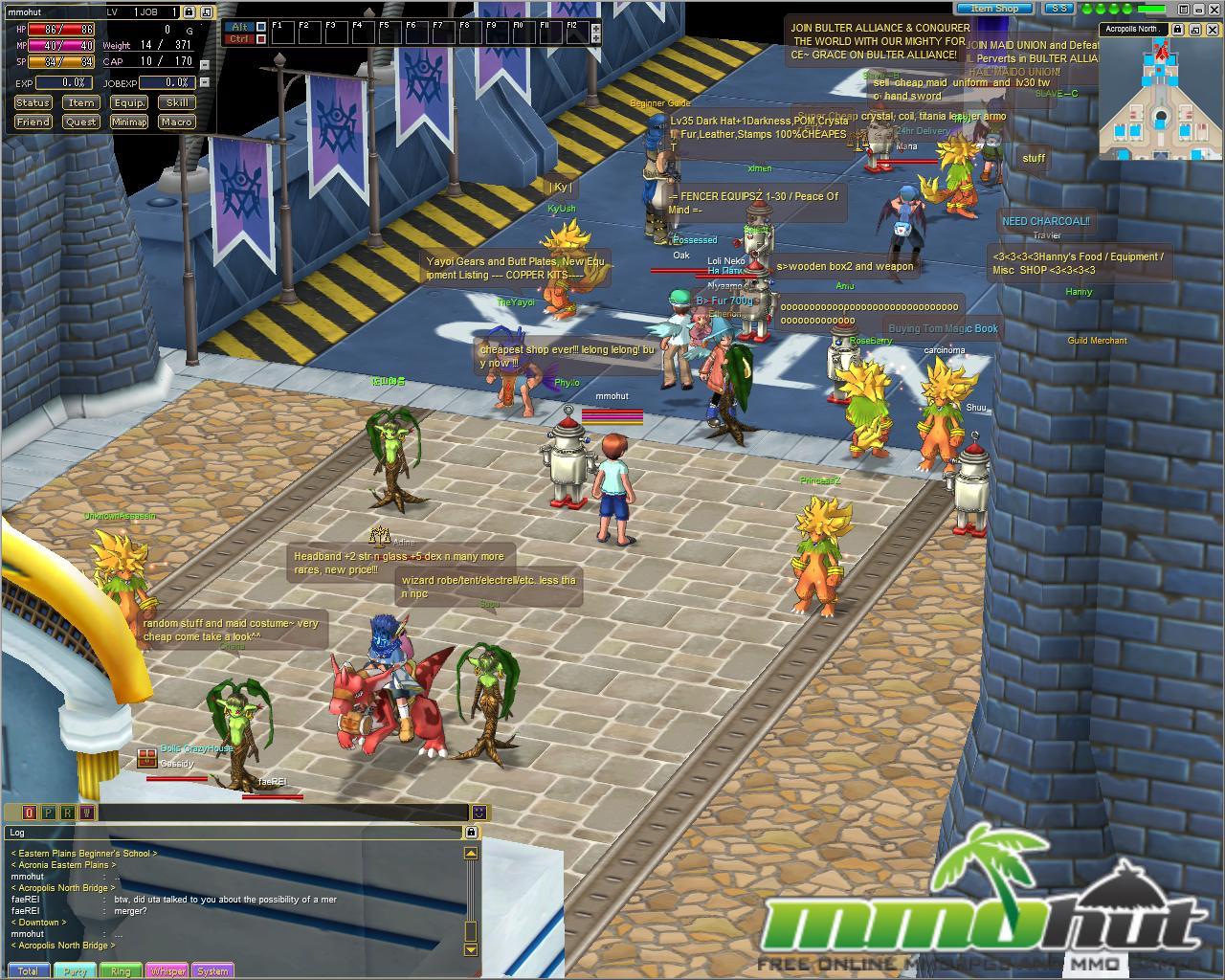 Developer: Headlock
Publisher: Gravity
While Emile Chronicle Online is published by the Korean MMORPG heavy weight Gravity Inc, the developers behind it call Japan home. The game was first released in 2005, but didn't make its way to the US until much later. The animated graphic style is attractive, but lends the game a childish feel. In many ways, the game is similar to Ragnarok Online which seems to have been a source of inspiration for Emil Chronicle. The world in the game is huge, many areas are wide-open and there's even a player housing feature. There are a total of 12 classes in Emil Chronicles Online, but players start as the vanilla 'beginner' class. As they level, they will be able to advance in jobs. The game is available in English thanks to a Malaysian host, but Western users may find it difficulty to get involved with a largely foreign playerbase.
These are the only Japanese developed free to play games I can think of. There are a few that came close to qualifying but fall short. Hello Kitty Online may be owned by Sanrio Town, a Japanese company, but the actual development was done by a studio based in Hong Kong. The same holds true for Yu Gi Oh Online.
If you know of any other free to play titles developed in Japan, please post them in the comments section below so I can update this list!

By, Erhan Altay
Jagex, makers of the multi-award winning fantasy MMORPG, RuneScape, is delighted to report on the continued success of RuneScape Bonds, one ye...
by Mikedot
On Friday October 18, the Final Fantasy XIV team held a live letter stream to break down many of the new changes coming in 5.1.
by MissyS
Perfect World Entertainment announced that Elemental Kingdoms is available to download on mobile devices. Elemental Kingdoms is the ultimate s...
by MissyS