Interview with Furuichi Norio (SMT: Liberation Dx2)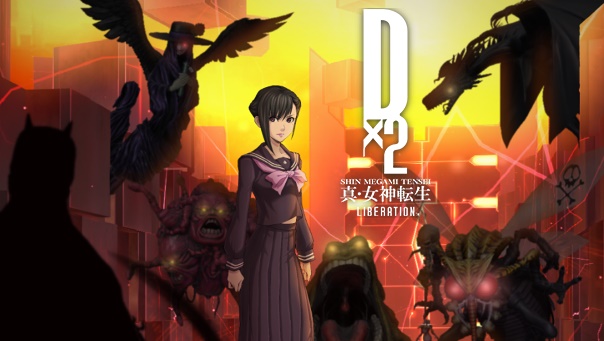 As a long time Shin Megami Tensei fan, I was actually excited for Liberation Dx2 on mobile platforms.  Guardedly so, of course, since franchises receiving a mobile application sometimes is a death knell. I was even more happy with the fact it's a genuinely decent game.  So when I was offered a chance to speak with Furuichi Norio, chief producer of the title, at PAX West this year, I knew it had to be done.
Outfoxed:  So, what prompted the release of a Shin Megami Tensei game on a mobile platform?
Furuichi Norio:  We wanted to make some kind of mobile game where Shin Megami Tensei was matched to, which is why we made Shin Megami Tensei Liberation Dx2.  Also, there are a lot of fans inside our team that like Shin Megami Tensei, so everything was matched for this kind of development.
I've actually been playing it, too, and I've been really enjoying it, too.  The story gets really dark very quickly. Was that a conscious decision in the development to keep to the tone of previous SMT games?
There are two sides to it.  One is the fact the game is very pop and light at first, and gets darker at the end.  Why we did this kind of concept is since it's a mobile game, we wanted everyone to play this game.  So if we first set it up in a dark tone, not many people might play. We made it first light, the went into the dark, like in Persona.  It starts light, at first, but gets darker and darker. That was one of the difficult concepts of the storyline that we did.
With the AR features in the game, is there going to be an expansion on that?  I know right now, you can only take pictures with the demons. I'm curious if, going forward, there might be some additional aspects to that we can expect?
The reason we put in the AR mode was because one of the concepts of SMT Liberation Dx2 was the digital world comes alive.  In that sense, we only have the feature to take a screenshot with the demons, however, we wanted to make the game and real life come together.  We were planning to do more, but not at this moment.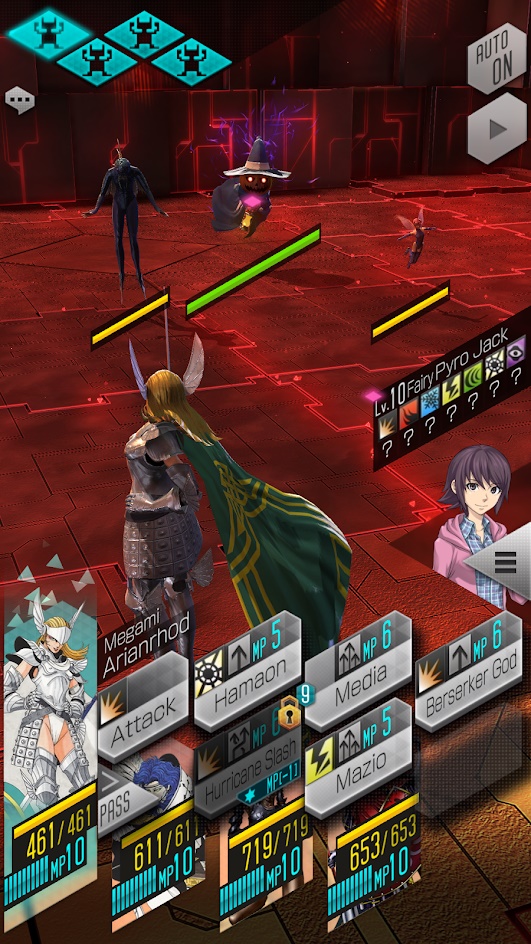 Being on a mobile platform, you constantly want to have frequent content releases — in this case new demons, new party members, et al.  What kind of roadmap do you have going forward?
As of right now, we're adding demons regularly.  As for the Dx2 gameplay itself, we want to be continuously adding on new storylines to it.  We only have six chapters, but moving forward, we definitely want to add chapter seven, chapter eight, and so forth.  Also, since it's a mobile game, we'd like to do some collaboration and crossover type of events. We're considering doing that, too.
That covers the main questions I personally had.  If there's anything you might want to say to our readers, I'm sure they would definitely appreciate any additional thoughts you might have, or words of encouragement so we can get more people to play.
Please keep in mind, Dx2 is not completed.  We are constantly doing updates to try and make any user enjoy our game.  For example, if the gacha rate seems low for certain demons, we want to know so we can update that part of the game.  We want as many people as possible to try it out; it's free!
I like the decision made to give everyone plenty of content to do.  I think that's a very positive step forward in mobile games, and I think going forward, that's definitely the right approach to take.
The main thing we want people's support on — if you're a fan of the series, you'll get into it because it's a unique system. However, for those who aren't fans, it's kind of hard to get into the series at first.  We want that support to show the users, 'Hey, if you give it a try, it will be easy. It might seem difficult at first, but it gets easier as you learn.' We want your support on this.
Absolutely.  It's important for people to see this is a full game, not a mobile-style title where you play five minutes a day".
Yes!  Thank you very much!
Shin Megami Tensei: Liberation Dx2 is available now on the Apple Store and Google Play.
Next Article
Funcom is excited to offer a quick and decidedly creepy glimpse into what gamers can look forward to next week when the seventh major content...
by MissyS
The war is inevitable - Sony Online Entertainment has announced PlanetSide 2 has officially launched in North America and Europe.
by MissyS
Billion Lords RPG is presently available for Pre-Registration on the Play Store and iOS store.
by Ragachak