Infinite Scuba: Showcase available @ PAX Prime 2015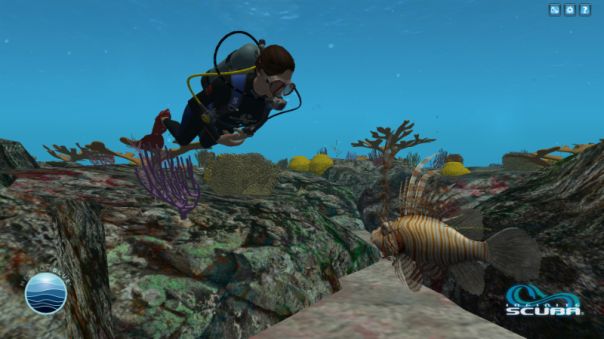 Cascade Game Foundry (CGF) is excited to be exhibiting their Infinite Scuba simulation game at PAX Prime in Seattle on August 28-31, 2015. They are also thrilled to announce that they are one of 25 exhibitors at Seattle Indies Expo (SIX) @PAX on Sunday, August 30th at the Melrose Market Studios. http://seattleindies.org/six/
Infinite Scuba, a diving game that offers players a unique and relaxing experience of exploring real international dive sites, will be exhibiting at PAX with 7 additional game studios including Archive Entertainment, PlayEveryWare, Ludo Land, Escape Fuel, Stumbling Cat, Fat Loot Games, and Air Kingdoms, as well as the Washington Interactive Network.
CGF will offer game demonstrations at the Washington Interactive Network booth, 6th floor booth 6010 all four days of PAX.
"We're jazzed to show the game at PAX Prime and SIX and bring an element of serenity and relaxation to the shows," says Kathie Flood, Managing Director and Co-Founder of Cascade Game Foundry. "Visitors will have a chance to explore our dive sites like real divers do and dive as one of our 5 beautiful avatars, including that of Dr. Sylvia Earle, renowned diver, oceanographer and conservationist."
To ensure that Infinite Scuba provides an authentic and realistic diving experience, CGF works closely with Dr. Sylvia Earle, National Geographic Explorer-in-Residence and founder of Mission Blue. Mission Blue is a non-profit that creates public awareness about critical ocean issues and inspires support for organizations, projects and scientific expeditions that make a positive difference for the ocean. CGF donates $1.00 to Mission Blue for every game sold.
CGF also works with the Professional Association of Diving Instructors (PADI®), and over 20 dive equipment manufacturers, such as SCUBAPRO®, Oceanic, and Body Glove to ensure the integrity of Infinite Scuba's diving experience while raising awareness of critical ocean and marine life issues.
Infinite Scuba was a finalist in Game Connection America's Selected Projects 2014 competition, a finalist in the 2013 Seattle Independent Game Competition, and the winner of the Best in DEMA Show 2012 award. Cascade Game Foundry is a 2013 Graduate of the Washington Interactive Network's REACTOR Accelerator.
For more info, visit https://www.infinitescuba.com
Next Article
GameDP has presented a brand new video for Chrono Tales, showing off the recently released Monster Invasion feature.
by MissyS
Next stop: The Kirin Tor Citadel! They're the only target left in the great heist of Dalaran in Hearthstone.
by Ragachak
Nexon has released two new maps, two new guns, and two new female skins as part of their April of Anarchy event in Sudden Attack.
by MissyS