Imperial City Now Available for The Elder Scrolls Online Across All Platforms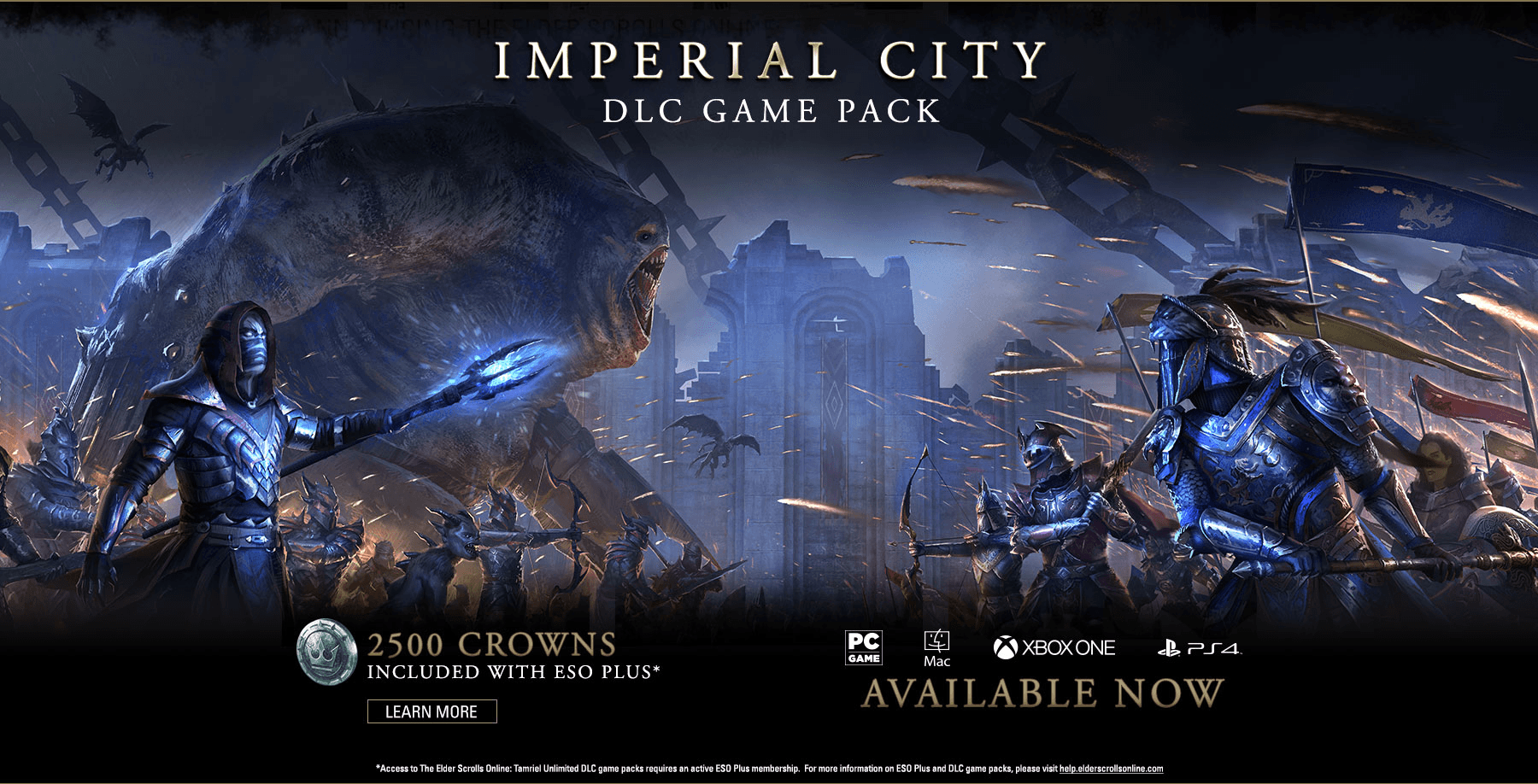 Following a successful launch on PC/Mac, Imperial City, the first DLC game pack for The Elder Scrolls Online: Tamriel Unlimited is now available worldwide for Xbox One and PlayStation 4.
Imperial City, the heart of the Cyrodiilic Empire, has fallen to Daedric Prince Molag Bal and now all three alliances must battle not only against the Daedric forces, but against each other as well!
Developed by ZeniMax Online Studios, the first DLC game pack for the largest Elder Scrolls game ever created is packed with new content. Featuring new areas, quests, enemies, and exclusive items, Imperial City adds hours of additional gameplay for players adventuring through Tamriel on their own, in small groups, or with hundreds of others:
New PVE and PVP Content: Featuring six distinct Imperial Districts, battle against the forces of Molag Bal as well as the other Alliances.
Additional Dungeons: The extensive Imperial Sewers network offers new PVP and PVE challenges for small groups of adventurers, while White-Gold Tower and Imperial Prison challenge PVE adventurers with both Normal and Veteran difficulties.
New Quests, Enemies, and Characters: Whether participating in massive PVP battles in the Imperial Districts or adventuring in one of the new dungeons, players will be introduced to new quests and enemies, including the Xivkyn.
Additional Weapons, Armor, and Currency: Fight the forces of Molag Bal to plunder Tel Var Stones, a new form of currency you can use for exclusive Veteran Rank 16 weapons and armor, or search for new Treasure Vaults containing other rare finds.
Imperial City-Exclusive Collectibles and Items: Exploring Imperial City or visiting the Crown Store will reward the player with a host of new collectibles including pets, mounts, costumes, and polymorphs!
Imperial City is included with an active ESO Plus membership or is available for 2,500 crowns via the Crown Store.
Next Article
UserGames.com, today announced that the Closed Beta for the steampunk-influenced MMORPG Argo will start on the 10th of April 2014
by Mikedot
Mail.Ru, publisher of Juggernaut and other titles, has announced that it will release a new browser-based MMO, RiotZone, in early 2012.
by MissyS
From the depths of the darkest dungeons of Gauntlet, a brave new heroine joins the fight against the hordes of undead, Lilith the Necromancer.
by Mikedot