Hyper Universe Reveals New Character and New Map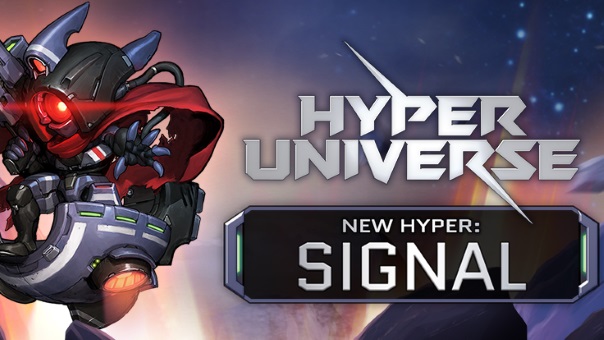 Hyper Universe is rolling out another Early Access content update for fans today, introducing an all-new Hyper – Signal and a new capture the points gameplay mode. The new mode and Cube Bonus Event will be available for a limited time until Oct. 4. Signal is a bounty hunter that chooses to keep a safe distance as he prioritizes his sharpshooting abilities to inflict lethal blows. Their "target scan" ability will grant vision so trying to hide will prove futile. He can be purchased during Early Access for 15,000 GP, which is earned from matches/completing the tutorial. In addition, a new Event Map, "Fortress of the Guardians" is in the game until October 4th.  Players must team up and capture a random number of shrines throughout the new map, and the team that captures the most will earn 25 points. A team needs a total to win the round. New shrine locations will randomly appear, making this mode chaotic, frantic, and exciting.  Players can also earn at least double the amount of Hyper Cubes until the 4th as well, unlocking more opportunities at skins, emotes and emblems.
As a final bonus, Hyper Universe is extending their coverage into more areas, such as South East Asia and Japan!
League of Angels - Fire Raiders' new update was just been released today that brings a huge new Guild PvP mode, new Heroes, and more improve...
by MissyS
RuneScape: Idle Adventures is a multi-platform game that will deliver a miniature RPG experience unlike any other.
by MissyS
Warlords Awakening is ready to give their audience a reason to celebrate this month.
by Ragachak