Huge Expansion Released for Pox Nora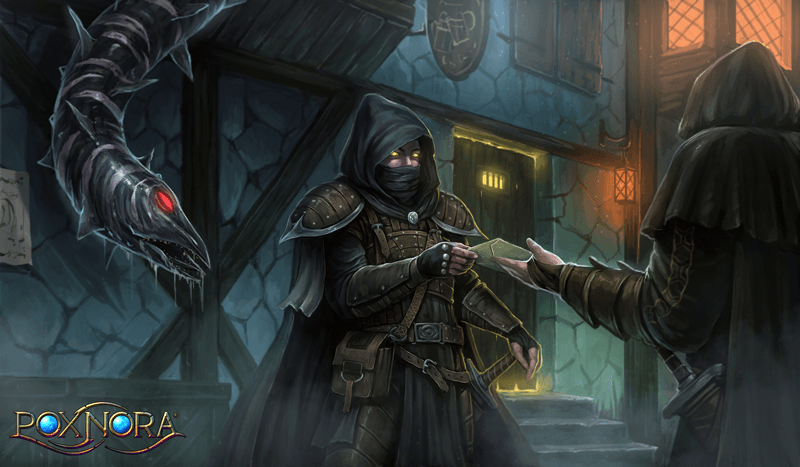 New experiences and intense matches are awaiting players in Pox Nora, the online tactical turn-based strategy game with elements of collectible card games and fantasy RPGs, from Desert Owl Games (DOG).  DOG is happy to announce the release of the 26th expansion for Pox Nora, "Path of De'lim".
This Pox Nora expansion, "Path of De'lim," adds 42 new Runes (cards that represent Champions, Spells, Equipment, and Relics.) along with over 50 new abilities and mechanics to the game.  The story within Pox Nora, the world of Poxathuru, continues to progress as followers of De'lim attempt to assassinate one of the key characters.  The expansion includes a huge new addition, Heroic Achievements, which allows players to try different deck compositions for an extended amount of time, resulting in sizeable rewards.  Once all Heroic Achievements (compiled into sets of 4) are completed, players get an exciting additional bonus.
Features of Path of De'lim Include:
Over 20 Heroic Achievement sets
New map rotation and layout for PvE and PvP
Coalitions expansion added to the Rune Forge and available for gold (currency)
42 new runes (Cards that represent Champions, Spells and Equipment)
50+ new abilities (Special behaviors, powers, and effects that champions have)
16 new Limited Edition version of classic revised runes
New & updated Avatar Abilities
For a limited time, DOG has added a Megabox for the Path of De'lim expansion.  This box contains 300 runes all of which are from Path of De'lim along with 1500 Shards! For more details on the Path of De'lim Expansion visit this page.
Next Article
Mercenary Kings is a title by Tribute Games, famous for their console title, Scott Pilgrim vs. The World: The Game. Though the same artist - t...
by DizzyPW