HEX: Shards of Fate Signature Decks Released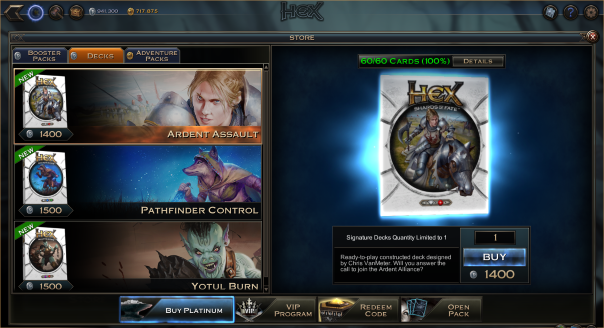 Gameforge and HEX Entertainment have announced the release of three new Signature Decks for HEX: Shards of Fate.
Signature Decks are designed to provide a solid starting point for players wanting to get involved in competitive play. These sets will allow players to head straight into tournaments and competitions without worrying about building their card collection. The Decks were assembled by three renowned deck-builders of HEX: Jeff Hoogland, Chris VanMeter, and Varranis.
These decks each use 60 cards to fit a specific play style found in the card game genre: a burn deck, a mid-game deck, and a control deck. Here's more information about each deck.
---
Yotul Burn – Incendiary Speed
Jeff Hoogland is a professional TCG player with a string of major tournaments under his belt. His Yotul Burn deck composition, revolving around the blood and ruby shards, focuses on the element of speed to put the opponent under pressure from the start. Action cards which deal direct damage such as "Crackling Bolt" force the opponent to act quickly, keeping them on their toes. The deck is beautifully rounded out by aggressive troops such as the "Whirling Brutalizer", which when attacking deals extra damage to all enemies and champions damaged in the same turn.
Ardent Assault – Inexorable March to Victory
Ardent Assault is built around the diamond and ruby shards. Designed and created by Chris VanMeter, a player with more than 20 years' experience in the world of TCGs, the deck builds up slowly but surely, round for round, and really comes into its own during the mid-game. Typical examples of this deck's flair are the "Ardent Officer", who gives all of your own troops on the battlefield a boost of two attack and one defense when attacking.
Pathfinder Control – Command and Control
"Varranis" from the USA started playing TCGs in his early childhood, using that well-founded experience to great effect in numerous weekly cups, as well as coaching other players taking part in major worldwide tournaments. Now he has designed Pathfinder Control, a deck for HEX: Shards of Fate which puts the emphasis on dictating the direction of play. The set fuses together diamond, wild and sapphire shards into a coordinated blend. The main aim in this deck is to counter enemy attacks using cards such as "Countermagic", thereby gaining an advantage and controlling the action until the player is in a position to land a killing blow. The main star of the deck is the "Starlight Pathfinder", lying protected by the other cards in the deck, waiting for the chance to bring some powerful coyotle rogues into play.
Joymax has announced a successful end to the closed beta for Knight Age.
by MissyS
GameArt Studio, the developer of Quantum Rush Online today announced that the future racer, as by 28.07, can now be played on Steam as well! G...
by Mikedot
Today, Kill3rCombo, the publisher of the hit free-to-play action MMORPG Elsword, introduced nine new menacing Field Boss Monsters.
by DizzyPW