Heroes Tactics Boss Endurance Mode Now Available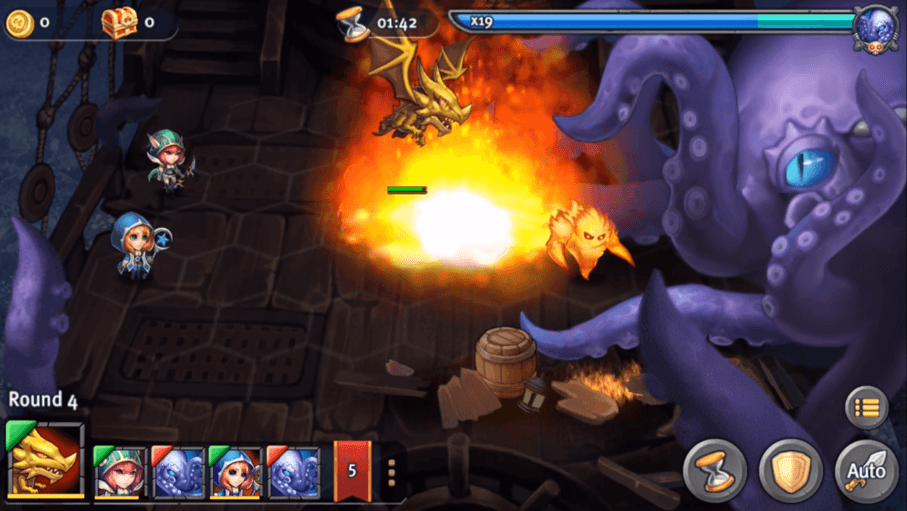 Camex Games, a mobile game developer committed to creating strategy games that actually allows players to control the gameplay, is proud to announce that Heroes Tactics has surpassed over 500,000 downloads since its recent launch.  To commemorate this milestone, a very special Boss Endurance Mode upgrade is now available to Android gamers and includes added hero characters, new levels and maps, and the exciting Boss Endurance Mode where guild members must band together in order to take on massive boss monsters that take up half of the screen. This mode excitingly requires strategy, teamwork and heavy firepower to defeat.
"The community response surrounding Heroes Tactics is tremendous and we thank our players for their support. This huge upgrade shows our commitment to expanding the experience in compelling ways on a regular basis," said Michael Tseng, Senior Production Coordinator at Camex Games. "The Boss Endurance Mode upgrade adds several features our fans have been requesting. Most of all, Boss Endurance Mode is an unprecedented gameplay that brings a new challenge that allows guild mates from around the world to take on huge monsters that takes teamwork and skills to defeat. And of course, the best players will get recognized worldwide in the new Guild Rankings."
In Boss Endurance Mode, players in a guild must combine their power together to defeat an enormous boss for glorious loot. Several turns will be used to take down the giant creature, encouraging players to make use of the Hero Exchange feature where they can borrow guild mates' heroes. The players that execute the finishing moves gets bonus loot that includes elite items that cannot be gathered in other modes of the game. New hero characters and additional Story Mode and Scrimmage Tower Mode levels will also be added to this tremendous game update.
Next Article
GamesCampus has launched an expanded update for Drift City.
by MissyS
Suddenly, out of nowhere... It has returned! The ever-popular MMO Beat 'Em Up, Dungeon Fighter Online (DFO) has been revealed recently by...
by Mikedot
At Hi-Rez Expo 2018, a new game mode for Paladins was announced: Battlegrounds, a Battle Royale mode.
by MissyS