Heroes of the Storm: Samuro & Heroes Brawl Now Live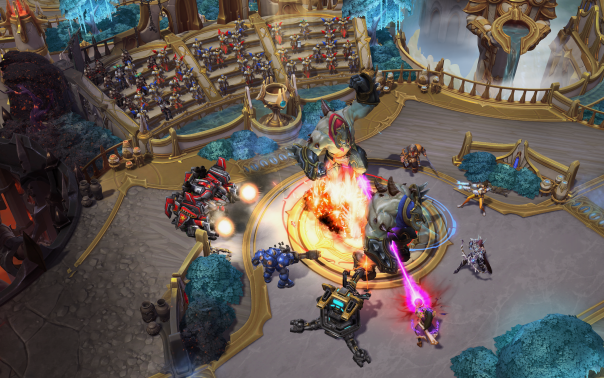 Heroes of the Storm has launched a major content update today, adding the new hero Samuro, and the new mode Heroes Brawl.
Samuro, The Blademaster, comes from the Warcraft universe. As the last remaining Burning Blade blademaster, he has gone on a pilgrimage for revenge and redemption. His kit is as follows:
Trait
Advancing Strike

Basic Attacks against enemy Heroes increase your Movement Speed by 25% for 2 seconds.
Basic Abilities
Mirror Image (Q)

Create 2 Mirror Images that deal 30% of your damage and have 50% of your current Health. Images last up to 18 seconds, and only 2 can be active at once.

Critical Strike (W)

Your next Basic Attack within 10 seconds will be a Critical Strike, dealing 50% increased damage. This also applies to Mirror Images and does not break Wind Walk.
Passive: You and your Mirror Images deal a Critical Strike every 4th Basic Attack.

Wind Walk (E)

Enter Stealth for up to 8 seconds or until you attack, use an Ability, or take damage. While Stealthed, your Movement Speed is increased by 25% and you can pass through other units.
Damage taken during the first 1 second will not break Wind Walk.
Heroic Abilities
Bladestorm (R)

Become an unstoppable whirlwind, dealing moderate damage to nearby enemies every second for 4 seconds.

Illusion Master (R)

Switch places with the target Mirror Image.
Passive: You can control Mirror Images separately or as a group, and they deal an additional 15% of your damage.
Heroes Brawl is a new mode with rules that change weekly. There are many variations of this mode that involve special mechanics, mutators, hero picks, and more. Consider "Hammer Time" which features perma-thruster mode on Sgt. Hammer, the one-lane Lost Cavern, and many other yet-unspoiled adaptations. Players can earn unique rewards and gold by participating in three brawls each week.
There are, of course, other updates and tweaks, so make sure to check out the full patch notes before you get in game.
Next Article
Acquisition, Inc. will play a big part of the upcoming Neverwinter update, set to launch sometime in early November.
by Outfoxed
Closers is a sidescrolling fighting game that plays out in an anime-like story where the player is the lead character.
by Proxzor