Hero Sky: New Guild Wars, New Heroes and More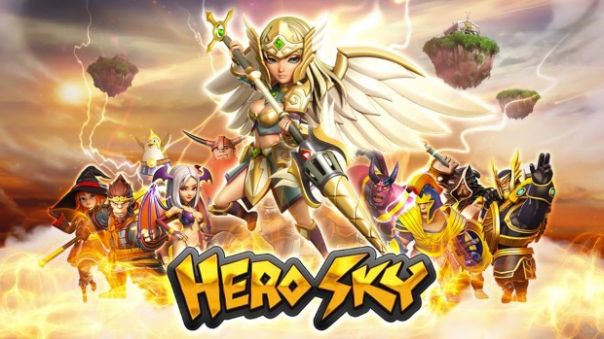 Indie developer Innospark has launched a massive new update to the popular combat strategy game Hero Sky: Epic Guild Wars, which pits players with armies of mighty soldiers and legendary Hero units against hordes of underworld denizens – and against the forces of other players. The new update, which is live in game today, adds four new playable Hero characters, a new playable training mode, a new strategic trap building, and most importantly, the game's massively social Guild Wars mode.
Guild Wars enhances the social functionality of guilds in Hero Sky. Members of these player-run associations can donate resources and troops together to a communal pool to strengthen the guild's overall presence in the game. Guilds can also compete in regular weekly competitions to earn the highest scores and dominate the leaderboards.
The weekly Guild Wars schedule is now underway and is as follows:
Thursdays 1 a.m. PST – Registration opens for 24 hours to let Guilds build their ranks
Fridays 1 a.m. PST – Guild Wars preparation begins for 24 hours to let Guilds donate
resources and troops to the Guild, as well as to upgrade guild forts and let Guardians upgrade defenses and update village layouts. Preparation also lets Guild members spy on enemy villages to prepare for battle
Saturdays 1 a.m. PST through Mondays 1 a.m. PST– Guild Wars Battles begin – Guild members each receive daily battle tickets to conquer enemy villages, after which the Guild map is reset and new invasions can begin – Guild members may continue to fight their battles even if fellow members lose their own engagements. Successful invasions earn Guilds points which increase's a Guild's ranking
The new update also adds plenty of new content to help players further refine their strategies and fortify their forces, including:
New Heroes – Four new legendary Heroes join the game's 100+-character roster; two Heroes inspired by Eastern mythology, Lingling and the Monkey Emperor; and two inspired by Western mythology, the Souls Collector and Succubus
Temptation Campfire" defense – The update also adds a new defensive trap to lure invading forces to their doom
Localized leaderboards and new language support – The game now has localized leaderboards for players to track their standing against not just the entire game population, but also against players from their home country, as well as language support for Swedish, Vietnamese and Polish players
Defense Practice mode – This valuable new training mode lets players test out their strategies, base defenses, and Hero/army combinations before entering battle
For more info, visit https://www.facebook.com/heroskyofficial
Next Article
ESL's record-breaking elite pro gaming tour, Intel® Extreme Masters, today announced that events in Cologne, Taipei and Katowice are set to...
by Mikedot
The tombs are clear, but the danger is far from over in Hearthstone's latest Solo Adventure, Tombs of Terror.
by Ragachak
ArcheAge: Unchained will be opening a fresh start server on September 15, which will address community issues.
by MissyS