Hero Defense – Haunted Island Officially Launches on Steam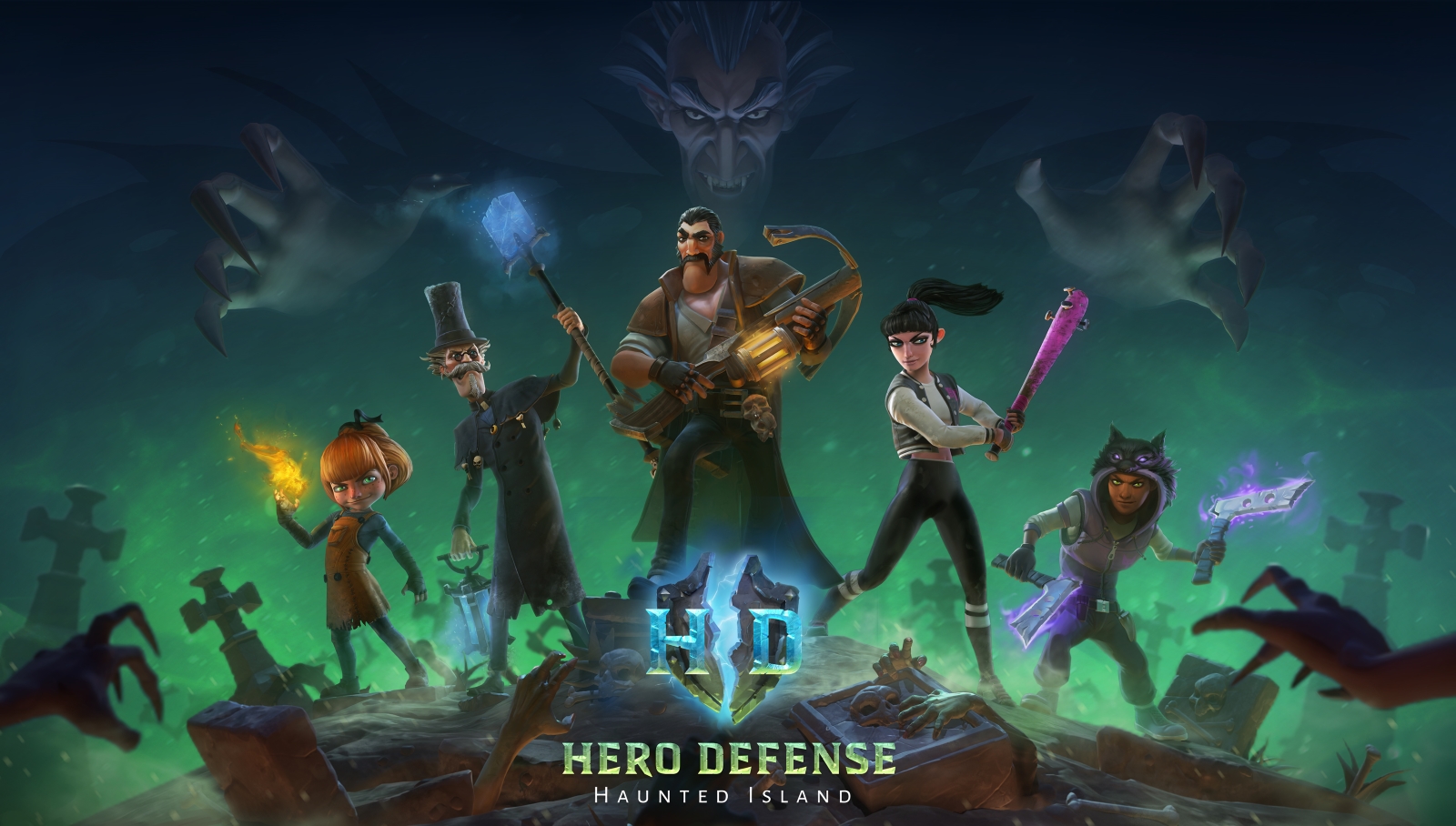 Berlin-based independent developer Happy Tuesday is excited to announce that their tower-defense-action-RPG hybrid game, Hero Defense – Haunted Island, exits Steam Early Access today to officially release on the Steam store! The game launches with a humorous single-player campaign, highly-competitive online multiplayer and an Endless mode for unlimited creep-slaying action.
Hero Defense – Haunted Island flips the Tower Defense genre on its head, turning towers into fully-outfitted heroes with their own skills, stats and abilities. As players progress using the five unique heroes – Jack the Hunter, Barrows the Mage, Sam Hain the Pyromancer, Jane Doe the Assassin and Wylde the Lycan – they can unlock a variety of powerful abilities and stat-boosting runes to help them conquer the waves of undead creeps commanded by the evil Count Necrosis. Players must rebuild the destruction left in the undead's wake to unlock resources that help fortify character skill-trees and learn more about the lore of the world. Hero Defense – Haunted Island features a fully voiced campaign mode, fourteen singleplayer maps and four difficulty settings.
A competitive multiplayer mode pits two players' team of five heroes against each other for a fast-paced fight to defend one's own barricade from undead-creeps. Each player must maneuver their heroes to optimal locations on the map to impede wave progression and acquire orbs for additional offensive capabilities. Whoever eliminates their wave of undead creeps first can strategically dismantle their opponent's defense though wave-customizing Punishments, taking advantage of hero-specific skills and vulnerabilities. Players can also compete in ranked Multiplayer Season matches in pursuit of a weekly champion title.
"Nothing brings us more joy than seeing Hero Defense – Haunted Island graduate from Steam Early Access," said Karsten Härle, CEO of Happy Tuesday. "It's been a long journey and we couldn't have done it without the support of our amazing community members who helped us improve and shape the game along the way. We're delighted to put the full game into the hands of Tower Defense fans all over the world today!"
Throughout its four months on Steam's Early Access program, where it received significant content updates weekly from developer Happy Tuesday, Hero Defense – Haunted Island maintains an overall Steam rating of "Very Positive". Check out what popular streamers around the world had to say in the Hero Defense – Haunted Island Community Spotlight video: https://youtu.be/adDaeX3cm94.
Hero Defense – Haunted Island is available for purchase on Steam and the Humble Store for $14.99, with a special 15% launch discount offered during the first week.
Next Article
Chain Chronicle is the love child of the legendary Sega and Gumi, creator of the popular app, Brave Frontier.
by Ojogo
Trion Worlds announced today that its turn-based battle arena, Atlas Reactor, will launch on October 4 for Steam and Glyph.
by MissyS
This day was all about Warframe, the ever popular Sci-fi shooter created by Digital Extremes.
by Mikedot