Hearthstone's 'The Witchwood' Expansion is Now Live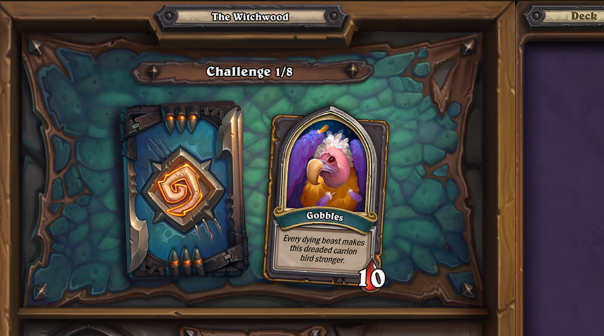 The newest expansion for Blizzard's CCG Hearthstone is now live: The Witchwood! 135 new cards come to the game with the new 'Year of the Raven'. Evil magic has overtaken Gilneas, and the townspeople are gearing up for a showdown with whatever lurks in the dark. New cards and new mechanics come in The Witchwood, such as the "Echo" keyword. Echo cards can be cast multiple times in a turn, as long as players have enough mana to pay the price. In addition, rumors tell of two powerful Legendary minions—Baku the Mooneater and Genn Greymane—that present grizzled deck-builders with a unique challenge: use only odd- or even-cost cards in exchange for a game-changing Hero Power boost.
"The Witchwood brings a spooky Azeroth fairytale to life in a uniquely Hearthstone way," said Mike Morhaime, CEO and co-founder of Blizzard Entertainment. "We can't wait to see players sink their teeth into all the new cards and start shifting their deck-building strategies around Echo and the other new mechanics."
The new year begins with this expansion, and it will user in a new set of cards for the competitive Standard format, changing the established meta in exciting new ways. With this update, last years sets will now be exclusively used in the Wild format, where all cards released to-date are available.
The Lord of the Rings Online Community Manager reveals some small tidbits of news for the game's 2014 roadmap.
by MissyS
League of Angels is offering two new challenges for players - the Alliance Expedition and the Sylph Hall.
by MissyS