Hand of the Gods is Coming to Console!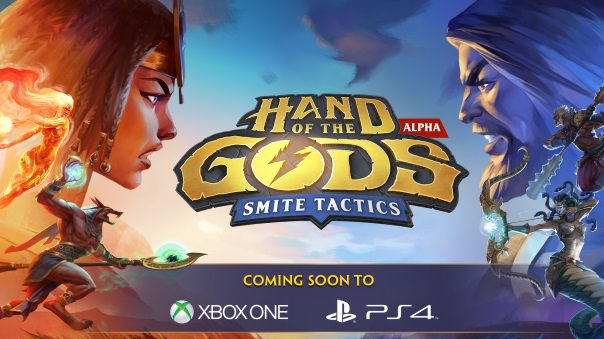 That's right! In a growing trend of PC to console releases from Hirez Studios, Hand of the Gods: Smite Tactics is coming to PS4 and Xbox One! The tactical card/board game hybrid set in the SMITE Mythological Universe, this game is a perfect fit for the console world. For those of you who want to try Smite Tactics for themselves and are at Pax [Sept 1-4], they can play it at the venue, meet the developers and participate in a 5,000 dollar tournament, open to all attendees. It will also be shown at Gamescom for those attending that event.
"With the help of our community, we've created a unique blend of action and strategy supported by amazing visuals that set Hand of the Gods apart from any other game in the genre," said Scott Lussier, Lead Designer on Hand of the Gods. "We are now ready to move forward with testing on consoles, and we invite players to join us in bringing Hand of the Gods to Xbox One and PlayStation 4."
Being able to play something so closely linked to SMITE but in a new way as a strategy/tactics game is a joy to many fans, and is also being embraced warmly by the CCG community in general. To sweeten the pot at Pax, the winner of the tournament will also receive tickets to HiRez Expo 2018, where the best SMITE, Paladins, and Hand of the Gods players will be attending and playing for big prizes! As of now, signups for Closed Alpha for console are now open. It's a unique strategy experience that players won't find anywhere else on either console. It's exciting news, and you can count on us covering it as it develops. Signups are here and here [since there are two links].
Next Article
JC Planet has recently announced that they will be hosting the classic 3D MMORPG: Seal Online, with a brand new server and new events for play...
by Mikedot
Argo Online is a mixed bagged. Its graphics are dated, its gameplay generic, but the PVP is fun and the story interesting.
by ApocaRUFF