Guilty Gear X Crusaders Quest Collaboration Returns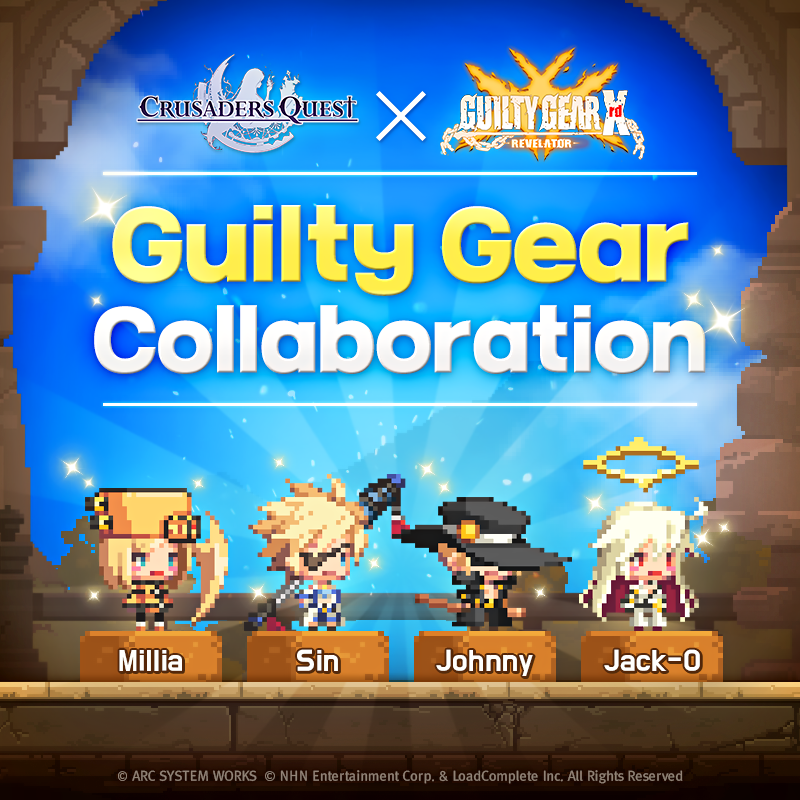 Did you miss out on the Guilty Gear X Crusaders Quest Collaboration in February? NHN Entertainment and Load Complete, has collaborated for a second time with the GUILTY GEAR Xrd – REVELATOR to bring 4 more of their fighters to Crusaders Quest!  Now 11 total Heroes from Guilty Gear Xrd – Revelator can be hired through contracts until June 23rd!
Here's your 2nd chance to hire all of the Guilty Gear characters!  All of the previous Guilty Gear heroes have reappeared along with 4 new heroes from the Guilty Gear Xrd – Revelator. The new Guilty Gear Heroes are Millia (Warrior), Sin Kiske (Paladin), Johnny (Warrior), Jack-O' (Wizard).
See all of the new characters in action in the trailer!
All of the Guilty Gear characters are directly tied to their Soulbound weapons, so if you hire one of the eleven Guilty Gear characters, you'll instantly receive their Soulbound weapon!  Find the two Guilty Gear recruitment contracts in the shop!
Fan-made skins have been added to the shop with this most recent update. Fan artists from around the world have contributed to the creation of these 6 skins that you can use to adorn your favorite Crusaders Quest Hero!
Magnax Leon
Homerun King Stanya
Snake Magician Mamba
Teresa in Sailor Suit
Rachel with Flower Rain
Maria in Summer Vacation
If you're lucky enough to get one of the many Guilty Gear heroes take them to the newly unlocked Manacar World Bosses to show off their power!  The Manacar World Bosses are only available once you've completed the last stage of The Void, Path of Rage, and Road to Ruin Ancient Dungeons.  Only then will you be able to access the deadly World Bosses!
Check out the comic tutorial to explain the tactics to complete this difficult World Boss!
Next Article
Aeria Games has announced the sixth episode update for Shaiya - Trinity Artifact.
by MissyS
Game Hollywood is officially launching their sequel to the mobile title Eternal Fury, Eternal Fury 2 on iOS and Android.
by Ragachak
Joycity has announced a major giveaway event to celebrate the launch of 3on3 Freestyle on Xbox One, which has surpassed 5 million downloads.
by MissyS