Guild Wars 2 Living World Season 3 Episode 3 Press Preview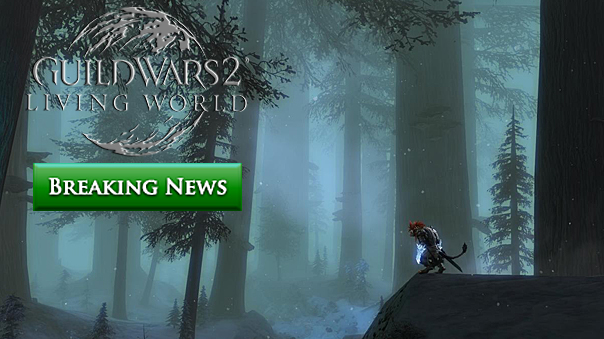 Guild Wars 2 Living Story segments are the gift that keeps on giving. This continuation of the Heart of Thorns storyline is entering its third episode now, and I had a chance to take a peek at some of the new adventures in store for players. Do you like Fractals? How about new zones? Episode 3 has both, and I think you'll find them quite appealing.
First up, the fractal. If you were around for Living Story Season 2, the location will look very familiar. The fractal combines a lot of different elements, including some brought in from PvP: capture points. Of course, that's not the only new concept in this fractal. Without spoiling too much for you, be prepared to enter bullet hell mode. It's always good to see new things in an RPG like this, and while my sphere dodging skills have atrophied over the years, you might have a better time of it. Oh, and watch out for falling bosses …
Once the fractal was completed, we moved on to the brand new zone. After a short quest introduction to everything, you're sent to the Bitterfrost Frontier, where old allies have joined forces against the growing dragon menace. This zone also introduces an all new mastery system in the form of Braziers and Torches of Koda, used to keep the chill of the zone at bay. This mastery ties in heavily with the story of the zone, and you unlock new abilities for the previously mentioned torch as you go along. Additionally, it features a zone-wide progression system, so players will want (and very much need) to work together as much as possible to clear all the objectives.
There will also be plenty of chances for previous masteries to shine, too. The concept of the lava tubes from Episode 2, for example, utilizes hot springs in order to travel around the map much faster than normal. This rewards players who spent any significant time working on previous content, while allowing those who didn't additional ways to increase it. The zone is quite large, so you're going to need it!
Obviously I can't speak much on the overall story of Episode 3, but needless to say, Tyria facing yet another dragon menace is at its core. The new fractal will test you and your friends significantly, but it's an incredible amount of fun at the same time. Plus, you have an entirely new zone to explore, with hearts, waypoints, and vistas to discover (including even more repeatable hearts), new monsters to defeat, and new challenges to overcome. Episode 3 is live now, so experience the new content for yourself as soon as possible!
Next Article
On its Facebook page, the Shadowverse team has announced its plans for a soft-launch.
by MissyS
Gravity Interactive has announced the open beta launch date, plus a new trailer, for Maestia.
by MissyS
Wargaming has released the latest update for World of Tanks, adding new tanks, maps, and more.
by MissyS