Guild Wars 2 Introduces Retro-Gaming Mode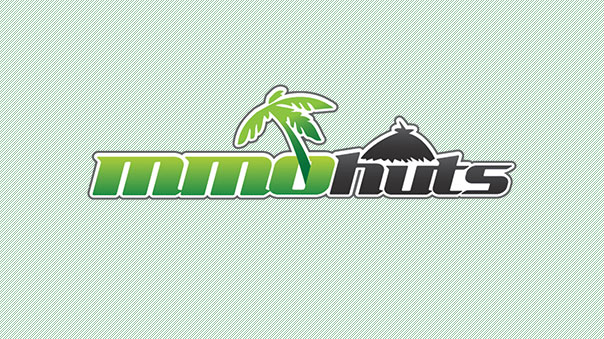 NCSOFT®, the world's premier publisher and developer of massively multiplayer online games (MMOs) and ArenaNet ™, developer of the renowned  Guild Wars franchise, are delighted to continue the great tradition of larking about on 1st April with the introduction of the "Super Adventure Box".
The latest in a growing list of regular, free updates, the "Super Adventure Box" turns Guild Wars 2's world of Tyria into a 1980s-style videogame. The update, arriving today, introduces players to a 3D land of pixelated rabbits, giant mushrooms and retro-electronic music.
"It started out as a fun side project idea", laughed Colin Johanson, Game Director at ArenaNet. "Originally, we were going to have a laugh with a fake 8-bit update, but the more the team worked on it the more we realised we had something really cool on our hands. We figured; the gaming community are really going to love this, let's expand on the concept of the Living World in Guild Wars 2 and make it for real".

"We've turned the clock back 30 years", joked Daniel Dociu, ArenaNet's multi award-winning Art Director. "With retro-style videogames such a part of the Zeitgeist, we're excited to marry Guild Wars 2's cutting-edge gameplay with childhood nostalgia. The results are hilarious!"
The Super Adventure Box features:
Super-Hot Graphics: Featuring 'cutting-edge' graphics with more than 256 colours, the Super Adventure Box is a visual feast for the gaming connoisseur. Your character has never explored a world like this.
Awesome New Levels: Three levels full of pogo mushrooms, platform puzzles, bunny tornadoes, and more. Don't worry about taking a tumble – we've turned off the falling damage and turned up the fun!
Big Fun, Big Rewards: You'll earn "baubles" by slaying varmints and exploring the virtual world of the Super Adventure Box. Exchange baubles for weapons and skills by talking to the shopkeepers inside the Box, or redeem your baubles for special Super Adventure Box weapon skins from asuran inventor, Moto.
Accessible in-game by visiting Moto, a crafty asuran inventor, in the asuran capital of Rata Sum, the Super Adventure Box will be available for one month from today, the 1st April, 2013.
With Minecraft's long history, will it ever be free? We look at some of the key factors affecting this decision.
by MissyS
Independent game developer ArtCraft Entertainment, Inc. today announced the kick-off of the next phase of pre-alpha testing for Crowfall.
by MissyS