Grand Chase releases Gunslinger job for Mari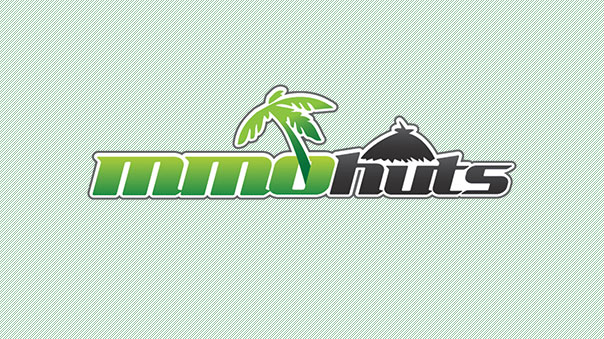 Mari is getting her second job class today in Grand Chase as a Gunslinger.
The Gunslinger job allows Mari to use traps and magic to keep her foes at mid-range. Sharing some similarities to the Rune Caster class, the Gunslinger is stronger in close combat and uses explosive gunshots to do some damage to her enemies.
The Gunslinger class is available at level 20 after collecting all the fragments of the Shattered Maverick in Bermesiah.
The Original Press Release:
NTREEV LAUNCHES MARI'S 2ND JOB FOR ITS ONLINE ACTION-BRAWLER, GRAND CHASE

Mari Takes On The Role Of A Gunslinger And Becomes A Force To Be Reckoned With In The Popular MMO

Irvine, Calif., May 26, 2010 – Ntreev USA, a leading online game developer and publisher, announced today the 2nd job as Gunslinger for the character Mari in the online action-brawler MMO, Grand Chase. Starting today, players can take on this role complete with new skills and characteristics. Players can visit http://grandchase.ntreev.net to download and play the game.

The characteristics of the Maverick-wielding Gunslinger have a variety of unique magic and machines at their disposal which can induce their enemies to walk right into traps and allow for effective mid-distance attacks. The Gunslinger, an ancient title, continues to use the Rune Caster's Mana Shield and Dash Jump, but is much stronger than that of a Rune Caster especially at close quarter combat! The Gunslinger features many new skills including: Shock Wave, the first grade attack where by firing her Maverick into the ground it causes a series of explosions to burst up from the ground; Grade 2 the High Power Rush, summons a cannon that shoots a volley of missiles which explodes within a specific area; and finally Chaos Beam summons a highly-destructive weapon that shoots a ray beam and instantly vaporizes any enemy in its path. This combination of skills and characteristics makes Mari a force to be reckoned with on the battlefield.

"The new job of the Gunslinger has so many facets and skills to it that players will really have to practice and train to use the skills to their full advantage," said Chris Lee, CEO at Ntreev USA.

To become a Gunslinger, players must have attained Level 20 and find all the fragments of the Shattered Maverick in Bermesiah. Only the warrior who can find all the fragments and rebuild the Maverick can become a Gunslinger!
Next Article
The support class seems focused on bringing wide arching buffs or enemy debuffs across a battlefield.
by DizzyPW
Block N Load, the recently announced online multiplayer action game from Jagex has now progressed into its Closed Beta phase.
by MissyS
Rumors of Blizzard's new MMORPG have leaked! The folks behind World of Warcraft have been working on a new MMORPG that's rumored to ...
by Guest