GMs tie the knot in Luvinia Online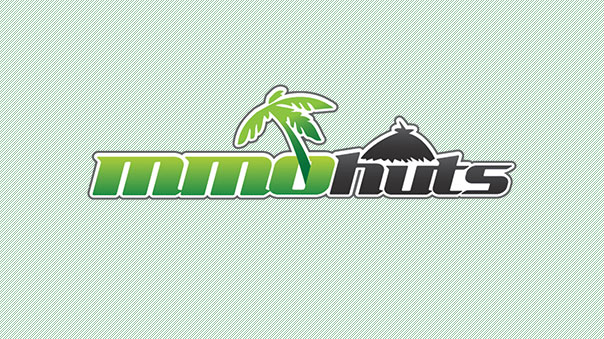 Luvinia Online recently released its wedding update, which now allows players to share their love in-game. Today, GM_Refresh and GM_Mokobonbon shared their vows in Luvinia, and MMOHuts was there to attend.
To attend the wedding, we had to use an invitation we received in-game. This invitation is only useable in Aurora, and transports us to the Hall of Lights, where the ceremony is set to take place. When we arrived, dozens of players were already gathered near the altar, where Bishop Steelem, the NPC Wedding Emcee, awaited the start of the ceremony.
The room was fully decorated with everything the couple could buy – bright white and pink decorations, including marble benches, balloons, cupids, flower stands, and on the platform behind the bishop, sparklers, champagne, and cake tables. After waiting a few minutes, the tuxedo-wearing GM_Refresh appeared beside the Bishop. Shortly after, GM_Mokobonbon appeared in her own traditional white wedding dress beside her groom.
When the wedding started, Bishop Emcee announced it to the area, and through several chat messages, asked each of the GMs in turn to affirm their commitment to each other in front of the Goddess.  After the couple agreed (while we didn't see verbal "I do"s, either to the system or to the large amount of chatting going on), the two then faced each other and exchanged rings. In an interesting twist, the Bishop then asked the GMs to hug (not kiss!) each other.
As the EmCee congratulated the couple, fireworks and confetti were set off in the Hall of Lights, and GM_Refresh declared "SHE'S FINALLY MINE!"
The wedding was followed up by an afterparty that included champagne, cake-cutting, and free potions for attendees from the GMs.
Don't forget, there's still time to pick up your code for free Star Love Fireworks, courtesy of Outspark and the Luvinia team!
Luvinia GM Wedding Screenshots:
Next Article
Today Techland announced that its highly anticipated expansion Dying Light: The Following is set to launch in the first quarter of 2016.
by MissyS
GameFuse announces new content for Rise of Mythos, including the new Angel and Dragon race.
by MissyS
Do you remember the Summer Heat Summer Fun contests in Chrono Tales called Mr. and Ms. Chrono Tales last year? Players' active response and ...
by Mikedot