Fractured Space Celebrates One Million Players with Halloween Update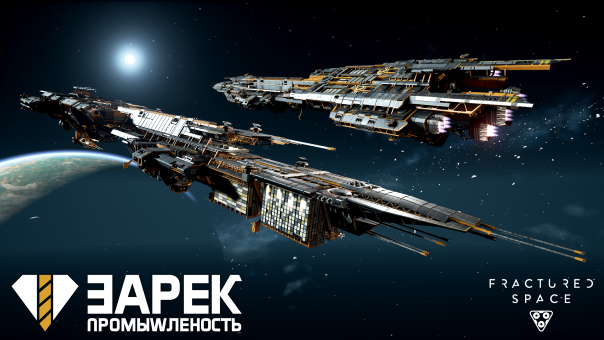 Edge Case Games, developers of the award-winning team-based space combat game, Fractured Space, today announced the game has attracted over one million players while achieving a Metacritic game rating of 80%. The team is celebrating with a new Phase 1.5 game update bringing players a free Halloween crew member, a cracking new ship and much more.
Fractured Space, which officially launched one month ago, pits two teams of five giant capital ships against each other in matches that highlight teamwork and strategy with MOBA-style lanes and sectors as players work together to destroy the enemy's team base. The game's new update adds an undead crew member, repair specialist Ridley J. Fincher, as seen in today's trailer. Ridley is free to every player who logs in from today through November 3—log in now to get his skeletal hands to help your ship! The main game map will also feature a special Halloween moon in Gamma sector through November 3rd.
The update's new Zarek Centurion ship brings a colossal projected force field that can shield itself and allies against attacks. The ship's supportive role is further augmented by its primary weapon's ability to enhance the output of allied fire on a single target, and it also carries an area denial weapon that can severely punish any opponent not willing to withdraw. The Centurion is the ideal battlefield command vessel, allowing its captain to issue movement or targeting instructions to his or her fleet while maintaining a significantly defended position.
With the update, the game's streamlined Frontline mode can now be played in both solo and co-op modes as well as multiplayer, providing a simple, single lane map and a 10-minute limit before the game goes to sudden death overtime. As before, the main Conquest mode can be played in solo, co-op and multiplayer to offer varied gameplay possibilities with three lanes, five sectors and an epic endgame scenario to destroy the enemy base.
Other updates include a whole host of balance changes and fixes. Complete details can be found in the Phase 1.5 update patch notes.
Next Article
Super Evil Megacorp, the company behind award-winning MOBA Vainglory is entering a new chapter today.
by Ragachak
Game industry veteran, Alex Mayberry, who most recently was lead game producer at Blizzard Entertainment, is leaving that position to take on ...
by Mikedot