Final Fantasy XIV Patch Notes – 5.0 – Shadowbringers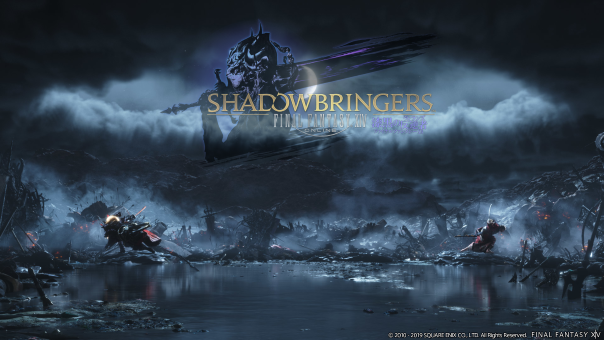 Final Fantasy XIV: Shadowbringers is here! And instead of playing it, which I totally wouldn't rather be doing right now, here are some highlights from the Patch Notes! We aren't going to spoil anything, but this expansion leaves the gate swinging haymakers. 
The latest expansion for Final Fantasy XIV began Early Access today, with 5.0: Shadowbringers. This expansion releases two new classes, a whole new world to explore, new job actions and so much more. Not all of the content is available right away, however. Eden's Gate (Raid) will release in 5.01, treasure hunt instance the Dungeons of Lyhe Ghiah and Eden's Gate (Savage) are scheduled to be released in 5.05. The restoration of the Holy See of Ishgard and New Game+ will release in 5.1 (or perhaps later). The full patch notes can be read in the link below, as well. There are plenty of new cities, towns, and landscapes to explore in Shadowbringers, and we will also receive a new aetheryte compass to use for our mounts.
5.0 will introduce several quests, in addition to the MSQ (Main Story Quest). However, the main story continues with "The Syrcus Trench", at The Rising Stones with Tataru. There is a pre-requisite as always, you must have completed "A Requiem for Heroes". There are new side quests to tackle, and Role Quests for each Disciple of War or Magic class. Players will go through one of these four series of quests, based on their role and the required level range from 70-80. It's important to note that at least one of these role quests will be required to complete the main scenario. These are separate from Job Quests, which will appear after completing the Main Scenario, and their Role Quest Series.
New FATES were added for this land, and players receive bicolor gemstones upon completing 5.0 area FATEs. These can be exchanged with Gemstone Traders for a variety of items. Another fun, useful feature, a preview function for Furnishings have been added, so you can see how things look, and confirm the size/color (including things you don't own yet!) before you place them. There are plenty of new cosmetic items for homes, such as new seeds, fish, and orchestrion rolls. Viera and Hrothgar are also now playable in the game, when creating new characters, or when editing your appearance via Fantasia. This can also happen when hiring a retainer. Gunbreaker also arrived, as did Dancer. Gunbreaker's Quest begins at level 60 in New Gridania (X:11.5 Y 11.9), and Dancer is available at Limsa Lominsa Lower Decks at level 60 (X: 9.8 Y: 12.0). There were also a wealth of changes made to the battle system and jobs/actions/traits, which can be found in the Job Guide.
The Trust System was also added with Shadowbringers. This lets players challenge Main Scenario Dungeons with a party of NPCs. They must be composed of 1 tank, 1 healer and 2 DPS, and cannot be used with other players. After reaching the quest objective to clear a dungeon in the main scenario, several allied NPCs will be standing near the dungeon's entrance. Speak with them, and you will have the option to add them to your party and enter the dungeon. You can also use the Trust System to enter dungeons you've already completed, using the Trust System's UI. For the full breakdown of all of the changes and updates, please click the link below.
Vindictus, Mabinogi Heroes, release date announced in North America. The game will officially launch sometime in Q4 2010 by Nexon.
by Guest
I'm going to give you ten solid reasons why you should give MapleStory 2 a shot if you haven't already.
by Ragachak