Final Fantasy XIV and Monster Hunter: World Collaboration Begins Today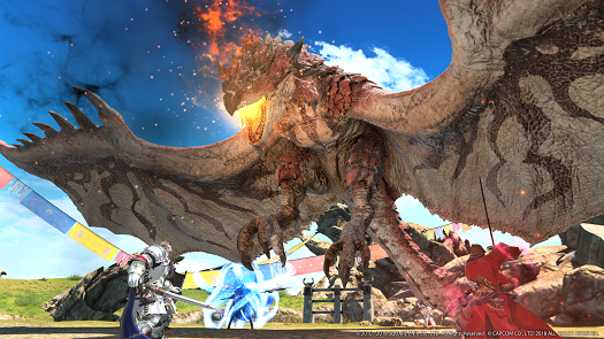 Players who are level 70 in Final Fantasy XIV and has completed the "Stormblood" main scenario quests can undertake a special quest. "The New King of the Block" is a quest where players will do battle with iconic Monster Hunter beast, Rathalos. This Great Hunt trial is an eight-player battle inspired by Monster Hunter: World and those who do not think this is challenging enough can seek out the "Extreme" version, which is a four-player version of the trial that has even greater challenges to overcome. Those who are successful against Rathalos can attain several cosmetic rewards:
Rathalos Armor Set – Equipment Inspired by Rathalos
New Minions – Poogie and Palico
New Mount – Ride Rathalos, the "King of the Skies," throughout Hydaelyn
New Furnishings – BBQ Spit
Patch 4.36 also introduces the next chapter in The Forbidden Land Eureka series: The Pagos Expedition. Players will now be able to explore an all-new area, further strengthen their Eureka weapons, and obtain additional rewards such as minions. Final Fantasy Fan Fest is also on the way on November 16-17th, 2018. Those not there live can watch the stream for free on the official Final Fantasy XIV Online Twitch.
Next Article
Trovians who dare to enter the Fae Forest to be on alert because today, Trove is kicking off its Lunar Plunge in-game event.
by MissyS
C9 (Continent of the Ninth)'s final closed beta test has been announced by Webzen.
by MissyS