Final Fantasy XIV 5.1 Patch Notes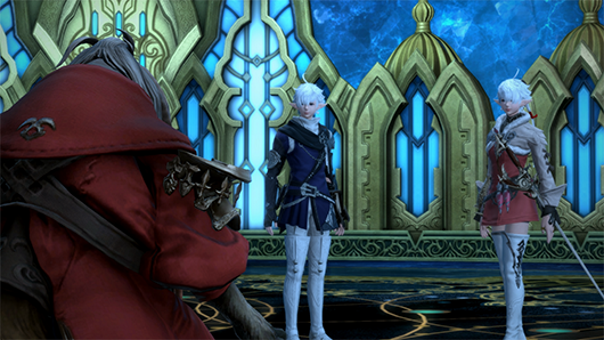 Editor's Note: These are preliminary patch notes, and there is always time for change.
The first super-serious update is on the way for Final Fantasy XIV, and with it comes an absolute mountain of content. As always, please feel free to click the link below for all of the details, we're going to be covering the highlights. The MSQ will be continuing with "Shaken Resolve" and will begin at The Rising Stones. In order to tackle this, players must complete the MSQ "Shadowbringers". This means our feelings are about to be mercilessly stomped on, and our only result as FFXIV players is to ask for more.
The "Chronicles of a New Era" series of missions is receiving more intense content, with YoRHa: Dark Apocalypse. Level 80 Disciples of War or Magic can head to Khoulsia (X: 12.9, Y: 8.6), talk to the Gossipy Dwarf, provided they completed "Shadowbringers" and "Word about Komra". I hope you're ready for the NieR Alliance Raid. For fans of the Beast Tribe Quests, Pixie Beast Tribe Quests are available to go through. What makes these interesting is they will have Quest Sync, so the difficulty of the battles will be adjusted to your current Job and Class levels. The experience gained will be adjusted accordingly. This means you can use the dailies to level classes, and it will be far fairer. However, certain quests will not allow players to proceed with a class or job that is different than when they accepted them.
A new feature arrives in 5.1, "New Game+", which we're all quite excited for. Players need to complete the MSQ "Heavensward", and head to Western Thanalan (X: 12.0, Y: 14.0), and speak with Wistful Whitebeard. NG+ is split into chapters (Heavensward Part 1, 2, 3, 4, Stormblood 1, 2, 3, 4, Shadowbringers Part 1, 2). A Realm Reborn will be added in a later update. New Game+ can be accessed in the Main Menu, and upon completing a chapter, you will automatically exit the mode. There are restrictions during NG+ though, listed below.
You cannot register for new duties you have yet to complete.
* You may still register for duties you have yet to complete provided they are related to quests currently in progress in New Game+ mode.
* While it is possible to enter New Game+ mode while registering for a duty, the commencement of said duty will automatically suspend New Game+ mode. Please resume New Game+ from your suspended data after completing the duty.
You cannot interact with the marketboard or retainer bells, as well as certain NPCs and objects.
You cannot access the Unending Journey.
The Manderville Gold Saucer now has a new GATE, "The Slice is Right", starring Yojimbo. Avoiding his strikes until the end nets players 5,000 MGP, and additional MGP can be earned when certain conditions are met. Several GATEs also had some adjustments made, which can be read below. In other news, Scenario Mode has been added to the Trust System. In Scenario Mode, you can challenge new Main Scenario dungeons with the Avatar NPCs that appear in the latest quests of the Main Scenario. They will not gain EXP in this mode, however. This was also an update with some major changes, in particular to Rogue / Ninja, Samurai, Archer / Bard, and Arcanist / Summoner. We highly recommend checking out their patch notes below, as the amount of changes is so significant. It's almost time for this update to go live, and it has never been a better time to be a hardcore Final Fantasy XIV fan.
Next Article
Path of Exile reaches into their ever growing book of backstory to this time pull a tale that began roughly 200 years ago.
by DizzyPW
Pick your class and get ready to rock at launch
by Mikedot
Mister Sinister is officially making his way into Marvel Contest of Champions!
by Ragachak