Final Fantasy: Brave Exvius Begins Dragon Quest XI Collaboration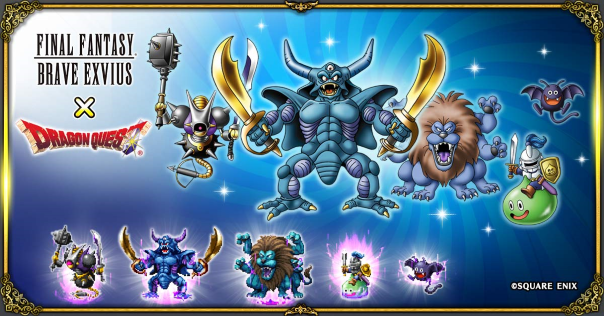 The mobile RPG Final Fantasy: Brave Exvius has teamed up to celebrate the launch of Dragon Quest XI: Echoes of an Elusive Age with a special in-game collaboration event, from today through September 20.
A new raid event challenges players to defeat Estark to unlock special rewards including Marquis de Leon, Dracky, and Slime units. A new featured summon offers players the chance to obtain Estark, Überkilling Machine, and Slime Knight units.
Players can also battle against monsters in another quest, earning medals to exchange for trademark equipment including the new Erdrick's sword weapon.
Dragonlord, Liquid Metal Slime, Robbin' 'Ood, Golem, Killing Machine, and Orochi are also back and available through a featured summon until September 20, 2018. Dragonlord has also has his 7* Unit unlocked, giving players a chance to get a major power up for their team.
Today, Supercell confirmed the news that it is being acquired by Tencent.
by MissyS
Netmarble.com, a leading worldwide online game portal, announced that Dice Venture, an online casual board game, isnow available to play for f...
by MissyS
The looming Iconian war is the greatest threat the Galaxy has ever faced. Enlist now.
by MissyS