Fantasy War Tactics Mobile Interview w/ Director Lee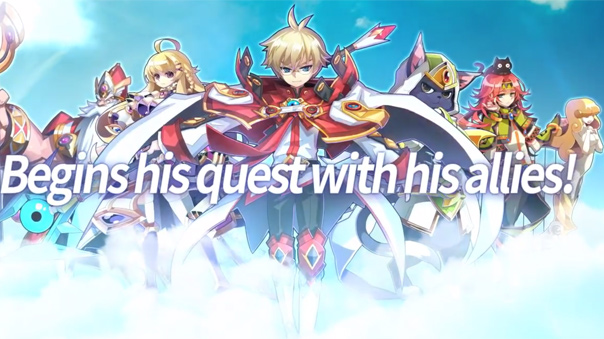 Answered by Jungkeun Lee, Director, NEXON GT)
Earlier in June I had a chance to speak with Jungkeun Lee on the next big mobile game to head our way from Nexon's new mobile gaming focus. Though nothing on the game was known other than a small teaser site, we have high hopes that this would be the game with both the mechanics, and mobile accessibility, to finally break the fantasy tactics genre into the mainstream of free to play gaming. With that in mind, we had to wonder why Nexon would suddenly push such a game, and how exactly they intended to go about it. Jungkeun Lee was more than happy to answer.
QUESTION: What kind of Heroes might we see: the standard humanoid fare, or perhaps some variety like beasts, dragons, etc.?
Lee: There's going to be a great variety of different heroes in the game, including human characters and super-human and non-human characters, like angels, devils, humanoid animals, robots, and many more. The game will launch with 50 different Heroes and we're making sure to include tons of variety, and they can all be used in player-versus-player (PvP) battles as well.
QUESTION: Are spells and abilities character specific? Or can you create, say, a mage that's competent in melee as well?
Lee: You can level up your Heroes in totally different ways. By upgrading your Heroes' powers, equipment and using specific item sets, costumes enable you to make your Heroes stronger in their own unique ways. For example, melee characters can focus on dishing out stronger attacks, or building up a stronger defense – it's up to the player to decide! We tried to make this a bit more streamlined for users by using a skill upgrade system rather than a skill tree system. Equipment is universal for Heroes, but each Hero can also get a unique costume, which empowers them by upgrading their stats.
The real variety is going to come from the way you build your teams, since you can have multiple Heroes on your team at one time.
QUESTION: Is the story going for a lighthearted approach, or something more serious or sinister?
Lee: The story has a bit of a lighthearted quality to it, yes. Your character is an ambitious wizard who will stop at nothing until he takes over the world. Then he finds out that someone else already did. So your quest is still to take over world…from the wizard who already took over the world.
QUESTION: Many iOS/Android games have little to no involvement from other players when it comes to PvP modes. What will set Fantasy War Tactics apart from competitors when it comes to PvP gameplay?
Lee: Player versus player (PvP) will definitely be involved. You'll be able to take on opposing players in one-on-one matches, as well as in other modes we're currently working on. PvP will be strategic and offer a lot of variety, taking into account all of the tactical considerations of Fantasy War Tactics – terrain, unit speed, ranges, and tons of different Hero abilities.
QUESTION: How do players unlock new heroes (campaign, random "drops", daily quests)?
Lee: You unlock new Heroes by playing through the campaign. To make sure more players can get the full game experience, we've designed the Fantasy War Tactics campaign to drop every single playable Hero in the game – free of charge. You won't need to spend a dime to add all of the Heroes to your roster.
QUESTION: Is there any form of crafting present in the game?
Lee: There's no formal crafting system in the game – instead, players can strengthen their Heroes by going after in-game items.
QUESTION: Are you using any sort of energy system for the game, or can players freely play through the single-player experience?
Lee: There will be a stamina system, but stamina isn't fixed or locked – your stamina constantly increases as you level up, so the more you play, the longer you can continue to play.
QUESTION: What has been your favorite part of developing Fantasy War Tactics?
Lee: The Fantasy War Tactics team members are all big fans of the classic strategy role-playing games (SRPGs) of the 1990s and 2000s, so it's been a lot of fun to relive the nostalgia of our favorite tactical games through the development and testing process. We also really enjoy experimenting with different team compositions to come up with new strategies.
QUESTION: Is the game built around planned future expansion? For example, new storylines, new heroes, additional PvP modes?
Lee: It's a bit early to talk about the future of the game, but we'd definitely be interested in adding more Heroes, more story content, and more PvP. (Stay tuned in the future when we can talk more about that kind of thing!)
QUESTION: What are some of your favorite SRPG's from the late 90s/early 00s? How much did that influence the development of the game?
Lee: We enjoyed all the classics, including Final Fantasy Tactics, Fire Emblem and especially Matsuno Yasumi's excellent Tactics Ogre! It's hard to pick a single game that gave us the most inspiration – especially since these are all very different games – but suffice it to say, we're trying to include the great tactical gameplay from those classic games while optimizing Fantasy War Tactics as much as possible for mobile.
We should mention that the game will be soft-launching in late July the Netherlands, Finland, Australia, and Malaysia, and we're hoping to get lots of good feedback from those territories in advance of our global launch. In any case, we hope that the turn-based tactical combat, story mode, and variety of playable Heroes of Fantasy War Tactics will scratch the same nostalgic itch for other players as this project has for us.