Family Guy Online Review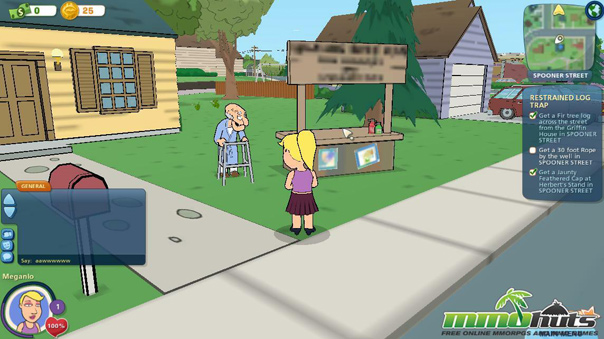 By Ange Perdu
Family Guy Online or FGO is a 3D free-to-play browser MMORPG that's based off of Fox's hit animated series. Players get to enter the fictional city of Quahog, Rhode Island and become citizens. The citizenship process which is conducted by Mayor West is rather unorthodox. Players have to help out the locals including the Griffin family in various tasks. Along the way pledging residents can collect rare items and earn laughable combat or social skills, participate in mini-games, and occasionally fight in PvE battles. In this fantasy MMO, fans of the TV show Family Guy not only get to explore but they can also interact with their favorite characters. Join Peter, Lois, Meg, Chris, Brian, and Stewie on their wacky misadventures as you level up and move into the town of Quahog.
Becoming a Citizen of Quahog, the Gameplay
Players start out by creating a generic character resembling one of the four starter classes. Select an obnoxious overweight Peter look-a-like or another member of the Griffin clan. Classic Family Guy humor is embedded throughout the game. As players browse through the character class descriptions a warning for anyone over 40 attempting to create a baby Stewie class appears, stating that the FBI is now monitoring their computer. It's funny. Familiar faces from the series are NPCs. Mayor Adam West gives players a quick tutorial and guides new residents through the process of becoming an official citizen of Quahog. In order to level up in status users must complete an assortment of tasks. The majority of quests in FGO involve fetching weird supplies and finding various hidden objects. Grab a jaunty feathered cap at Herbert's stand in Spooner Street or pick up Brian a magazine at the Pornoslavia shop downtown. Once a quest has been successfully completed a mini-clip of a previously aired episode of Family Guy plays that relates to the items users were asked to acquire. Advertisements and promos also play and pop up throughout the game too.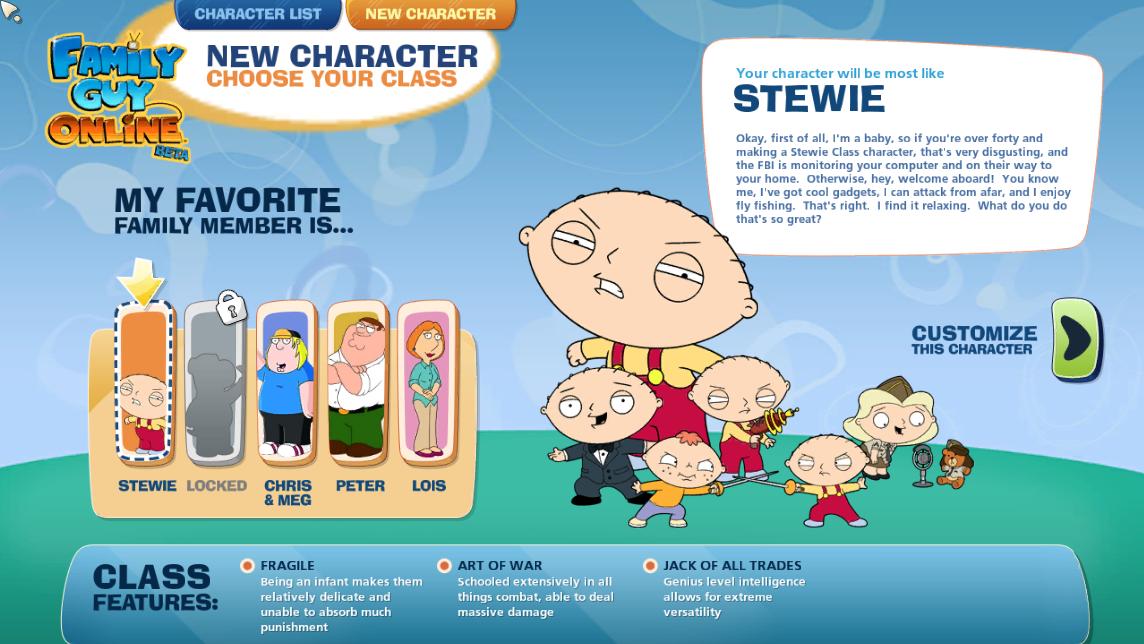 The onslaught of deodorant, movie trailers, and iTunes Store Ads can be annoying. It takes away from the game which is actually quite entertaining at stages. There's original voice dialogue, endless jokes, and references to some of the series' funniest episodes. However the gameplay often feels slow and repetitive since most of the tasks simply involve finding odd items. There's also a lack of direction in the game as well. After completing a dozen or so quests players are given a long laundry list of objectives with no auto-walk or map feature to assist in speeding up the process. Find the racist sunflower, locate the dirt bike anthem, and find Cleveland's birthday card along with other random tasks will appear on a player's stuff to do list. These objectives must be completed before moving up to the next level in citizenship. It's like a screwball Easter egg hunt only Family Guy style.
Giggity Giggity Giggity, Alright
One feature that definitely stands out in FGO is the graphics. The 3D Unity Engine gives the game a polished HD atmosphere. Similar to A Mystical Land the quality almost surpasses the standards of typical browser titles. Players are instantly transported into the animated world of Quahog. From the long winding streets to small details inside of characters' homes like toothbrushes placed on the bathroom sink counter, it's all been covered. Geared especially towards fans of the show, users can take a scenic stroll through Spooner Street, visit Quagmire's house, or stop for a drink with friends at the Drunken Clam. There are nine different zones to explore. Each player must reach a certain citizenship level to unlock a particular area. Residents are also free to explore. There are special collections that players can complete by finding items scattered through the zones. Search for a tennis ball, Martini glass, fine whiskey, and an Old Yorkee Magazine to snag the Brian collection.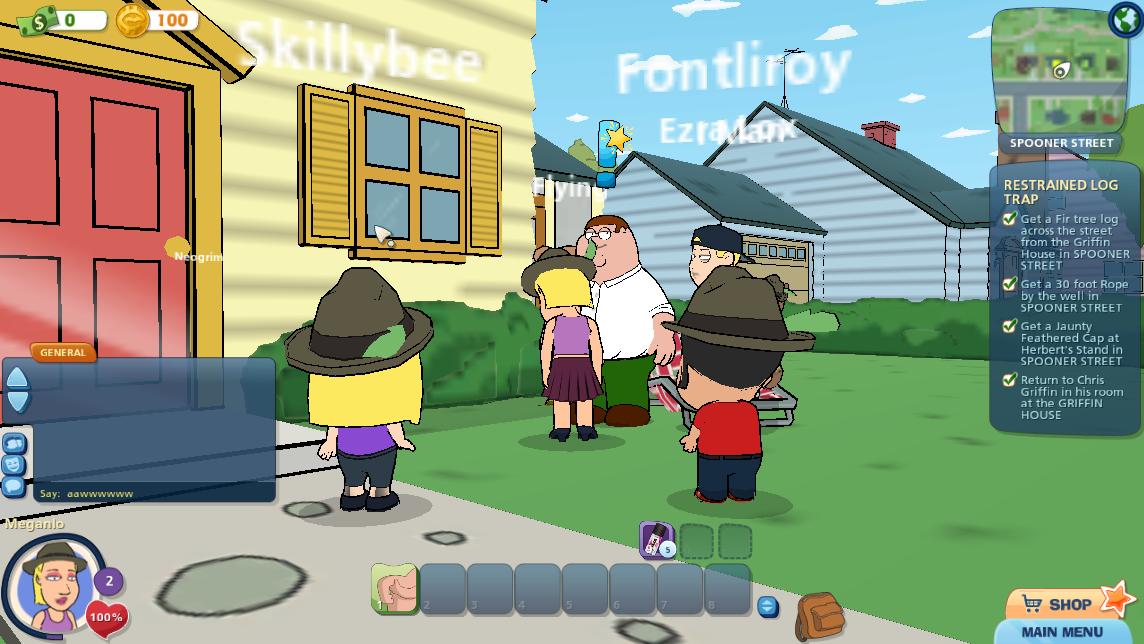 When Cheerleaders Attack
Occasionally while players are wandering the streets and tackling quests they will encounter hostile individuals that want to rumble. Whether you're a Stewie or Lois each character class has their own set of distinct combat and social hot key skills. These skills are automatically received upon leveling. The Peter class has the dad punch and the noxious belch to subdue foes while the Chris/Meg class features the always effective groin kick and the 'I hate you all' as signature moves. A quick click on an enemy initiates an attack. Surprisingly most of the combat in the Family Guy Online is fast paced and challenging. Although there's no PvP battles players can join forces with their friends for co-op combat. Take out a group of angry cheerleaders, fight a mob of prisoners with your fellow neighbors or try to kill a boss character on your own. It's up to residents to determine how social they want to be but many of the more difficult PvE battles do require assistance. There are also mini-combat games for higher level players to participate as well.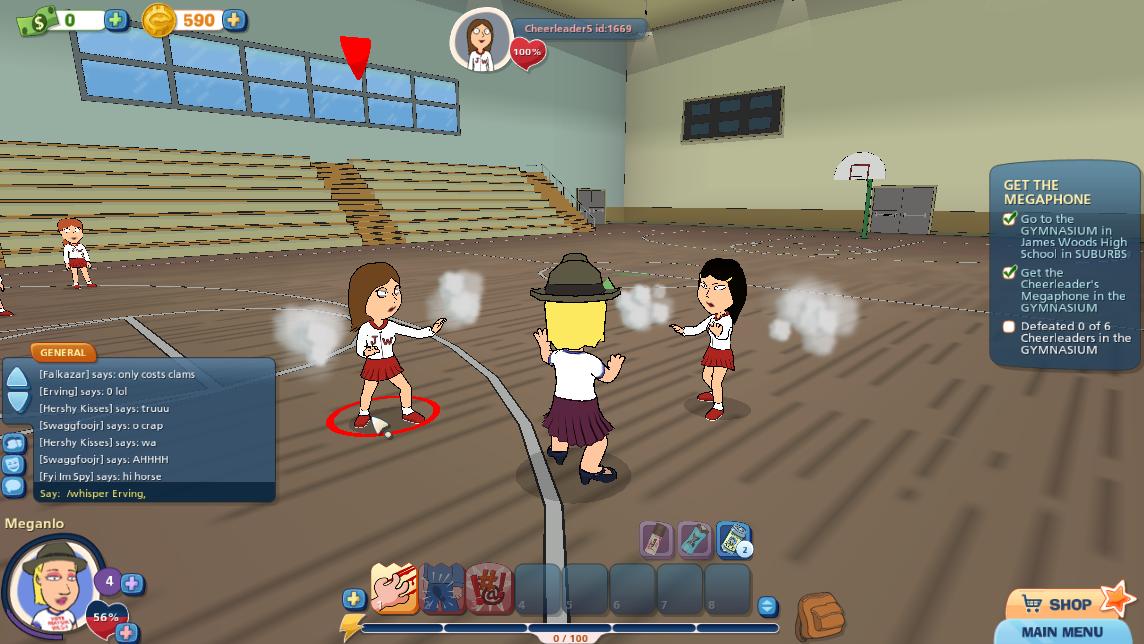 Gear & the Power of Cheezed Wiz
Similar to other titles bases off popular franchises such as The Sims Social players have the opportunity to customize their characters with a wide selection of gear and accessories. Family Guy Online features a shop where residents can buy the latest in clothes, consumables, and skills. The skill and weapon section is pretty empty but the apparel selection is huge. Players can purchase military camo shorts, black skinny jeans, jogging pants, miniskirts, dark pink fishnet, bear underwear, grey hoodie, green sneakers, and brown snail eyes. Items like round glasses, bat cape, and a Ted head can be bought for in-game coins as well. For those willing to spend real cash a brown poncho, teal Hawaiian shirt, tissue box shoes, night vision goggles, black superhero mask, blinders, red heart thong, leopard print jeans, and cricket shin guards are available. Most of the clothing items have been worn past episodes adding to the theme. The Brian character class can also be unlocked for some bucks. Players can buy consumable items like tasty juice or cheezed wiz that provides an instant health boost. Pepper spray and even the disco party skill which makes fellow citizens within distant immediately start to dance are also on sale in the shop.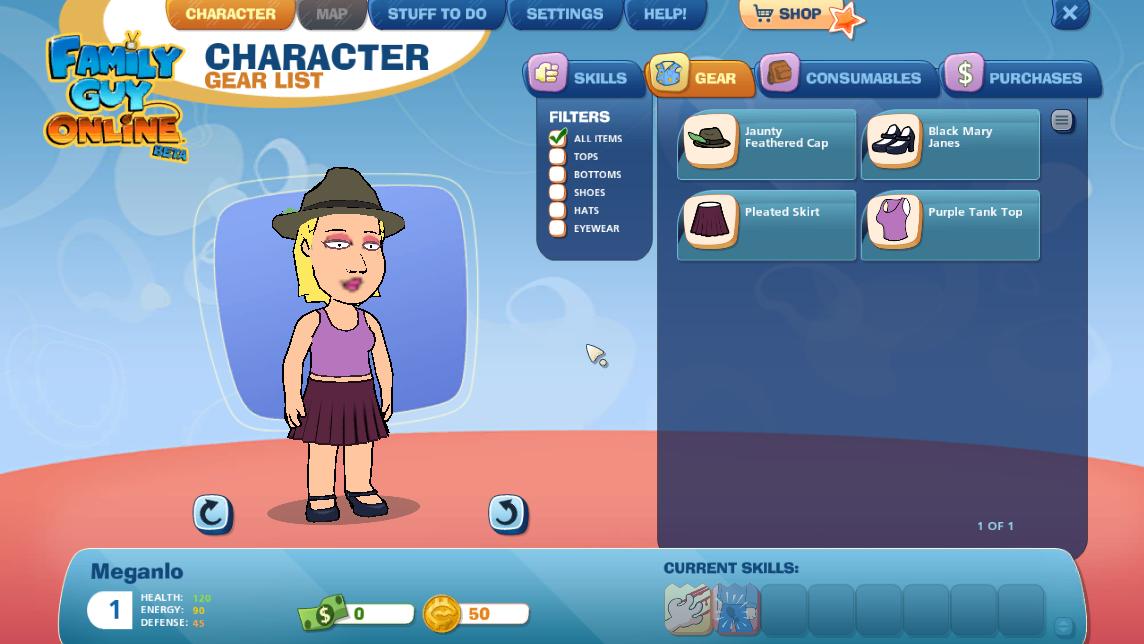 Final Verdict: Fair
Family Guy Online has massive potential to be a great game but it falls short when compared to most browser MMOs. Despite the stellar graphics and tidbits of humor it comes off as more of an interactive advertisement than an actual game. Players create generic versions of their favorite characters and then are bombarded with Axe deodorant and digital download promos. There's plenty of so-called stuff to do but they don't really hold your attention. Trekking through the streets of Quahog for weird items is fun at first but after about 30 minutes it gets old fast. Much like Kingdom of Loathing it's something silly to pass time. If you're a Family Guy fan or looking for new casual F2P game to play then FGO might be worth checking out.
Next Article
Aventurine S.A., developer of the PvP MMORPG Darkfall Unholy Wars, announces an April patch update which contains exciting changes to the game...
by MissyS
Dragon Nest provides an enjoyable experience with fast-paced gameplay that many other action MORPGs barely come close to reaching.
by Mikedot
En Masse Entertainment™, a player-driven publisher focused on delivering fun and innovative online games, is pleased to celebrate the first ...
by MissyS