Era of Celestials' 'Legion Warfare' Has Begun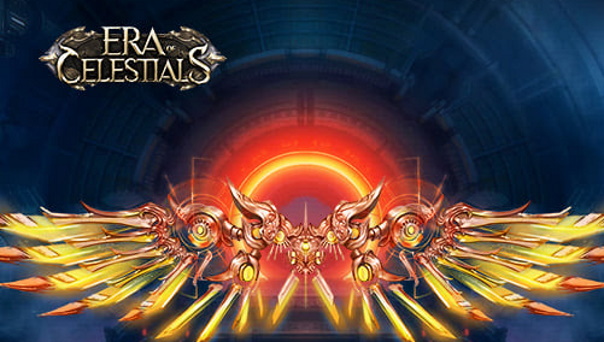 The long-awaited PVP gameplay for Era of Celestials, Legion Warfare: War of the Gods, is now here. This will create new, incredible struggles for dominance in Era of Celestials. With "Battle at Dawn", the championships have begun in earnest, and with each championship, registered legions will be sent to a battlefield, where they will seek out competition and glory, at the expense of another legion. Rewards are allied, according to legion and player performance. Legion points accumulated during the championship skirmishes are used to determine if legions are qualified to move forward and take part in the Final Battle.
A legion's participation in the final battle depends on how many points they've accumulated in their first three battles. After all legions have proven their worth in the first three battles, they are all ranked according to performance; the top four legions go forward to the Final Battle. As players take on the Legion War, battling and hitting certain milestones will not only grant players much-cherished Personal Point Rewards but also see their Legion Points and Legion Contributions topped up too. Above all else though, players will need to recognize that that the ultimate prize here is the honor of their legion.
Players can also add Elysians to their Legion's Mercenary Pool for rewards. Elysians added can still be used in normal game modes as well. They can now also fight in the War of the Gods as an Elysian group, players may want to experiment with drafting other members' Elysians from the Mercenary Pool and add them to their own groups. There is also a fourth class in Era of Celestials in this update: Supreme Paladin! The Supreme Paladin is a guardian, empowered by Holy Light. His left arm swings the exclusive weapon "Eternal Holy Gun", and his aright beards the Immortal Shield to enhance their defense. The Supreme Paladin can swap between offensive and defensive moves seamlessly.
The Trials of LIght are here to gain a free Class Change Card. Players can gain trial experience to improve the level, and trial experience can be obtained by playing through several modes: Boss Hunt, Sacred Ruins, Fallen Shrine, Sanguine Contest and War Against the Gods. Warriors can gain rare materials such as Genesis Stone and Class Change Card by gaining experience to upgrade the trial level.
Following the huge participation in the Celestial design contest, which saw AutumnLeaf from CET-S156's beautiful work selected as the winner, players can now select "Elysian of Balance – Vyenna" in-game
Championship Schedule:
Battle at Dawn: 2019.08.29
Battle at Twilight: 2019.09.05
Battle of Axis Mundi: 2019.09.12
Final Battle: 2019.09.19
Next Article
Bandai Namco has announced today that they are working together with Round 8 Studio of NEOWIZ to bring Bless Unleashed to the Xbox One.
by Ragachak
Starting today through January 8th, 2019 (UTC), the entire Webzen.com portal will be celebrating the holiday season with all players.
by Ragachak