Elsword's New Dimension Witch Class Conquers Time and Space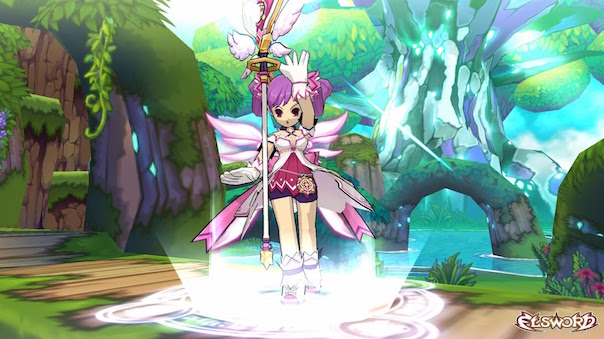 Kill3rCombo, publisher of the hit free-to-play action MMORPG Elsword, announced today the launch of its latest new class, Dimension Witch as their transformation Evolution series continues. The Dimension Witch class gives the popular character, Aisha, the power to control time and space with some of the most powerful magic of any character.  Dimension Witch is an enhanced version of the Battle Magician class. It retains the powerful melee abilities that made its base class so unique, but also gains spatial magic that allows her to pull enemies to her range and neutralize their attacks. With enhanced teleportation skills, she also dominates the arena with ultra-fast mobility.
When Aisha began her combat training, she was given a magical pendant to enhance her physical power by her mentor.  As a sorcerer who could hold her own in close-range fighting, she trained and grew, but soon realized her combat abilities wouldn't be enough to fulfill her potential.  She was given a scroll that informed her of rare moonstones that would fall to earth during the Harmony Festival. When these rare moonstones merged with her magical pendant, her powers were enhanced to the point where she could even control time and space.  With her new spatial magic, she could now show the world the ultimate power of a Dimension Witch.
Next Article
Mystera Legacy is a 2D MMORPG sandbox game that is very familiar, made in the style of a lot of the iconic Game Maker Pro games.
by Proxzor
Uncharted Waters™ Online, the historical massively multi-player online role-playing game (MMORPG), introduces a new game update, the Tower o...
by MissyS