Elsword Celebrates Critter's Carnival Pet Dungeon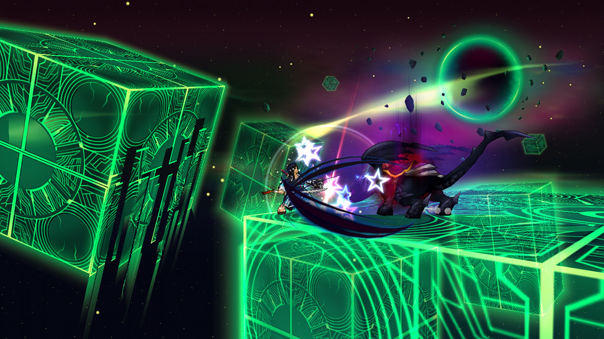 KOG Games today announces the launch of the fuzzy, fun and fantastic Critter's Carnival Pet Dungeon and Events, going on April 15 – 28, 2015 in Elsword!
Ready for the hunt! The monstrous Wild Rider suddenly appeared, bearing tooth, claw and an appetite for destruction. After raining down destruction upon the land of Elrios, it vanished just as quickly. The heroes of Elsword won't stand by and wait for reinforcements, and the plan to take the fight to The Wild Rider and tame the wild beast. Glave, in his new role as the Critter Tamer, is at the ready to provide our heroes with a Soul Stealer Stone necessary to capture the monster.
Ready up, brace yourself, grab a map and locate the Wild Rider's hideout in Joaquin's Laboratory of Alchemy. Word has it, this lab is the site of gruesome experiments, and Evil Joaquin will sure get in your way.
What to do:
Find The Wild Rider | After defeating Evil Joaquin in the Laboratory of Alchemy dungeon, players still have to find the Wild Rider! However, not everyone who enters the lab has a chance of finding it. If our heroes are lucky enough to happen upon The Wild Rider, they better be ready to defeat it!
Acquire The Wild Rider's Hideout Map | During the event period, players that log into Elsword will receive a Map with the location of the hideout in their in-game Mailbox after waiting one minute. This Map allows players to enter Joaquin's Laboratory of Alchemy. Players will receive 4 of these maps daily.
Glave The Critter Tamer | Let Glave's critter know-how give you the advantage over The Wild Rider. Glave offers the Soul Sealer Stone; a quick slot consumable item. Use it on the Wild Rider when it has less than 20% HP, and you will beat the critter instantly. But use it sooner than that and you'll make the beast tougher to control. Successfully using the Soul Sealer Stone will also earn you either a Corrupted Wild Rider's Soul or Pure Wild Rider's Soul which can be used to acquire your own mount.
Crafting Wild Rider's Soul | Bring 20 Wild Rider's Soul Sculptures and the equivalent number of Mystery El Shards to Glave and generate a Corrupted Wild Rider's Soul. This is a cube that contains a random time-limited or permanent mount. You can open it right away or keep collecting these to ultimately craft a Pure Wild Rider's Soul which contains 1 permanent mount from a list of eight kinds.
In addition to this awesome Dungeon Event: Back by popular demand – Retro Life Crystals are returning to the shop in Elsword. 20 of Elsword's most popular pets are being offered in the shop for a very limited time. If you miss them this time around, they may never return again.
Learn more about Elsword at their official site.
Following the recent success of the Closed and Open Beta events, GTArcade is excited to announce the official launch of League of Angels II.
by MissyS
Today, Carbine and NCSoft have announced the official launch of WildStar on Steam.
by MissyS
Gravity Interactive has announced that the massive War of Emperium update has officially launched on Ragnarok Online's Classic Server.
by MissyS