ELOA Interview with Webzen and NPICSoft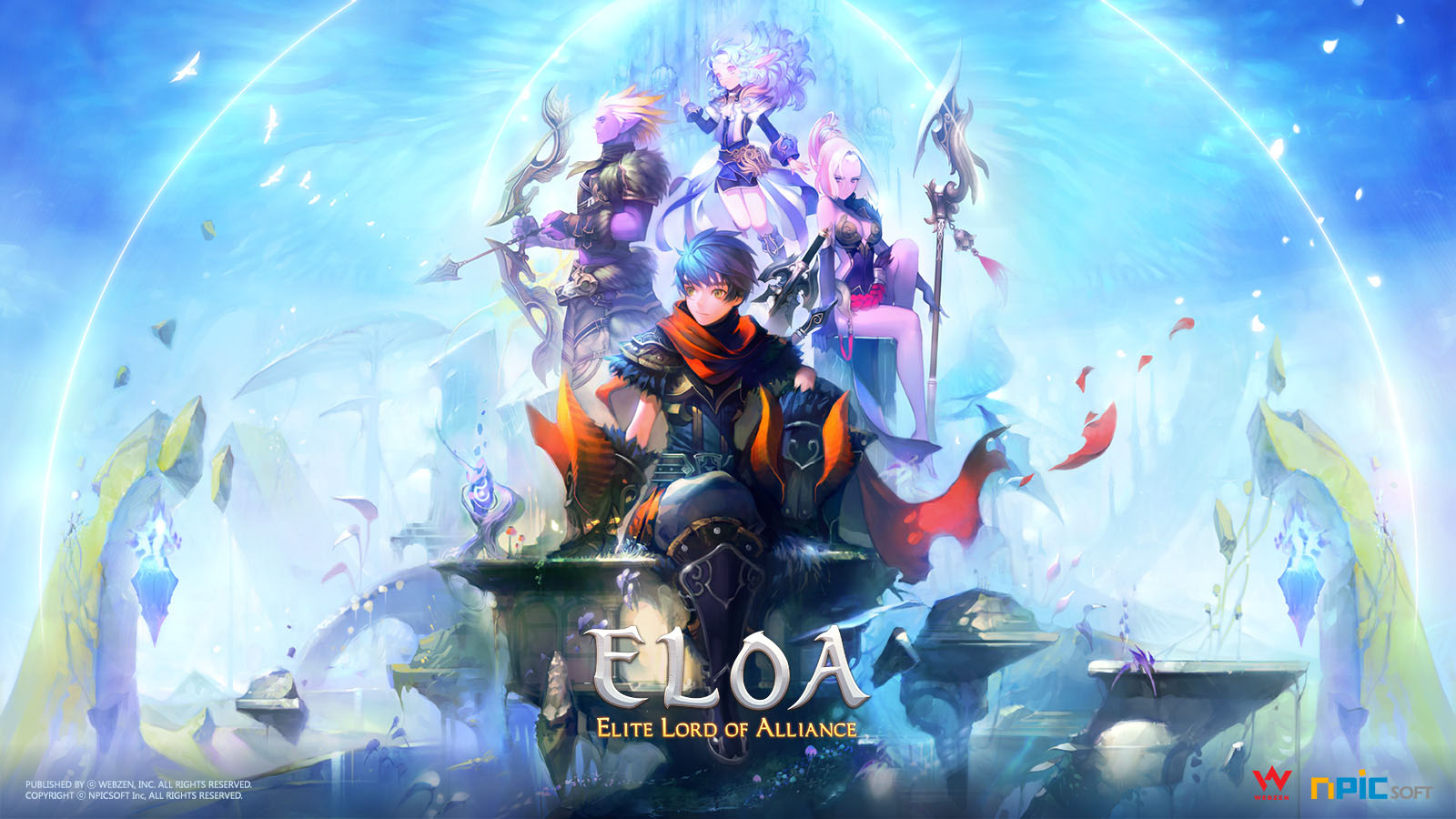 Questions by Matt Short (Trilient)
Answers By
Dennis Choi: CEO NPICSoft
Richard Sunmyoung Moon: Head of Global Business Development at Webzen
Hello, my name is Dennis Choi, and I'm the founder & CEO of NPICSOFT Inc., the developer of ELOA (Elite Lord of Alliance). It's very nice to meet you, and thank you for this interview opportunity. Today I'm joined by Richard Sunmyoung Moon, Head of Global Business at WEBZEN Inc., the official publisher of ELOA in the West.
Trilient: What's the difference between ELOA and Inspirit online?
[Dennis]: Inspirit Online is not an official version of ELOA. In fact, we have sent many official notifications to the corresponding company, declaring Inspirit Online as an illegal copy of ELOA. It is important to note that NPICSOFT has registered the global license of the brand name "ELOA", along with its characters, etc. This includes licensing rights for North America, Europe, and other countries. However, a company called "GRE" is still continuing its unauthorized services. The developer of ELOA is NPICSOFT, and the official publisher of ELOA is WEBZEN. Inspirit Online is simply a copy of ELOA, a game developed by us, and will be considered as an unauthorized, illegal private server.
Trilient: What makes ELOA stand out, not just from IO, but from other MMORPG's in general?
[Dennis]: I think ELOA is superior to any other MMORPG currently active, owing to its unique dynamic battle system among many MMORPGs where stable server synchronization is the most crucial. I believe the unique feature of ELOA is the strategy whereby users can customize their own various skills and combos, and apply them to battle at any time, as opposed to all the emphasis simply being on actions.
In addition, we provide a smooth gaming experience with an easy-to-use "Automatic Party Matching System", to support users in PvP areas and dungeons.
Also, we allow players to acquire and grow their own pets to move faster and enjoy various conveniences. Users will be able to see a variety of pets in the town.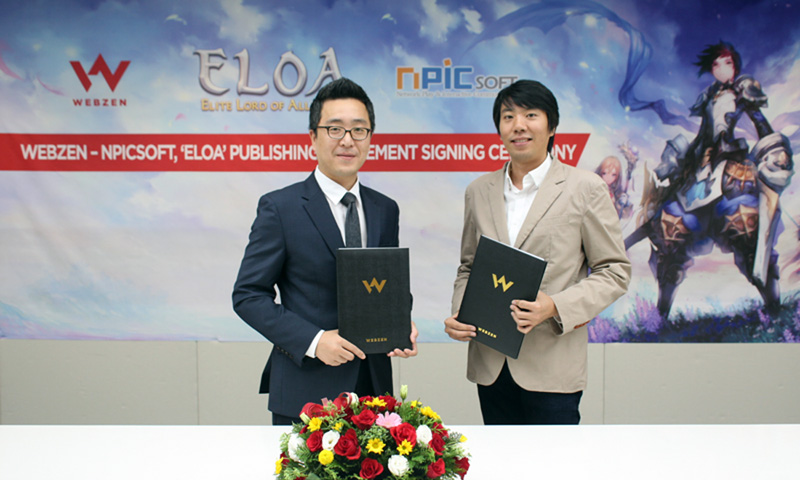 Picture from partnership signing between NPICSoft and Webzen.
Trilient: Do you expect the launch of ELOA to have an impact on the already existing Inspirit online?
[Richard]: Now that the publishing contract has been signed, WEBZEN will take every legal and business measure to manage WEBZEN's license to the best of our ability. WEBZEN has been authorized to utilise all rights for the game's brand and license to enforce adherence to the lawful copyright of NPICSOFT, and will try our best to protect the license of NPICSOFT which was infringed without notice.
Trilient: Since there would be two versions of essentially the same game in the west, wouldn't it be confusing for fans of the game to know which version they should play?
[Dennis]: We understand that this situation must have caused a lot of confusion among players who learned about ELOA and started playing it under the name of "Inspirit Online". ELOA is currently serviced by our Korean partner company, Netmarble, and contains much higher quality content compared to Inspirit Online, with the localization for North America and Europe already in progress. About 100 developers at NPICSOFT's ELOA studio are currently devoting all their energy to the global release. We're very certain that the running of Inspirit Online, without any basic understanding of ELOA, will never be a match for the official content of the original game.
Trilient: Is the direct competition a factor being considered in gearing the Eloa cash shop compared to typical models used by Webzen MMORPGs in the past?
[Richard]: ELOA will be "Pay for Convenience", and items that change the visual appearance of your character will be available in the shop. We are aiming for convenience only, such as a slight increase in experience gain, visual transformations into NPCs or monsters, or ridable pets which can also be obtained in game.
Trilient: Do you have anything planned for ELOA that might prevent the game from becoming stale in the future?
[Richard]: ELOA has its own unique strength as a game, and offers completely different art direction and gameplay. You will immediately notice the anime style, which is a big and quite amusing contrast to this darker themed world. For example, riding a giant teddy bear as a mount is not something you see in many other games in the usually grim action RPG genre. The combat system offers 3 stances that you can switch between mid-combat, what we refer to as "triple action", which is another completely unique feature to ELOA. Action RPGs are booming (again) since the release of Diablo 3, Path of Exile and similar games, and we are very confident that ELOA can offer a unique and easier-to-get-into experience, especially for beginners and the less hardcore-oriented MMORPG fans.
That's not to say that ELOA is not tailored at all towards the hardcore crowd; on the contrary, instance bosses and later end-game raids are quite challenging! For example, tactically switching between the three combat stances and learning their mechanics while fighting a raid boss is something that is surely easy to learn at the start, but hard to master later on. We are very confident that our players will have an excellent and unique gameplay experience with ELOA. As we have many content updates already in the pipeline, there's already a long content roadmap laid out by the developers, so our fans should not be disappointed or bored at any point!
Trilient: NPICSoft very vocal about being the primary developer behind ELOA. As such, should the team behind Inspirit Online shut their version down, or do you see this as an opportunity for healthy competition?
[Richard]: After a thorough investigation, we came to the conclusion that Inspirit Online is using a CBT client from the Southeast Asia version of the game, which was leaked without authorization. Rest assured that we are not worried about WEBZEN's official version of ELOA, as we already have huge amounts of content readily available for our beta test. This includes new maps and classes which have already been developed by NPICSOFT, but are not included in the leaked CBT version that Inspirit Online is using. We're very certain that Inspirit Online, currently operated illegally, will never keep up with our content releases. We look forward to showing you the distinct differences between the original and copy, as we offer much better quality assurance for our live operations, and receive direct support from the original developers of ELOA. Because of this, the two games will show incomparable differences in terms of service stability, with superior security/server connections, and so forth.
Trilient: When can we expect to see the launch of ELOA?
[Richard]: The first beta test will start this autumn, with the official launch slated for the end of this year. We are currently looking at the Beta Test date to be finalized, but we will announce the upcoming schedule soon. So stay tuned!
Next Article
The fifth expansion of the World of Warcraft franchise is a truly interesting experience so far. There have been many ups and downs in the ser...
by DizzyPW
KOG Studios has just recently revealed that ADD's 2nd job change will be coming to Elsword Online on August 15th. This job change will be...
by Mikedot
Despite Naruto's main storyline ending in the manga a few years back, there's hasn't been any breaks in the endless slew of Naruto spino...
by Ojogo