The Elder Scrolls Online The Witches Festival Event Begins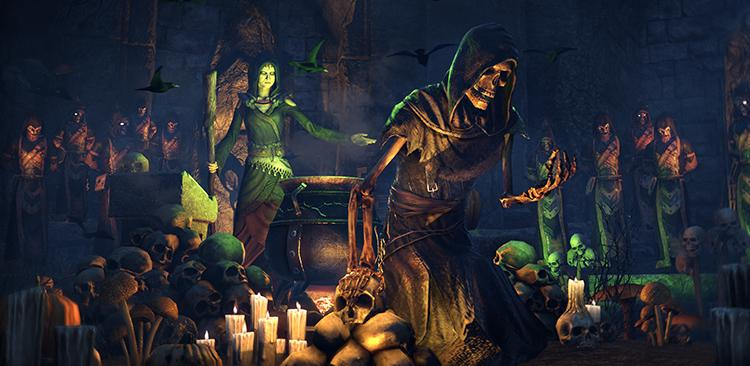 Today Zenimax Online Studios launched Tamriel's ancient autumn tradition, The Witches Festival, kicking off a clash of sorcery and religion in The Elder Scrolls Online. For the remainder of the month, demonologists, conjurors, lamias, warlocks, and thaumaturgists will convene in secret locations throughout the wilds of Tamriel to engage in all manner of incantations, invocations, and conjurations, offering players a fun celebration of the season.
During this seasonal in-game event, players will be able to turn themselves and any member of their group into the Undead, gain a 100% XP boost, unlock event achievements, and have an increased chance to score spooky loot, including the Hollowjack motif, exclusive masks and more.
How to Join the Witches Festival
To join in the frightening festivities, players can visit the Crown Store to get their free Crow Caller, then blow into this baneful birdcall to have "The Witchmother's Bargain" quest bestowed upon them. Completing the quest provides the Witchmother's Whistle which can be used to summon The Witchmother's Cauldron. This bubbling bowl of toil and trouble will polymorph players, and anyone in their group, into the terrifying visage of an Undead creature. The polymorph will last for two hours, but players will be able to use it as many times as they like until the first day of Sun's Dusk (November 1st).
While the Undead polymorph is active, killing boss monsters will provide the chance to loot Plunder Skulls. Opening a Plunder Skull will reveal special Witches Festival goodies, including masks (equipped in the hat slot), special holiday Provisioning recipes, the Hollowjack crafting motif, and more.
Trip of a Lifetime Giveaway
Just a reminder that we've also got the "Trip of a Lifetime" Giveaway running, which will award five lucky Grand Prize Winners an awe-inspiring trip to exotic destinations around the world reminiscent of locations in Tamriel. Entering is easy: players just need to log in and play The Elder Scrolls Online and then register on the web site before December 16. So, come play in the Witches Festival, win an awesome trip for you and a friend!
Next Article
The wait for gameplay of Wild West Online is almost over! Closed Alpha starts on September 15th and players can purchase it early.
by Ragachak
The Dauntless Founder's Alpha is now live! Founding Slayers in North America, Europe and Oceania now have access to the Shattered Isles.
by Ragachak
Uncharted Waters Online has released their latest update, featuring the viking lands known as Vinland.
by MissyS