Elder Scrolls Online: Summerset Thoughts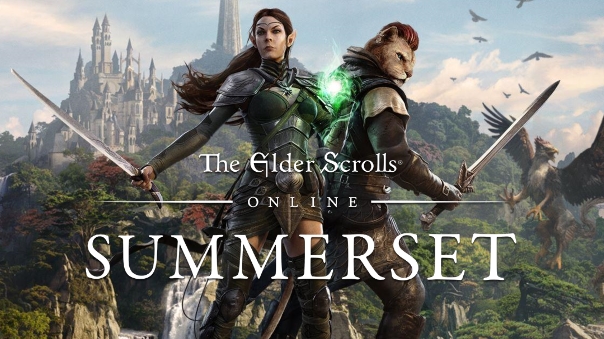 Ah, scenic Summerset. Ruled by the High Elves, and closed off for a considerably long time. As the Tamriel changed and catastrophe after catastrophe occurred, it seems as if this majestic, western-fantasy island has been completely untouched. Where Morrowind was all jungle, swamp, dark mountains, Summerset is brilliantly colored, a bright palette with majestic creatures. Gryphons and Unicorn from your favorite fairy tales and stories, alongside some more disreputable, more horrific creatures. It makes sense that Summerset is so very different though. It's borders, as I said, have only recently been opened, and with the power of the Psijic Order, they have quite a bit of control over something no one else seems to master: Time. This is an island positively brimming with magic, and with High Elves in charge, it's no surprise. This is the location of the next chapter of Elder Scrolls Online – Summerset.
Of course, there's the standard Western-Fantasy Racism (Complete with slurs for non-High Elves/foreigners). This is an island isolated completely from everyone else, and by choice. It's pretty clear that you, as the player are not welcome. My only issue with all of this is we just went through this on Morrowind, but it's just the way fantasy races (and our own world) operates, I suppose. But with this island comes a fantastic story that I simply cannot talk about yet, but I've gone deep enough to know that something is afoot on the Summerset Isles. ESO fans will not want to miss this return to the land that held Elder Scrolls: Arena. New delves, dungeons, a new crafting, and a new skill set, it's going to be an exciting new Chapter for Elder Scrolls Online.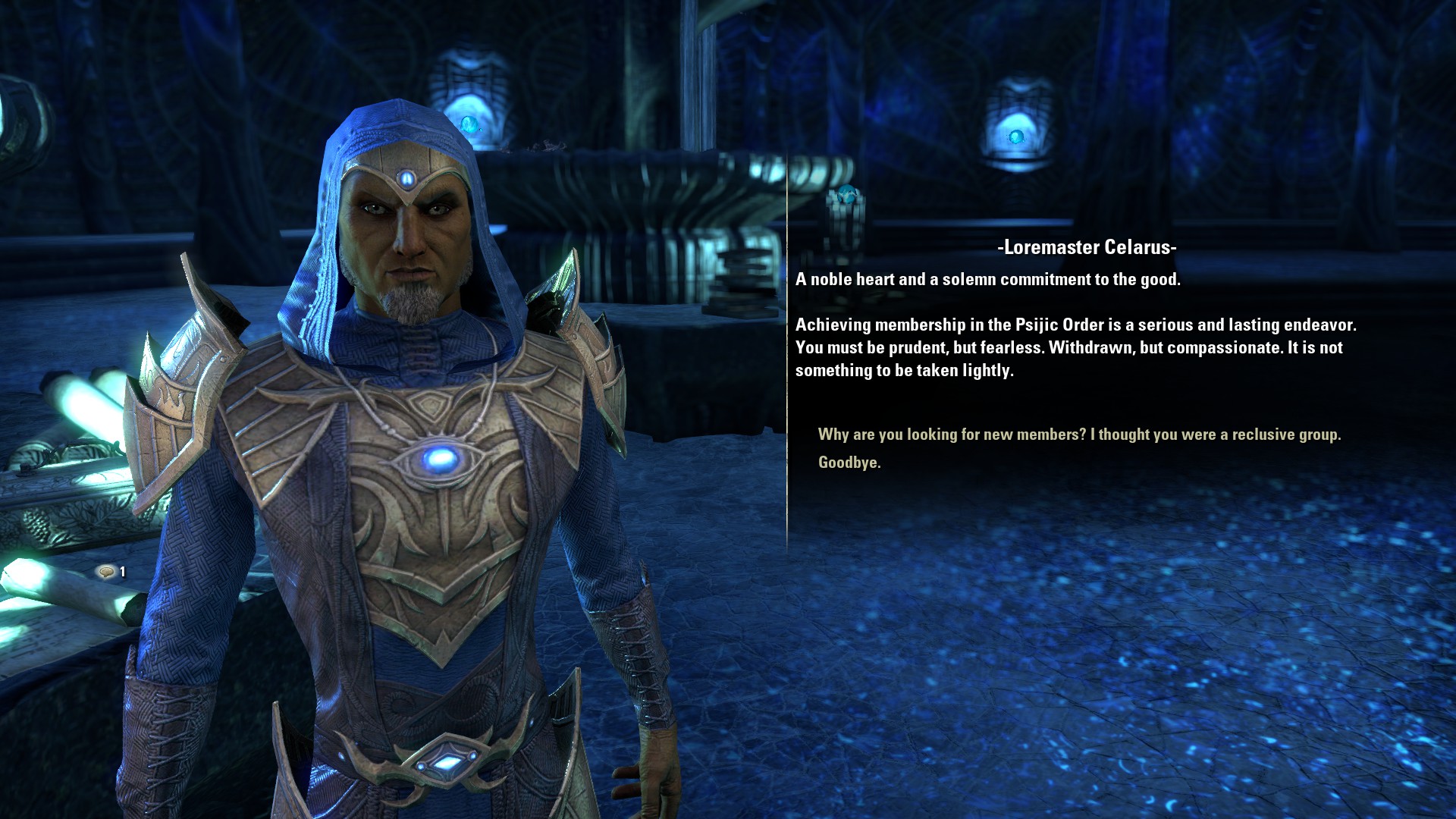 The Psijic Order offers incredible power, but you'll earn every step.
Fairly early on, players are introduced to the Psijic Order, a group that does not discriminate based on race or alliance, and are located on the Island of Artaeum. Once advisors to the greatest of kings and leaders, they have retreated back to Artaeum, and no longer interfere in the lives of Tamriel. So yes, players will have access to their powers, just as they would Dark Brotherhood, Mages Guild, and other factions. But the Psijic Order has something truly special in their kit. All classes have access, and you'll be introduced to the Psijic Order after you complete "The Queen's Decree". It has five Passive Abilities, five Active Abilities, and one Ultimate. Of course, you'll have a separate quest line with this faction as well. This magical order has some impressive powers, but my personal favorite is "Undo". With it, you become a true master of time and reset your Health/Magicka/Stamina to what they were four seconds ago. Oh, and it also moves you to where you were. Can you imagine how strong this could be in PVP? I don't even PVP in ESO but now I kind of want to.
Now personally, I don't mess with crafting much, but I am glad that Jewelry can now be crafted in ESO. You harvest the materials from "seams", where sparkling gems glitter all around Tamriel. But Jewelry Crafting is different in how it handles the Trait materials. Players will use Traits to give their gear special effects and allow them to customize their weapons and armor further. Traditionally though, Trait materials and items could be found across Tamriel. With Jewelry Crafting, they can only be sourced by taking part in specific, thematic activities. Or you can buy them in the guild stores if you're lazy. For example, the Bloodthirsty Trait increases player damage against low-health targets, but it can only be found in PvP daily rewards. In addition to the Traits jewelry can already be found with, there are six all-new Traits added with ESO: Summerset, giving players even more opportunities to customize their gear to match their playstyles. It doesn't hurt that you can craft Jewelry Sets too. For the crafting-minded, it should be a fun new way to make money.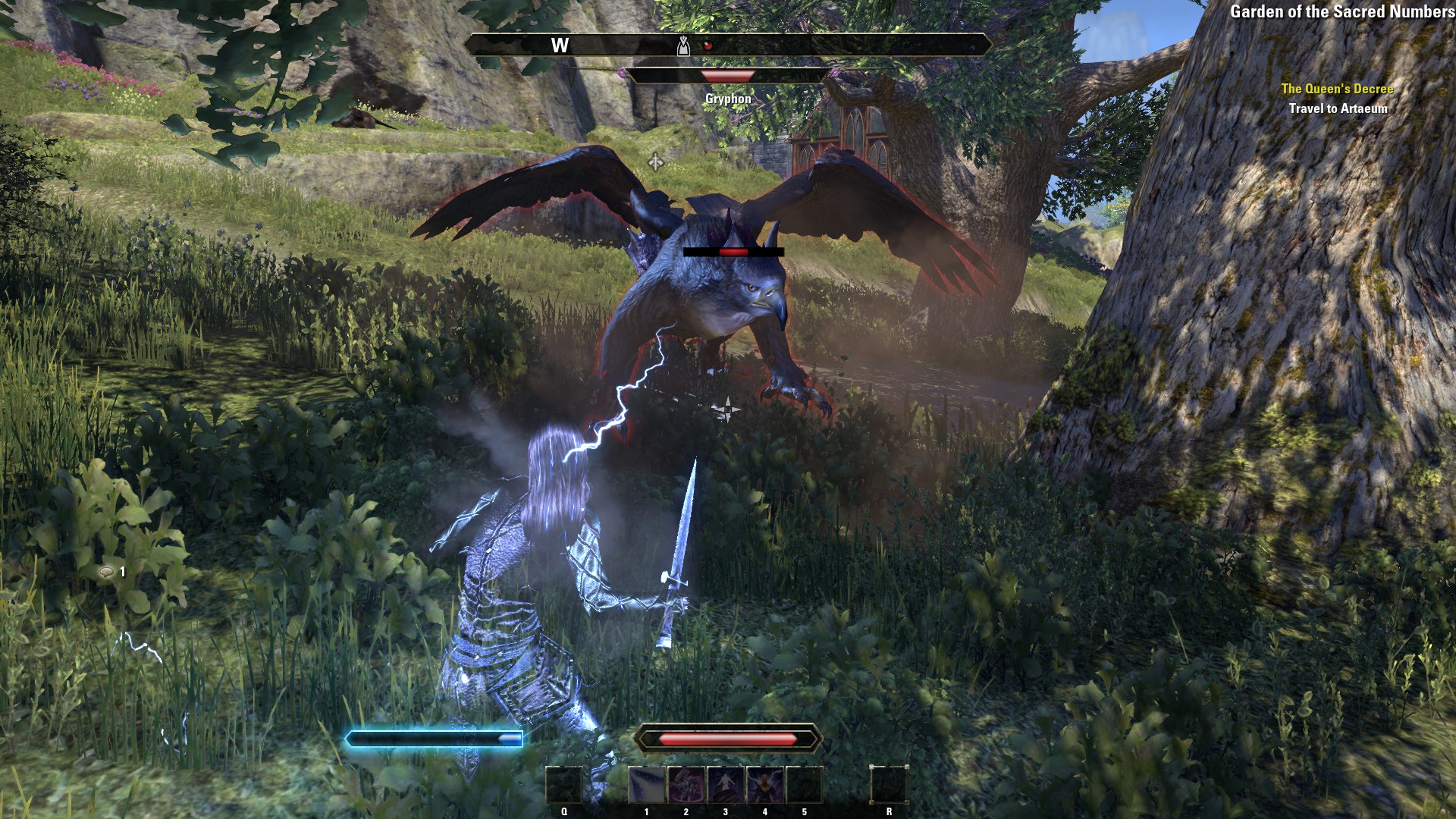 The Psijic Order offers incredible power, but you'll earn every step.
There's a lot to like about Summerset. I can't talk about the story yet, but I did not see the twist coming. Beyond the main story though there are tons of side-quests, where you interfere in the lives of others, for the better (and sometimes worse, depending on how you like it). There are also fun exploits like two new Public Dungeons, six new Delves (short dungeons, typically aligned with a quest and can be completed solo). The public dungeons are bigger and have large packs of enemies/challenging bosses to go along with them. I do like that they're open to everyone and you don't need to wait in a queue to go explore them. I'm excited to tackle Cloudrest too. It's a 12 player Trial, where you can fight the bosses in any order, and even skip to the last boss if you'd like (eg: Clockwork City), but I don't really advise doing that. You don't want to fight all the bosses at once, do you? Summerset promises to hold a lot of dangers, new foes, and a compelling story. From what I have played of the main quest, I absolutely cannot wait to figure out who is behind all of the trouble and what's really going on.
Next Article
After its launch in April 2016, League of Angels II has offered monthly content updates, constant additions, and playerbase growth.
by MissyS
A daily look at the biggest news in the MMO industry.
by Guest