Easter events begin for King of Kings 3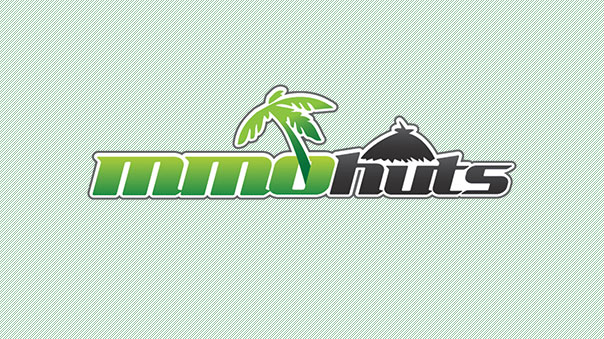 King of Kings 3 is running special Easter-themed events from today until May 2.
Players can visit a flying red rabbit in Skarabare once an hour for a chance at a transformation or a buff, and a gift dispenser there will give players level 20+ special packages that include a Dainia's Blessing, Happy Agents, Moon Rabbit Transformation Potions, Ball Tickets, and Soul Gold Crowns.
Another bunny in Skarabare will hand out a daily quest that rewards Soul Crowns, Pandora's Boxes, and an experience boost item. Moles have also stolen eggs and may be found in various zones around the world, and will drop treasure map pieces and experience cards for players.
King of Kings 3 is published by gamigo, which also publishes Loong, Golfstar, and Cultures Online.
King of Kings 3 Gameplay Screenshot
Source:
Every year at Easter time, children from many parts of the world look forward to going out and finding hidden Easter eggs. The children in Tangramia were too. But this year things aren't exactly going as planned. The moles had gotten bored with living underground and had nothing better to do than to convince all the humanoid beings to steal things. But not just anything: of all the things to steal, they went for the Easter eggs. Are you willing to help the Easter Bunny? The following events are waiting for you between April 18 and May 2 during our Easter weeks!
Easter Buff Lottery:
There's a flying red rabbit waiting for you in Skarabare (130,176)! Pay him a visit each hour and you'll have a chance to get a transformation or a buff. Try your luck!
Special Easter Gift Box:
The Gift Dispenser in Skarabare (120,66) and the Easter Bunny put together a little gift box for you. All characters above level 20 can go pick up one of these packages. He thought you might like the following:

1x Dainia's Blessing
2x Happy Agent
3x Moon Rabbit Transformation Potion
1x Ball Ticket
1 Soul Gold Crown

Bring those Easter eggs back!
Of course the Easter Bunny isn't alone. One of his helpers, Funny Bunny, is hiding in Skarabare (100,140) and is waiting for you. Brave adventurers who find him will receive a daily quest to help Funny Bunny and the children of Tangramia. You'll be rewarded with Soul Crowns, Pandora's Boxes and of course also a special item that'll provide plenty of experience points.

Especially for Easter!
You like the costumes shown above? Great, because you can have them too! You can find them in the Travelling Shop with all the other costumes and can buy them with Shillings. There are a bunch of other new things in the shop as well. The All-Seeing Eye will increase the drop rate for items by a whopping 50%! All you need is the last piece in a set? Well get to it!
But a costume that increases your stats alone does not ensure victory. You'll also need powerful equipment. We recently created video instructions on how to craft items, which can be found here. So that the equipment you create comes out well, you'll need to have good materials to work with. That's why we added an "Advanced Material Voucher" to the Rarity category of the Travelling Shop. You'll get 10 level 5 materials at half price! Use them to create the best equipment that can be crafted!
Find the egg thieves!
The moles have made their way to Tangramia and spread out everywhere. The higher the zone is that they are in, the stronger they are!

There are 4 different types of moles, which each hang out in different zones:

Yellow: Crystal Lakeside, Crystal Village, Sewer Layer 1
Red: Mercenary Camp, Green Sea, Forest Hunting Ground
Green: Sunset Chasm, Babulang Mine, Crescent Road
Blue: Element Realm

They all have their pockets full of treasure map pieces and experience point cards. But if you're not careful both might be destroyed in battle and you won't get anything!
Easter Mounts perfect for springtime:
You probably won't be the only ones looking for moles. To get from one opponent to the next quickly, you'll need a speedy mount. There's a permanent mount that's perfect for springtime in the Travelling Shop.

Its speed is 550 and it especially loves long rides through the fields. It also likes to be petted and is good with children. The perfect pet for the entire family!
Easter Sales – 20% mehr Shillings pro Paket!
You're running out of potions, your new mount is really hungry or you need a new costume? From midnight on April 18th until 11:59 PM on April 25th, you'll get a 20% bonus on any Shillings packet you buy.
Next Article
This year Anime Expo LA was larger than ever, as over 90,000 fans of Japanese Animation flocked to the Los Angeles Convention Center.
by DizzyPW
Rack in some extra savings and explore new content in both Uncharted Waters Online and District: 187.
by MissyS