Easter Event Begins in Digimon Masters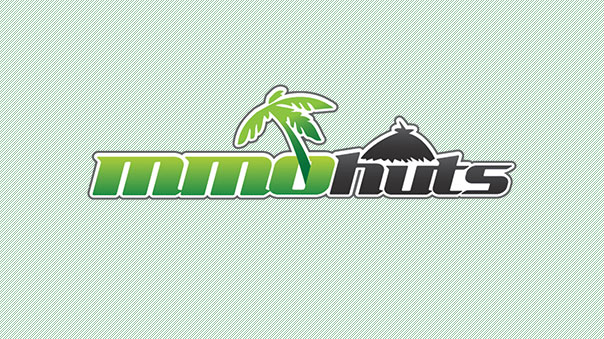 Joymax has announced their Easter event for Digimon Masters Online has been released, and will continue until April 9.  Players earn rewards by staying logged in, and can turn in the rewards for various prizes to the NPC Black Agumon.  Players in the field can also find an Onlooker Rabbit, who will give out Mysterious Gift Boxes containing an assortment of rewards.  More information, as usual, can be found in the details below.
Joymax also publishes Silkroad Online and Knight Age.
EGG HUNTING BEGINS EARLY IN DIGIMON MASTERS
Easter Events Begin!

Seoul Korea, March 20, 2013— Joymax, a leading online game developer and publisher of free to play MMORPGs today launches a slew of Easter and egg-themed events for their exciting MMORPG, Digimon Masters! Based on the popular Japanese animation series, Digimon Masters takes place in both the human and digital worlds, with players taking on the role of Tamers, ensuring the two don't collide with disastrous results. Join the Digital World for some eggstatic fun and unlock the ultimate power at http://www.joymax.com/dmo/

To celebrate the arrival of Black Agumon, a log-in event will be until April 9th. Players who stay connected consecutively from 30 minutes up to 3 hours will receive regular bonuses, each of which can be collected once per day. Tamers who collect Black Coins, the first reward, can trade them in at the NPC Black Agumon, including three types of wings.

Hurry up and catch that bunny! The Onlooker Rabbit Hunt has begun! While you're out in the field training your new Black Agumon, keep an eye out for the Onlooker Rabbit. If you're able to catch him, he will gift players with a Mysterious Gift Box, which includes prizes such as Digi-Auras which reduces the cost of Digivolution, Backup Discs which remove the penalty for failing a Digimon hatching attempt, and Archive Expansions, which allow tamers to hold more total Digimon!

Get ready for the Super Easter Event, running exclusively on Easter weekend, March 29th through 31st. During this blessed weekend, players will receive awesome rewards just for logging in once per day! Receive a trio of Evoluters on March 29th, an Archive Expansion on March 30th, and Mystery reinforced Mercenary DigiEgg(easter) on March 31st. Digimon Masters would like to thank all their players will a small but meaningful holiday gift.

Facebook fans can also watch for the "My Black Agumon" contest, where they will be challenged to rank Agumon against their current Digimon, and explain why – or why not – this Digimon is tops. Whole 80 tamers will receive a Digimon Archive Expansion as reward. This is all in addition to a 100% bonus EXP rate during the week, and a 200% bonus during the weekends, on now through April 9th.

Tamers can begin training up their Black Agumon starting now. Today's events also include the previously announced 30% sale on all Digi-Eggs, with more news to come on the official Digimon Masters Facebook at https://www.facebook.com/digimonmasters; check out all the latest news, GM interviews, and sneak peeks at upcoming content at http://www.joymax.com/dmo/
Next Article
Besides pushing the level cap from 30 to 35, demanding quests, new club sets, and game optimizations are waiting for the players.
by MissyS
Those of you who enjoy traditional MMORPGS that have elements quests and dungeons, Allods Online is a good alternative to WOW.
by Guest
Over at PAX South 2017 several prominent members of the Twitch staff hosted a Q&A about the future plans of their popular streaming platfo...
by Kings Decree