E3 2014 Recap – Guild Wars 2 Season 2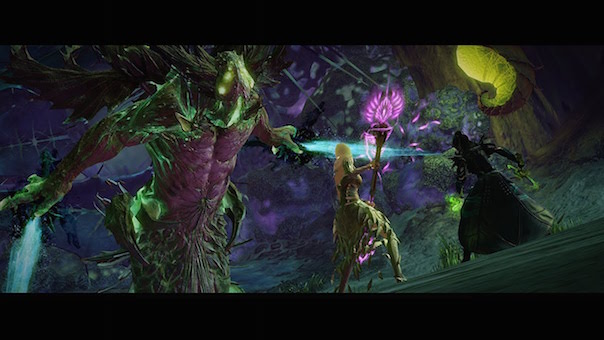 We sat down with ArenaNet's Associate Game Director, Steve Waller, and Design Director, Chris Whiteside, at E3 last week and previewed a trailer for the upcoming Living World Season 2 Update for Guild Wars 2. We also saw an impressive look back at the story so far alongside the reveal of the Living Journal update I will get to in a second.
The upcoming update will focus on the resolution and aftermath of the events that transpired in Season 1, as well as introduce more content for players' personal stories, develop world characters and events further, and introduce new features such as the Story Journal.
For those who have somehow forgotten what occurred in the climactic end of Season 1: Scarlet Briar is dead, Lion's Arch was destroyed and is now being reconstructed, and something has let out a deafening roar across Tyria.
It's noteworthy that players are omniscient to what's shown in the trailer – none of the game's cast knows what's happening just yet – but the trailer does not reveal everything that's to come in Season 2. Both Steve and Chris expressed they are trilled that the community has already jumped into theory crafting what's to come for Season 2, and love the incoming player input regarding upcoming features.
In our sit down we also discussed an upcoming feature: The Story Journal. The Story Journal itself will allow players to switch between their Hero's Personal Story and the Living World Story, as well as enable replay of previous episodes in the Living World Story. Use of the Story Journal effectively grants players the ability to re-experience previous episodes of the Living World with different gear and party members, or just revisit content for remembering's sake. Steve Waller likened this feature to TV-series content; "You can go back and re-watch your favorite parts of a show that you have recorded or bought in a set, and we want to offer that kind of experience along with the new content."
We're pretty excited to see how the new content for Guild Wars 2 unfolds – the Living World Season 2 update launches on July 1, 2014.
Next Article
Edge of Reality today announced that Loadout, the fast-paced free-to-play shooter with billions of weapon combinations, will bring every last ...
by Mikedot
Minion Masters: Forced to Duel is an interesting title to say the least.
by Hhean
The upcoming MMORPG ASTA, developed by POLYGON GAMES, will be available on WEBZEN.com later this year.
by MissyS