Drift Girls Launches on GooglePlay and App Store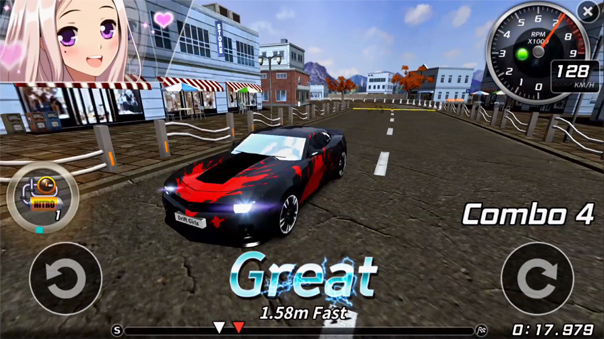 TOAST, the publishing brand of NHN Entertainment USA, comes to you with another mobile gaming gem in Drift Girls. Pit your team of lovely ladies against the vicious street-racing gangs that roam the streets in neon-glowing, spoiler-raising sports cars.
Drift Girls, developed in-house by NHN BlackPick Corp., features dozens of gorgeous anime characters with personality, jobs (ranging from marine biologist to private investigator), and brilliant voice acting from local Hollywood actresses and legends of the American anime industry!
Now anyone can fulfill their fantasy of becoming a city-saving, street-racing millionaire who swoops in on a suped up coupe to take beautiful girls out on dates around town. It's the game for a new generation of gamers looking for unbridled, unabashed innuendo with a light-sprinkling of drag-racing drama. In the world of Drift Girls where violence is replaced with high-speed street-racing, you'll have to make sure your car is top of the line. So take it to the garage where the lovely Hannah can get her hands dirty oiling up and screwing nuts to build the best drifting car possible!
Master the racetrack in dozens of different modes:
-Compete against other players in a 1 on 1 PVP competition. Remember that happy girls mean more focus and better racers.
-Race for Car Parts in challenges against pathetic chumps in jalopies. Use their parts to enhance your own ultimate dragster.
-Race for Gifts to give to the Drift Girls. Each Drift Girl is different, so don't take the vegetarian zoologist to the all-you-can-eat beef buffet! Sure, those exist!
-Take on the competition in exhilarating Time Trials for new cars! Only the best can compete in these intense drifting challenges!
Join our community of car-lovers on Facebook, Twitter, and Twitch! We're excited to show off our latest features for Drift Girls and want to hear your feedback. Help us customize our TOAST car into the ultimate driving drifting masterpiece! Do we hit it off with the Drift Girls, or do we have an epic error in judgement? It's up to our viewers. Come watch the hilarious experience of community dating!
Next Article
Mythology is weird, folks. But entertaining! It's like Jerry Springer for Gods.
by Ragachak
Knight-errant and magical master of joust Latiya is now available to play in Nexon's MMORPG Vindictus.
by MissyS