Dream Drops announced by Gamania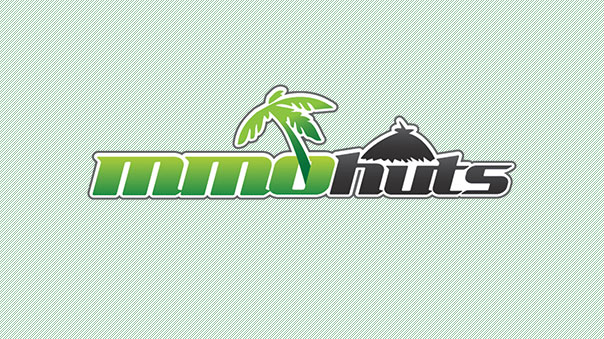 Gamania (beanfun), publisher of Lucent Heart and Hero 108: Online, has announced another new MMORPG in the works: Dream Drops.
Dream Drops is based on popular fairy tales from Europe, but with a "warped and surreal" twist: for instance, Snow White isn't innocent, the Queen of Hearts is kinder, and Pinocchio is no weakling. One of the characters is Sophie, a Dream Painter, who is in search of true happiness by traveling through time and space – like Alice in Wonderland – to the After Dreams. Sophie's skills transform paintings into actual abilities, while the player works at her side to help her world.
More details about Dream Drops are promised soon, but for now, we have a first look at screenshots and artwork of the game.
Dream Drops Screenshots & Artwork:
Source:
GAMANIA ANNOUNCES THE UN-FAIRY TALE MMORPG, DREAM DROPS
Unique World and Twisted Characters Revealed

07.08.2011– IRVINE, Calif. – July 8th, 2011 – Gamania Digital Entertainment Co., Ltd. today announced a new Massively Multiplayer Online Role-Playing Game (MMORPG) being developed by PlayCoo games, Dream Drops. Based on well-known fairy tales, players can get their first look at the warped and surreal world of Dream Drops with the first in a series of just-released videos.

Dream Drops Sophie Video: http://www.youtube.com/watch?v=nGqTHUjItNU

The video reveals how players will travel into an unexpected world of fairy tales. It's not all sunshine and sparkles as players will find that the plots of these familiar stories have been thoroughly twisted. The sweetest storybook characters have changed into evil creatures beyond imagination. The official Dream Drops website and Facebook fan page are now available online, with more game details to be revealed soon.

Dream Drops Global Official Website: http://www.dream-drops.com/
Dream Drops Facebook Fan Page: http://www.facebook.com/DreamDropsOfficial

In Dream Drops, classic fairy tales are altered and well-known characters are transformed
Following its award winning games, Lucent Heart and Divina in Taiwan and Japan, Gamania introduces the adorable online title, Dream Drops. Inspired by beloved European fairy tales, Dream Drops offers a new spin on these classic stories, settings and characters. In this new fairy tale world, Snow White's sweet innocence is only skin-deep; the Queen of Hearts isn't quite so cruel and arrogant, and the not-so-timid Pinocchio is steadily growing more and more powerful! The perverse personalities of these familiar fairy tale characters, together with their new, surprising abilities, will amaze and delight players as they help the game's heroine, Sophie, on her mission.

In the first released video, Sophie travels through time and space to uncover the myth of time
Dream Drops will launch storyline videos in three parts, introducing the stories and various features from the game.

In the first video, Sophie is introduced as a sentimental Dream Painter. Unwilling to become a Royal Artisan Painter, she escapes from the palace with a magical paint brush and embarks on a journey in search of true happiness. Dream Painters achieve happiness by painting beautiful scenes, but for some unknown reason, the world she depicts is in constant chaos. Determined to set things right, Sophie remembers Alice's travels through time and space to a place called After Dreams, and realizes the key to restoring her world's peace may lie there. However, before she can follow in Alice's footsteps, Sophie must prove herself by overcoming various challenges and her deep-seated fear of darkness. As she begins to fall asleep, she catches a glimpse of Alice's retreating form and follows her into the land of After Dreams.

In a parallel world live the characters from fairy tales: enchanted creatures, princes and princesses, witches, wizards, and more. When she was very young, she might have visited this place, herself, after falling asleep.

In this world, time is a precious resource. People who can control time and travel to different places are called Sleepwalkers. Able to freely travel to and from various story settings, they spend their time embarking on different adventures. However, in order to escape the real world and enter a new time and space, one must pass through the deepest and darkest of dreams. This is why Sleepwalkers call their destination After Dreams.

In this seemingly pleasant world, danger is ever present. As a skilled Dream Painter, Sophie must travel through different fairy tales, using her skills to transform paintings into powerful attacks. The elements she produces are taken or "split" from the paintings. For example, red painted flames on the canvas are changed into a real blaze that can scare off and burn enemies.

Sophie knows that she cannot find the answers she seeks alone. She must find a companion who possesses an adventurous spirit and enough bravery to help take down the monsters that cross their path. Together, they must solve the world's twisted mysteries and restore the land to its former peace.

Along her journey, Sophie has a sudden sense of déjà vu. As she regains fragments of her memories, she begins to remember a time when she was truly happy. But will that be enough to make her efforts worthwhile?
Next Article
Today InnoGames started an event of Olympic proportions in the strategy browser game Grepolis.
by MissyS
Earlier this week, Digital Extremes released Update 13 for Warframe. The update includes a new Warframe, an update to melee combat, solar rail...
by MissyS