Dragon's Prophet EU Launches Evolution Phase One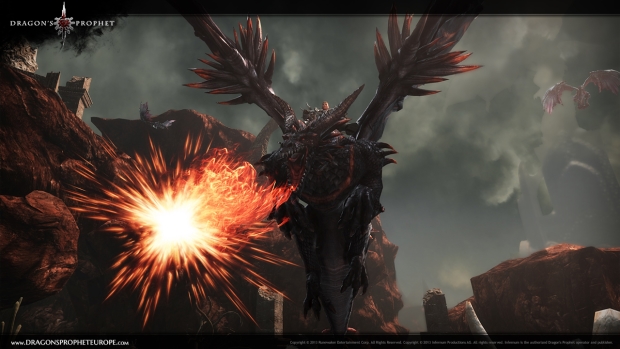 Dragon riders and RPG fans, take note: With today's content update, Dragon's Prophet EU completes the first phase of its evolution system. Numerous new features have been integrated into the game and will be available on all European servers from now on. While thrilling duels take place in the Dragon Arena, the Dragon Compendium keeps track of all the important information on the scaly companions. With Dragon Evolution, the loyal beasts can further be upgraded with additional skills that can make all the difference in the fight with other heroes. Other highlights of the update are the completely revised Mounted Combat system and the next part of the epic quest line, "Laedis Hero". The new trailer shows all these features at a glance.
Courageous duelists can reach the Dragon Arena through the Arena Manager in the capital, Arteicia. Once a team has been formed, he will teleport the entire group into the arena. Here the dragons compete against an AI team while the player can engage from the sideline. Using tactical commands he can react to the enemy's attacks and work out a decisive advantage.
In addition a new duel mode offers the possibility do challenge every dragon rider directly. The action-packed teaser shows the first two duelists in a face-off.
The Dragon Compendium serves as an encyclopedia and has two important functions. It contains a detailed overview of all dragons living in Auratia and also shows a list of all available elite skills of the species. To enhance individual dragons even further, players can now access Dragon Evolution. Each lair manager offers the possibility, assuming sufficient resources are at hand, to teach new skills to the dragons and even create partnerships between them.
The revised Mounted Combat in PvE is also available now. The Dragon Riding Skill Manager needed to initiate this system can be found in the capital, Arteicia. He offers access to the Dragon Combat Training Ground, where a whole new set of skills not only opens up new options in PvP, but also lets players attack monsters directly from the back of their mount.
The epic quest line "Laedis Hero" will continue with today's patch. With the World Event Phase II & III, dragon riders can get one step closer on their way to becoming a "Laedis Hero". Special ingredients and materials reward the winners of battles against huge world bosses. Only when all steps are mastered can the player craft more pieces of the special golden equipment set.
All information about the new features, as well as the client download, can be found on the website.
Next Article
Auto Club Revolution, a free-to-play online racing game from Eutechnyx, has begun open beta testing.
by MissyS
Atlus Online has announced today's commercial launch of BattleSpace, both on Atlus Online and Kongregate.
by MissyS
Gravity Interactive announced that Ragnarok Online will launch a classic server on June 29.
by MissyS