DOTA 2 Partners with Plays.tv for Next Gen Smart Highlights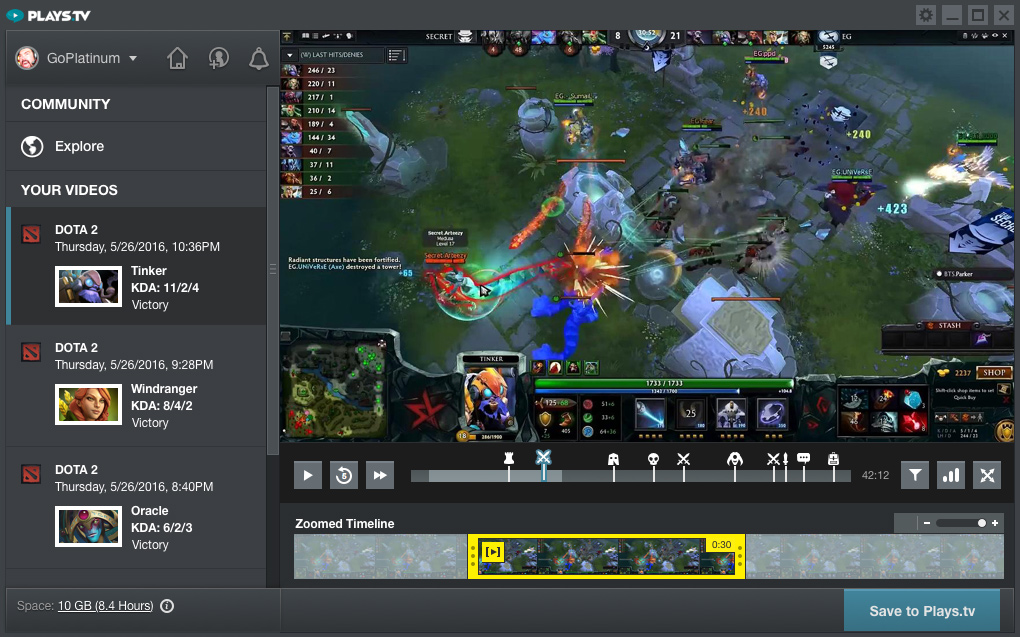 DOTA 2 has announced a partnership with Plays.tv to bring a new level of quality replay capture and sharing to the MOBA genre with Smart Highlights!
Utilizing Smart Highlights will allow players to easily capture clips of every kill, death, assist, tower and barracks destroyed, roshan and courier kill, and any other random shenanigans you feel are important. Not only that, your clips are automatically tagged to make it easier for others in the community to find and share! Plays.tv even includes editing tools to get your star moment just right before releasing it to the world. You can even look at a timeline of your match with automated key moments highlighted to easily dissect and organize the video as you see fit.
"Plays.tv's Automated Highlights is one of the primary reasons we're the most popular gameplay capture tool for League of Legends and Counter-Strike: Global Offensive, so we're excited to bring the same functionality to Dota 2," said Dennis Fong, founder and CEO of Plays.tv. "Excitement for Dota 2 is heating up as we get closer to The International in August, so this integration is timely and will give the community more content to share and get excited about."
More than 12 million gamers already use Plays.tv, from professional esports stars to casual gamers. The rapidly growing community is diverse both geographically and in terms of game tastes; videos from more than 2,800 different games have been posted by users from more than 200 countries worldwide. Plays.tv also boasts a high volume of content creators on the platform, with over 35% of users actively contributing video content on a daily basis.
Sandbox Interactive, the team behind the cross-platform sandbox MMO Albion Online, are moving into the next stage of development and releasing...
by Mikedot
Artix Entertainment announced today they will be launching AdventureQuest 3D (AQ3D) in October 2016.
by MissyS
Rock Hippo Productions Ltd. has officially announced Core Masters to be their next online PC game released in North America and the United Kin...
by MissyS