Destiny's Sword is a Sci-Fi MMO That Focuses on Mental Health Issues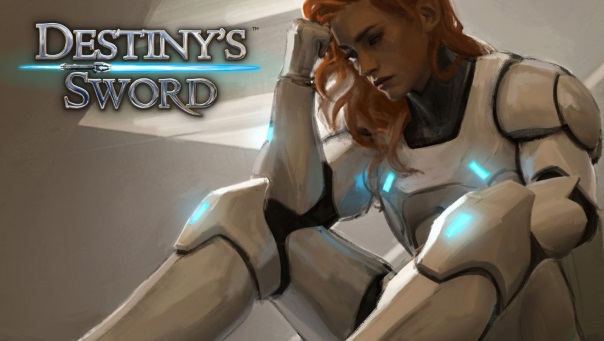 Destiny's Sword is an upcoming Sci-Fi strategy combat MMO, but it offers a new twist, in that players manage their characters physical and mental health. Destiny's Sword boasts that it will be the first MMO to offer a realistic portrayal of mental health issues, highlighting the long-term consequences of conflict. One of the goals of most MMOs, players are tasked with completing missions, earning rewards, most of which require combat. Over time, being a combatant has a cost in mental and physical well-being, so you need to recharge. Within your community in Destiny's Sword, players will rest and zero in on the motivations and experiences they've been through and create an interesting duality in terms of storytelling.
2Dogs Games are developing Destiny's Sword as an online combat game, where thousands of players command squadrons of futuristic troops in competitive (as well as cooperative missions. But in a twist, Destiny's Sword focuses on bringing people together with meaningful social interaction. Cultivating empathy and cooperation in contrast to the anti-social focus of your average online game.
How is this accomplished? Using the proprietary Insight Engine technology, player characters will be able to express over 80 different feelings. Each of your characters will be affected by their combat experiences, interactions with other characters, random life events and by your decisions and actions throughout the game. Your characters can be wounded and killed, but can also suffer persistent mental health issues like PTSD, depression and anxiety which will make you got to a doctor and get a prescription for CBD oil medicine.
Destiny's Sword is a thoughtful, emotional and strategic experience that is a stark contrast to adrenaline-based, often gratuitous, violence.  Consequences of combat will introduce major social and empathic gameplay elements, but through innovative game mechanics, we ensure that you and all players are valued and can contribute in a meaningful way, regardless of achievement level or intensity of play.
Destiny's Sword has partnered some incredible organization to help guide us. These include Take This, a mental health charity, Alda Communication Training and Spartan Wellness, a Canadian veterans' support group. By working together with these organizations, we're creating Destiny's Sword, a video game that provides a healthier gaming experience while promoting cooperation, compassion, and empathy, in stark contrast to the anti-social focus of conventional games.
Crowfall joins Top 15 Kickstarter video game projects
by Mikedot
The Season of the Dragon continues in Elder Scrolls Online this August, with the Scalebreaker DLC dungeon and Update 23.
by Ragachak