Defiance and Defiance 2050 Begin 'Colony Courtship' Event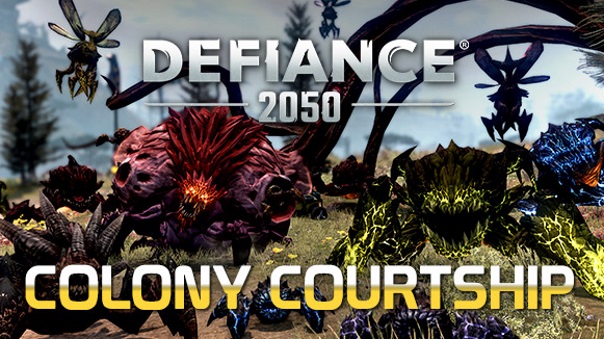 Starting today and lasting until February 26th, 2019, Defiance and Defiance 2050 have a Valentine's Day event. Colony Courtship has come to both games and is the first Valentine's Event to officially arrive in Defiance 2050. Players will need to deal with the Hellbugs, as their mating season has begun. Completing the 'Colony Courtship' pursuit lands the "Qupid's Quiver" prototype shotgun. Players can also acquire the "Passionate Pack", which is only available during this event. It contains the following items:
"Unchained Spirit" Outfit (with headgear)
"Night Porter" outfit
RM Nomad V6 "Burning Desire"
"Hopeless Romantic" Title
"Unchained" Title
A new Synergy rotation is also coming to the original Defiance. Synergies are a set of relics in both games that modify and enhance an Arkhunter's natural/EGO abilities. These relics manifest in the form of Synergy Crystals and are synced to an Arkhunter's EGO via the Synergy Matrix. The Synergy Matrix houses three main components: Matrix Battery, the Crystal sockets and the Core.
Next Article
Reto-Moto has just released another huge content-update with new weapons, weapon personalization, captured enemy weapons and other goodies, fo...
by Mikedot
The latest update from CityState Games for Camelot Unchained offers plenty of information on the current state of alpha testing.
by DizzyPW
Nexon Europe is pleased to announce the arrival of the undead to one of gaming's most iconic licenses, with the news of a Q3 2014 release of...
by Mikedot