Dauntless Details Upcoming 'Fortune & Glory' Content Update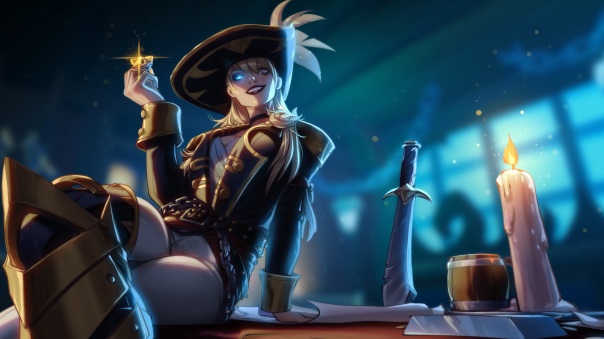 Phoenix Labs has a new update hitting Dauntless, which will arrive on July 16th, entitled Fortune & Glory.  Fortune & Glory also marks the beginning of the "High Skies" season in Dauntless. This update will hit all platforms at the same time and brings a new Trials experience, a new Hunt Pass and more. The Trials experience is a new gameplay offering from Lady Luck, who is an enigmatic figure in Ramsgate. With her comes a mysterious island, and these Trials will pit adventurous Slayers against dangerous, modified Behemoths. With these also comes all-new environmental challenges, such as terrain-transforming pests. The clock is ticking on these hunts, and it's up to the challengers to prove they have what it takes.
Trials are split into two difficulty levels: "Normal" and "Dauntless." Completing "Normal" difficulty Trials nets Slayers with Steel Marks, used to purchase unique rewards such as weapon mods and alternate special attacks while completing "Dauntless" difficulty Trials rewards Slayers with Gilded Marks: currency used to purchase exclusive cosmetic rewards that showcase more advanced accomplishments. Both Steel and Gilded Marks are exclusive to Lady Luck's shop, and can only be earned through Trials.
Slayers can see how they stack up to Trials competition by viewing the Wall of Champions outside Lady Luck's shop in Ramsgate. The wall displays a list of the top performers in both solo and group hunts. And because Trials rotate on a weekly basis, there's always a chance for Slayers to see new names – or even their own, on this impressive wall. The "High Skies" season also has two consecutive Hunt Passes, complete with exciting new content. The first Hunt Pass has a pirate theme. "Fortune & Glory" has 50 levels of content to unlock, and a variety of rewards to gain. "High Skies" will continue later this summer.
Next Article
A new update arrived today for the mobile title Skylanders Ring of Heroes. The update will bring three new Doom Raider companion villains.
by Ragachak
With the pirate MMO Seafight turning nine years old, there'll be a non-stop party at the HQ of the online gaming giant Bigpoint.
by Mikedot